Families Divided
More than 1,000 rally in Brownsville to protest family separations
Demonstrators from across Texas gathered in front of the federal courthouse in Brownsville on Thursday to protest the separation of undocumented children from their parents at the border.
Families Divided

The Trump administration's "zero tolerance" immigration policy, which led to the separation of children from adults who crossed the border illegally, has fueled a national outcry. Sign up for our ongoing coverage. Send story ideas to tips@texastribune.org.
More in this series
BROWNSVILLE — Last week, when she saw the viral photograph of an immigrant toddler sobbing as her mother was searched at the border, Rancho Viejo resident Leticia Rodriguez instantly thought of her grandchildren in Virginia.
A similar thought occurred to Narce Uribe Scott as she listened to an audio recording of immigrant children crying in a U.S. Customs and Border Protection facility.
"I have eight grandchildren," she said. "When I heard that, I just pictured them in that situation. And I cried, too. Those could be our kids."
On Thursday, Rodriguez and Uribe Scott joined more than 1,000 other demonstrators from across Texas in a park near the federal courthouse in Brownsville to protest the separation of undocumented children from their parents at the border. Although President Donald Trump issued an executive order last week calling for detained families to be kept together, the vast majority of the more than 2,000 children who were separated have yet to be reunited with their parents.
At the end of the rally, organized by the American Civil Liberties Union, hundreds of demonstrators marched across the street to the Brownsville courthouse, where migrant parents apprehended under the Trump administration's "zero tolerance" policy have been prosecuted. Chanting "Sí se puede!" and holding American and Mexican flags, the protesters rallied on the courthouse steps, while a small group walked inside.
The Texas Tribune's reporting on the Families Divided project is supported by the Pulitzer Center, which will also help bring discussions on this important topic to schools and universities in Texas and across the United States through its K-12 and Campus Consortium networks.
Demonstrators came to the rally on busses from Laredo, San Antonio, Austin and Houston, according to Imelda Mejia, communications coordinator for the ACLU's Texas branch. Others flew into Texas from states as distant as Minnesota and Michigan. Organizers estimated that about 1,100 people attended.
Zaira Garcia, the daughter of two undocumented immigrants, came down from Austin to protest outside the courthouse.
"All of this is so personal," said Garcia, who works as an organizer for the advocacy group FWD.US. "It's been traumatic, even as a bystander. I can't imagine what it's like for the children and parents."
Since Trump's executive order last week, the government appears to have backed away from the zero-tolerance policy, in which immigration officials refer all unlawful border crossings for prosecution. And on Tuesday, in response to a lawsuit filed by the ACLU, a federal judge in California issued an injunction compelling the government to quickly reunite children with their parents. The injunction calls for children under the age of 5 to be reunited with their parents within two weeks, and older children to be reunited within 30 days.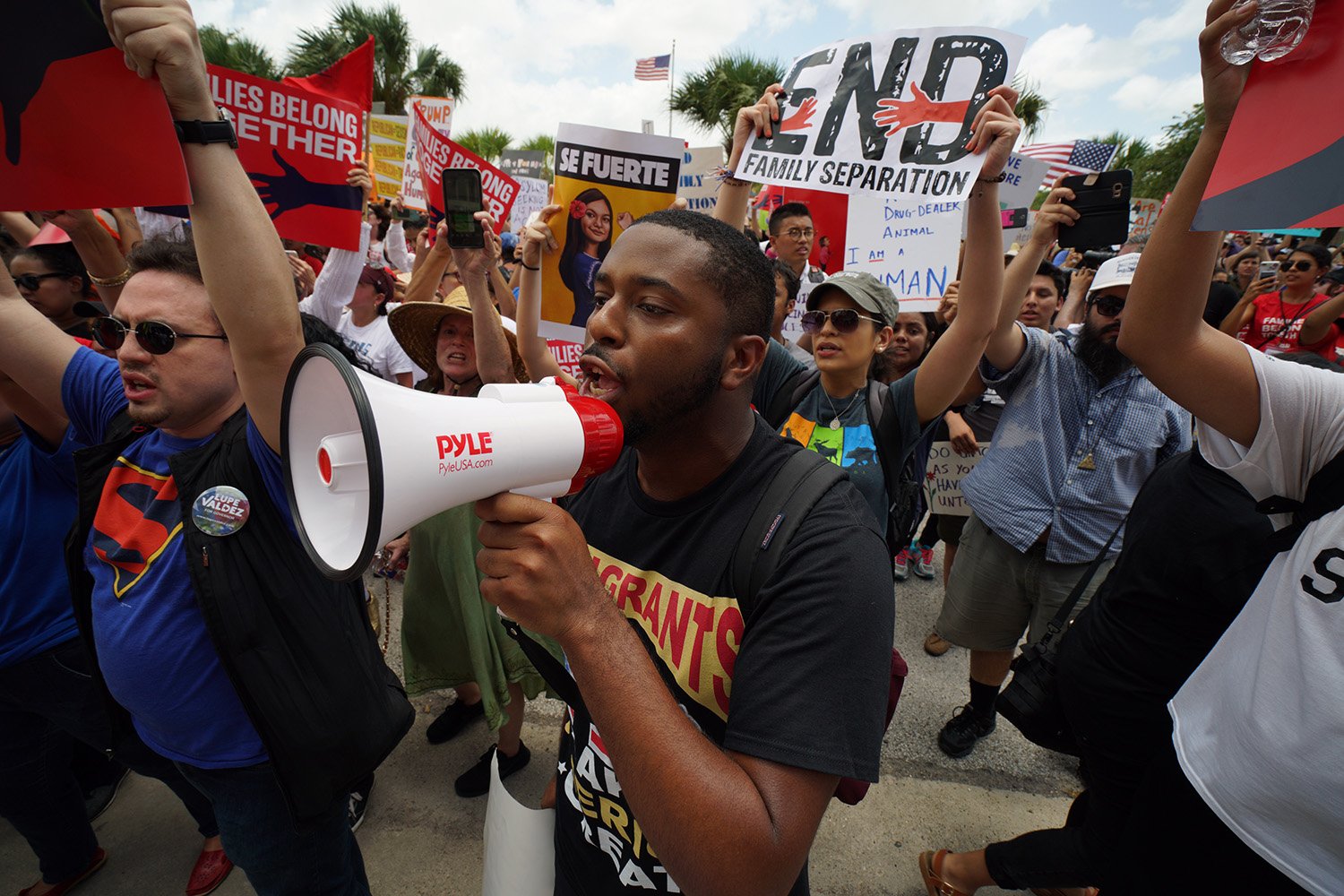 "We don't know if families are actually put together," said Jay Ellis, a television actor who spoke at the rally. "There are so many families who have been split so far apart that they don't know where their children are. You had a plan to take them apart, so now you need to come full circle and have a plan to put them back together."
Even now that the government has stopped separating families, Democratic National Committee Chairman Tom Perez, who came to Brownsville for the rally, said immigration activists should keep up the fight.
"The thing we've been doing that's enabled us to make progress is organizing, protesting, causing good trouble. That's what we have to continue to do. We can't let up," Perez said in an interview. "That's why I'm here losing some weight in this 100-degree weather. If it's 200 degrees, I'll stay here. If it's hot for us, imagine what it's like for these young children who haven't seen their parents."
Support public-service journalism that's always free to read.
It's been a busy year. Through it all, The Texas Tribune's journalists have not missed a beat. And with redistricting starting in earnest next week and the 2022 elections on the horizon, we know our journalism will continue to be fundamental for Texans everywhere. Support our work today so we can be there for you in 2022 and for whatever else 2021 might throw at us.
Yes, I'll donate today