Five years after Wendy Davis filibuster, Texas abortion providers struggle to reopen clinics
For all Wendy Davis' determination, getting an abortion in Texas is much harder today than it was in 2013. Abortion rights advocates believe it will take at least another decade for the state's health care providers to re-establish the network of abortion clinics that existed before HB 2 became law.
Five years later, Marva Sadler can still hear the roar.
It started at 11:58 p.m. on June 25, 2013, as abortion rights advocates who had gathered in the Texas Senate chamber celebrated the conclusion of then-state Sen. Wendy Davis' 11-hour filibuster. As the clocked ticked closer to midnight on the final day of the special legislative session, the cheering spread from the chamber to the balconies surrounding the rotunda and down into the lower reaches of the Texas Capitol.

Sadler had been inside the Capitol almost the entire day, watching Davis and her Democratic colleagues successfully run out the clock on a bill to establish some of the most onerous abortion restrictions in the country.
"It was an amazing, amazing day," said Sadler, clinical services director for the Texas abortion provider Whole Woman's Health. "I remember walking away that night thinking, 'Wow, we won.'"
On Monday, the fifth anniversary of a legislative battle that made headlines around the world, the story of Davis' marathon act of resistance no longer looks so straightforward.
The day after Davis walked off the Senate floor, then-Gov. Rick Perry called a second special session, with abortion high on the agenda. He eventually signed a new bill creating the same controversial requirements Davis filibustered: that abortion clinics employ doctors with admitting privileges at local hospitals and meet the costly standards of ambulatory surgical centers, which have more staff and equipment. Republican legislators hailed the law — which also prohibited abortions after 20 weeks of gestation — as an important safeguard protecting the health of pregnant women. Over the following months, 27 of the 42 abortion clinics in Texas were forced to close.
Three years later, Texas abortion advocates got a reprieve when the U.S. Supreme Court struck down the admitting privileges and surgical center provisions of the law, known as House Bill 2, in response to a lawsuit filed by Whole Woman's Health. By then, however, it was too late to save the vast majority of the clinics that had closed while the law was in effect, including a Whole Woman's Health facility in Beaumont that Sadler managed in the 2000s. Reopening an abortion clinic is an expensive, logistically complex process, especially in Texas. Only three shuttered clinics have managed to reopen in the wake of the Supreme Court decision.
Indeed, for all Davis' determination, getting an abortion in Texas is much harder today than it was in 2013. It will take at least another decade for the state's health care providers to re-establish the network of abortion clinics that existed before HB 2 became law, said Yvonne Gutierrez, executive director of Planned Parenthood's Texas advocacy arm.
"It's a steep hill to climb. A tremendous amount of damage has been done," Gutierrez said. "This definitely is not something that I see happening within the next few years."
Sadler described the closure of her old clinic as "horrific" — the polar opposite of that celebratory night at the Capitol. In Beaumont, she had immersed herself in the details of the clinic's expansion into a bigger facility, even picking out countertops for the new building. Seeing the clinic close just a few years after that exciting move "was extremely emotional," Sadler said. "I still feel to this day like I have a bit of PTSD from the whole ordeal."
Since the Supreme Court decision, Whole Woman's Health has reopened only one clinic. The organization's CEO, Amy Hagstrom Miller, said the logistical barriers to establishing a new clinic in Beaumont — purchasing a building, hiring and training staff, recruiting a doctor, acquiring the proper equipment — have so far proved prohibitive. And yet, four years after the clinic shut down, women in the Beaumont area who are unaware of the closure continue to call Whole Woman's Health to seek appointments. The old clinic was the only place to get an abortion in the 270 miles between Houston and Baton Rouge.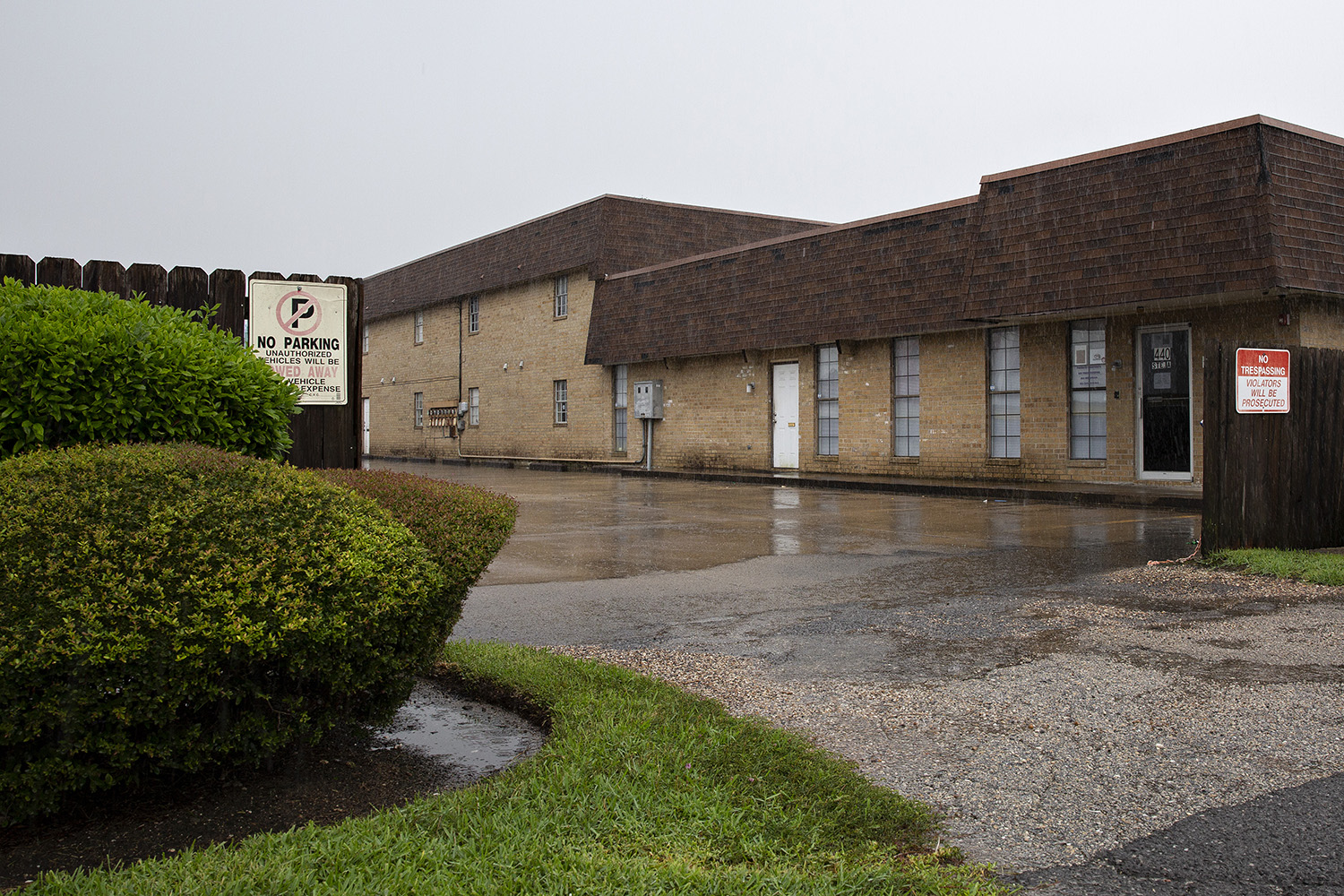 "Closing clinics doesn't change the need for abortion. It doesn't reduce unplanned pregnancy," Hagstrom Miller said. "You have this absurd perfect storm where there's the same amount of people who need your service, and one day you can say 'yes' and the next day you have to say 'no.'"
"The hardest thing I've ever done"
Not long after the Beaumont clinic closed, Whole Woman's Health also shuttered its clinic in Austin. Planned Parenthood closed clinics in Bryan, Dallas, Fort Worth, Midland, Lubbock, San Angelo, San Antonio, Stafford and Waco. Smaller clinics unaffiliated with those nonprofits closed across the state, from Harlingen to Killeen to Corpus Christi.
Hagstrom Miller laid off a fifth of her organization's 125 employees after HB 2 passed, including staffers at the clinics that shut down and members of a management team that had little left to manage.
"It was probably the hardest thing I've ever done. It was gut-wrenching," she said. "We were just filled with grief. To have to close these facilities for no reason other than politics? We hadn't done anything wrong."
Many Texans would disagree with that assessment. According to a University of Texas/Texas Tribune poll conducted in 2017, a majority of the state's residents favor restrictions on abortion access, from an absolute prohibition to a partial ban with exceptions for rape, incest or threats to a mother's health.
"We oppose the right to abortion, because we believe it's an act of violent injustice," said John Seago, legislative director for the anti-abortion group Texas Right to Life. "So to see fewer businesses, fewer locations where that injustice is occurring is a victory. It's a good thing for Texas."
Both sides in the debate agree that the clinic closures have significantly reduced the number of abortions in Texas. In 2014 and 2015, the most recent years for which data is available, Texas women received a total of nearly 110,000 abortions — 15,000 fewer than they would have if the Legislature hadn't passed HB2, according to Caitlin Knowles Myers, an economics professor at Middlebury who has studied the state's abortion landscape.
"There's a lot of anecdotal evidence that more women were self-inducing abortions, and then there may have been an increase in births also. And some of it may be abortions that were taken in New Mexico," Myers said. "The other possibility is that women and men began engaging in safer sex. But that doesn't seem credible. They didn't have time to adjust."
Texans who support abortion rights hoped that the Supreme Court decision — which found that HB 2 placed an undue burden on women seeking to terminate pregnancies — would allow shuttered clinics to reopen, expanding abortion access.
But it's not that easy, Hagstrom Miller said. Whole Woman's Health reopened its Austin clinic nine months after the high court's ruling. But that process was accelerated because Hagstrom Miller had raised enough money to continue paying rent on the building while the HB 2 lawsuit worked its way through the legal system.
Starting an abortion clinic from scratch typically costs between $400,000 and $500,000, according to Hagstrom Miller. Abortion providers have to buy buildings, hire medical staff, find doctors, pass inspections and purchase expensive insurance policies.
All of that requires aggressive fundraising over a long period of time. Texas "is not the kind of place where you can just walk into a bank and say, 'I'd like to borrow half a million dollars to open an abortion facility,'" Hagstrom Miller said.
For some of the smaller clinics that closed after the passage of HB 2, reopening was never in the cards. Lester Minto, a veteran abortion doctor who had to close his clinic in Harlingen in 2013, said that despite the Supreme Court ruling, he could not afford to buy a new building or hire back his staff.
"They said we were making fortunes killing babies, but it's not a lucrative business," Minto said. "I was seeing poorer people who didn't have a lot of funds."
Minto ran the Harlingen clinic for three decades, offering abortions to low-income teenagers while teaching his own four daughters to use protection during sex. One Christmas, he gave one of his daughters a pack of birth-control pills wrapped in festive red-and-green paper. The passage of HB 2 and Davis' subsequent loss to Greg Abbott in the 2014 governor's race left Minto angry and discouraged.
At the time of the filibuster, "we thought there might be a little hope," he said. "But it's hopeless here in Texas."
Stepping into her shoes
Five years after the filibuster, Wendy Davis keeps the famous pink sneakers she wore that day on a shelf at the top of her closet. Someday, she said, she hopes to pass them on to her granddaughter.
Davis, who now runs a nonprofit dedicated to women's issues, acknowledges that despite her best efforts, HB 2 has inflicted major damage on abortion clinics in Texas. Asked to comment on the anniversary of the 2013 filibuster, a spokesman for Abbott said that Davis' legacy in Texas "will be 21 points" — the margin by which she lost the gubernatorial election a year later. But Davis insists the legislative battle was not in vain.
"There is so much value in a fight, though you may not immediately see what you were hoping to see," she said. "A great example of that for me is literally the hundreds of stories I've heard, primarily from young women who say that day changed their lives."
Texas abortion-rights advocates are counting on that generation of women to lead the charge against new abortion restrictions while continuing to ameliorate the lingering effects of HB 2. A record number of women, most of them Democrats, are running for office in Texas this election cycle. Lupe Valdez, a gay Latina who is the Democratic nominee for governor this year, said she's optimistic that as more women enter Texas politics, fewer anti-abortion laws will make it onto the books.
"Do you honestly think if there was more women in there, that there would be that many anti-women health care bills?" Valdez said.
In the short term, organizations like Planned Parenthood and Whole Woman's Health are looking to capitalize on the legal precedent set by the Supreme Court in 2016. Earlier this month, Whole Woman's Health and a coalition of other advocacy groups filed a lawsuit challenging years' worth of Texas abortion laws that, the suit argues, harm women in marginalized communities.
At the same time, anti-abortion groups have also adjusted their strategy in response to the Supreme Court ruling, said Shivana Jorawar, a lawyer for the Center for Reproductive Rights.
"The case that went to the Supreme Court was very much premised on the other side's argument that this is about protecting women's health," Jorawar said. "Now what we're seeing is a shift to fetal dignity."
In Texas, that strategic shift manifested in some of the anti-abortion bills that the Legislature passed in 2017, including a new law that requires clinics to bury or cremate fetal remains.
"We try to pass bills that focus on the little baby, that human being inside her mother's womb, and we want to keep the focus on the baby as much as we can," said state Sen. Bryan Hughes, R-Mineola, who is opposed to abortion.
There were no epic Democratic filibusters last year: Republicans sent a series of bills restricting abortion to Abbott's desk with time to spare. Still, memories of Davis' act of resistance remain a source of inspiration for abortion rights advocates in Texas.
The day after the filibuster, Marva Sadler watched in horror as Perry called the second special session of the summer, reviving the abortion bill she thought Davis had killed. Sadler still looks back on the clinic closures in 2013 and 2014 as one of the most painful periods of her career. But she said her memories of the filibuster itself — Davis' unlikely feat of endurance, the victorious roar that spread from the chamber to the rotunda — have remained untarnished by the setbacks that followed.
"I had never in my 12-year career with reproductive justice seen so many women come together in this state in support of each other," she said. "There were many victories that day. And no matter what happened, they can't take that away."
Disclosure: Planned Parenthood and the University of Texas have been financial supporters of The Texas Tribune, a nonprofit, nonpartisan news organization that is funded in part by donations from members, foundations and corporate sponsors. Financial supporters play no role in the Tribune's journalism. Find a complete list of them here.
Texans need truth. Help us report it.
Independent Texas reporting needs your support. The Texas Tribune delivers fact-based journalism for Texans, by Texans — and our community of members, the readers who donate, make our work possible. Help us bring you and millions of others in-depth news and information. Will you support our nonprofit newsroom with a donation of any amount?
Yes, I'll donate today
---
Information about the authors
Explore related story topics