Families Divided
Beto O'Rourke, Veronica Escobar lead Father's Day march on tent city housing separated immigrant children
Days after a tent city went up near El Paso, demonstrators near the facility took aim at the Trump administration's policy of separating immigrant children from parents seeking asylum.
Families Divided

The Trump administration's "zero tolerance" immigration policy, which led to the separation of children from adults who crossed the border illegally, has fueled a national outcry. Sign up for our ongoing coverage. Send story ideas to tips@texastribune.org.
More in this series
TORNILLO — World Cup soccer and backyard barbecues were set aside Father's Day morning for hundreds of people who chose instead to descend on this small West Texas outpost that's become famous the last 72 hours for being home to an immigration detention center for children.
Lawmakers, political candidates and members of the faith-based community joined people from across the country here to express their outrage toward the Trump administration's practice of separating immigrant children from parents who are seeking asylum.
"We decided there wouldn't be a more powerful way to spend Father's Day than with children who have just been taken from their fathers, children who have been taken from their mothers, children who won't be able to be with their family," said U.S. Rep. Beto O'Rourke, D-El Paso, who spearheaded Sunday's protest with former El Paso County Judge Veronica Escobar, the Democratic nominee to succeed O'Rourke in Congress.
Others attending the demonstration included Lupe Valdez, the Democratic nominee for governor; Democratic state Reps. Mary González of Clint and César Blanco and Lina Ortega of El Paso; Gina Ortiz Jones, the Democrat challenging U.S. Rep. Will Hurd, R-Helotes; and Julie Oliver, the Democrat running to unseat Republican U.S. Rep. Roger Williams of Austin.
On Thursday, the Trump administration confirmed that Tornillo would house a detention center for immigrant children separated from their parents under the administration's "zero tolerance" policy. On Friday, that facility was up and running. O'Rourke said he was told Sunday morning that there are 200 minors in the center, 20 percent of whom were separated from their parents. He said the remainder of the children arrived at the border unaccompanied. But O'Rourke said that once the children are separated, they are labeled "unaccompanied" and processed that way, so it's unclear how many of them actually arrived alone.
The lawmakers and protesters gathered along the small road that leads to the facility and led a short march to the port entrance.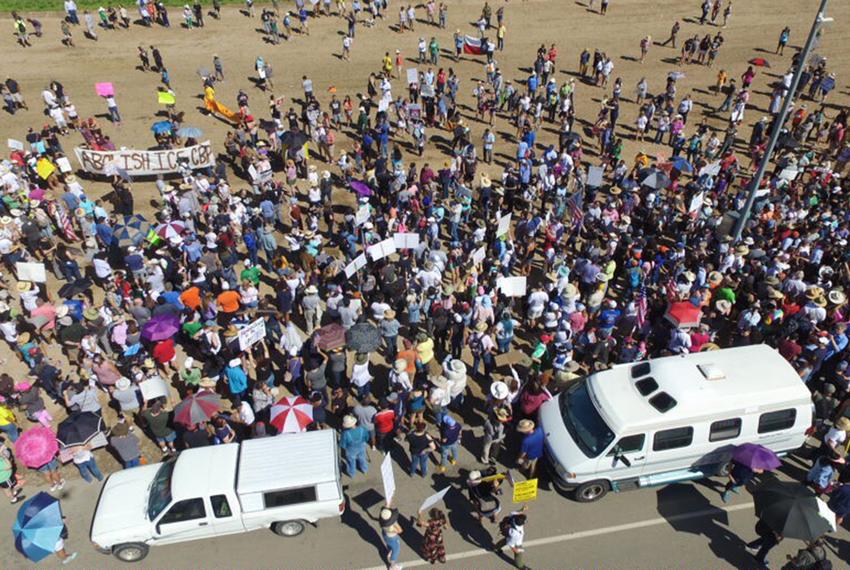 Critics have repeatedly mentioned the West Texas heat and questioned why the administration would house children in an area where triple-digit temperatures are common throughout the summer. González said she toured the facility and said the conditions inside are humane.
"First and foremost, no kid should be in a tent or in any facility, but I think when we think of the tent city we think of Arizona, Joe Arpaio style," she said, referring to the former Maricopa County sheriff who used an outdoor facility for years. "That's not the situation here. There is air conditioning, there are doctors, there are caseworkers."
But she said the administration is barring news outlets and even lawmakers from viewing the facilities to keep attention on the facilities and away from a legislative solution to the country's immigration problem.
"We're not being told about what the situation is like inside, so we get caught up in tents and not on policy," she said.
While most Texas Republicans were not going out of their way to wade into the situation, one exception was Hurd, who represents a sprawling district that covers most of the Mexican border in Texas — including Tornillo. Hurd, regularly ranked as the most vulnerable Republican in the Texas delegation, visited the tent city Saturday and came back decrying it as an unacceptable way to combat illegal immigration.
Furthermore, Hurd rejected the argument that anyone but the Trump administration was responsible for the policy.
"This is clearly something that the administration could change," Hurd told CNN after the trip to Tornillo. "They don't need legislation to change it. They don't need Democrats in order to change it. This is a Department of Justice policy, and this is something that's being enacted by" the U.S. Department of Health and Human Services.
At the Republican Party of Texas' convention on Saturday, U.S. Sen. Ted Cruz — whom O'Rourke is challenging — lay the blame for the current situation on Democrats in Congress, not the Trump administration.
"Nobody wants to see a child separated from him or his parents," Cruz told reporters Saturday, proposing that Congress "devote substantially more resources to providing immigration judges so that if a family crosses illegally and if they have a credible claim of asylum, that claim should be processed and processed quickly, ideally immediately, so that if it is a valid claim, they get asylum granted and if it's not a valid claim that they are returned to their home country promptly and expeditiously."
"That would be a far more just outcome in terms of laws," Cruz added. "The reasons we don't see that right now is Democrats are filibustering those kinds of common-sense solutions that could protect kids."
Land Commissioner George P. Bush, asked about the policy Friday, also pointed the finger at Congress.
"To me it's reflective of the failures of Washington, D.C., politics," Bush told reporters. "We need solutions, and that's not only short-term Band-Aid fixes ... but it's also developing opportunities for folks along the border."
Asked whether children and parents should be kept together, Bush replied that he did not "want to dive into specifics," but he raised a similar point that Cruz did, acknowledging difficulties in "triaging" various types of asylum cases.
At the other end of the Texas-Mexico border Sunday, a vigil protesting the administration's policies was held Sunday near the Ursula Border Patrol processing center in McAllen.
Around 75 participants and several advocacy organizations were in attendance, demanding that elected officials do everything possible to avoid the separation of the parents and their children.
Among the participants was Marlene Chávez, a 32-year-old McAllen resident who was drawn to come because of her own story. Her mother came to the country in the 1990s, and she said she could relate to the problems that people crossing the border now are facing.
"We have seen how the Border Patrol stops people and separates them, and now they reach a much more cruel level," Chávez said, adding that many Central American families don't have a choice but to flee the violence in their countries.
At the same time the vigil was taking place, a delegation of Texas lawmakers, including Democratic U.S. Reps. Vicente Gonzalez of McAllen, Sheila Jackson Lee of Houston and Filemon Vela of Brownsville, toured the processing center.
Asked about the legislative debate in Washington, Gonzalez said that "[Trump] is trying to negotiate with the children, but we can't negotiate with our kids. "
"We have a proposal that goes to the House and that is already in the Senate to try to stop the separation of children," he said.
Earlier in the day, the Border Patrol's Rio Grande Valley Sector chief, Manuel Padilla, reiterated to reporters in McAllen that the asylum seekers are being prosecuted according to current law just as a U.S. citizen would be if charged with a crime.
"When a U.S. citizen parent is prosecuted for violating the law and that U.S. citizen is accompanied by children, they are separated from those children as they go through their process," he said.
The sector is the busiest in the country for asylum seekers who cross the river illegally, Padilla added. He said that 1,174 children have been temporarily separated in the sector as their parent or guardian goes through the prosecution process. Of those, 711 have been transferred to the human health services offices of the Office of Refugee Resettlement, and 463 have been reunited at the Rio Grande Valley Sector's Centralized Processing Center. Department of Homeland Security officials confirmed Friday that 1,995 immigrant children had been separated from their parents as a result of the "zero tolerance" policy.
In El Paso on Sunday, Escobar said that the Border Network for Human Rights has scheduled another protest for Tuesday and that lawmakers and activists have vowed not to let up until the administration rethinks its current policies.
"I feel like the rest of the country needs to be as angry as we are on the border," she said. If the administration continues to separate families, she added, then the president will use the policy as leverage to beef up border security and build his long-promised wall.
Julián Aguilar reported from El Paso, and Juan Luis García Hernández reported from McAllen. Patrick Svitek contributed to this report.
Texans need truth. Help us report it.
Our Fall Member Drive is underway, and we need your support. The Texas Tribune is a critical source of truth and information for Texans across the state and beyond — and our community of members, the readers who donate, make our work possible. Will you join as a member with a tax-deductible donation of any amount?
Yes, I'll donate today
---
Information about the authors
Explore related story topics