With the Texas GOP convention underway, a contentious chair race reaches its end
Incumbent GOP Chairman James Dickey is fending off a challenge from Cindy Asche, who has questioned Dickey's support for President Donald Trump.
*Editor's note: This story has been updated with the news that the race is moving to the convention floor.
SAN ANTONIO — The Texas GOP convention got underway here Thursday morning with dueling speeches by the two candidates for party chairman, the culmination of a contentious months-long race to lead the biggest Republican Party in the country.
On Friday, the nearly 9,000 delegates and alternates who've descended on the Henry B. Gonzalez Convention Center will decide whether they want to keep James Dickey as chairman or dispense with him for challenger Cindy Asche, a veteran activist from Frisco. The race will be decided on the convention floor after Asche won nine out of 31 Senate district caucus votes in the morning. She needed three to advance to the floor. Dickey won the other 22.
It has been a battle highlighted by pitched disputes over the party's finances, its censure of outgoing GOP House Speaker Joe Straus and even a 2004 securities fraud case involving Dickey.
Perhaps looming largest over the race in the final hours, though, is an issue that has previously dogged Dickey: his level of support for Donald Trump in the 2016 presidential race. Originally a supporter of U.S. Sen. Ted Cruz in the White House contest, Dickey went on to become a leader in Texas of the Free the Delegates movement to deny Trump the nomination at the national convention.
Asche used her speech to delegates Thursday morning to remind them she has stood with Trump "from the moment he became our presumptive nominee, then at the national convention and then at every step along the way." And in an interview in the exhibition hall hours later, she said Dickey's involvement in Free the Delegates is "one of the things that resonates the very most" with delegates she has encountered.
"One of the things that we've got to do as Republicans is bring in those people that voted for Trump the first time," Asche said. "They need to actually be part of our party permanently, not just one-time voters. It's going to be very hard to bring them in with somebody who tried to go against Trump."
Dickey has said he got behind Trump once he officially became the nominee and has been very pleased with his record in office since then. As he walked through the exhibition hall Thursday afternoon, Dickey shrugged off the renewed line of criticism.
"The president complimented me a week and a half ago," Dickey said, recalling a recent fundraiser in Dallas. "I figure if he's fine with me, then everyone else's opinion should be in line."
Dickey employed a particularly Trumpian flourish during his re-election pitch hours earlier, proclaiming he is "not tired of winning yet" after ticking through his accomplishments so far. "I know you're not tired of winning yet," he added.
Still, delegates walking into the convention center on Thursday afternoon were handed a piece of literature from Asche's campaign comparing the two candidates' histories with Trump. The front side highlighted Asche's leadership in the Mighty Texas Strike Force, the volunteer group that deployed to other states in 2016 to help Trump win; the back side showed an excerpt from an email that Dickey sent Texas delegates that summer, saying it is "now clear that Donald Trump does not share our conservative values and will lose to Hillary Clinton in a landslide that will debilitate the Republican Party for a generation."
It is not the first time Dickey, the former chairman of the Travis County party, has faced the Trump-fueled attacks. He weathered them while running for chairman in 2017, vying against Houston-area businessman Rick Figueroa to complete the term of Tom Mechler, who stepped down in May of that year citing personal reasons. Dickey defeated Mechler-backed Figueroa by a razor-thin margin — 32 votes on the State Republican Executive Committee to 31 for Figueroa.
More than a year later, Mechler is still a factor. He is vocally supporting Asche and has dipped into his own funds to send out mail urging delegates to vote against Dickey, citing the same Free the Delegates email while claiming Dickey is "working to divide the Republican Party." Mechler also has given several thousand dollars to Asche's campaign.
Asche's bid been has been largely fueled by roughly $146,000 in loans to herself, a considerable sum of money for a chairman's race. In a Facebook post Tuesday, Asche wrote that she and her husband decided to self-fund so she could spend time campaigning rather than raising money and that she has asked big donors to give to the party after she wins instead of to her campaign.
The tone of the race was set weeks before delegates arrived here, with Asche coming out swinging in April by dredging up what she described as Dickey's "record of Classic Hedge Fund Fraud." It was a reference to 2004 charges against Dickey by the U.S. Securities and Exchange Commission, alleging he and a partner "fraudulently offered and sold securities in three Texas-based hedge funds" totaling over $71.6 million. Dickey reached a settlement with the SEC that prohibited him from talking about the case.
When Asche pounced on the case, Dickey's campaign provided a statement from his lawyer in the lawsuit saying she "grossly misrepresented nearly every aspect of the claims against Dickey—knowing all the while he is unable to address the misstatements because of the confidentiality agreement."
Another battle line in the race has been the State Republican Executive Committee's January censure of Straus, a San Antonio Republican who announced last year he will not seek re-election after five terms as leader of the lower chamber. The censure required a two-thirds vote from the SREC, and Dickey joined with vice chair Amy Clark to put it over the top, 44-19.
Asche says the censure needlessly sowed intra-party division and alienated Straus supporters.
"He had already announced he was not running," she said in the interview. "So what did our censure accomplish? Nothing. Except to tell those voters they were invalid and to stay home or vote somewhere else."
Asche is not exactly a Straus loyalist herself. She said it is "pretty well-known" she supported Straus' 2015 challenger for the gavel, Scott Turner, a friend who was her state representative at the time. (Turner has since left the House.)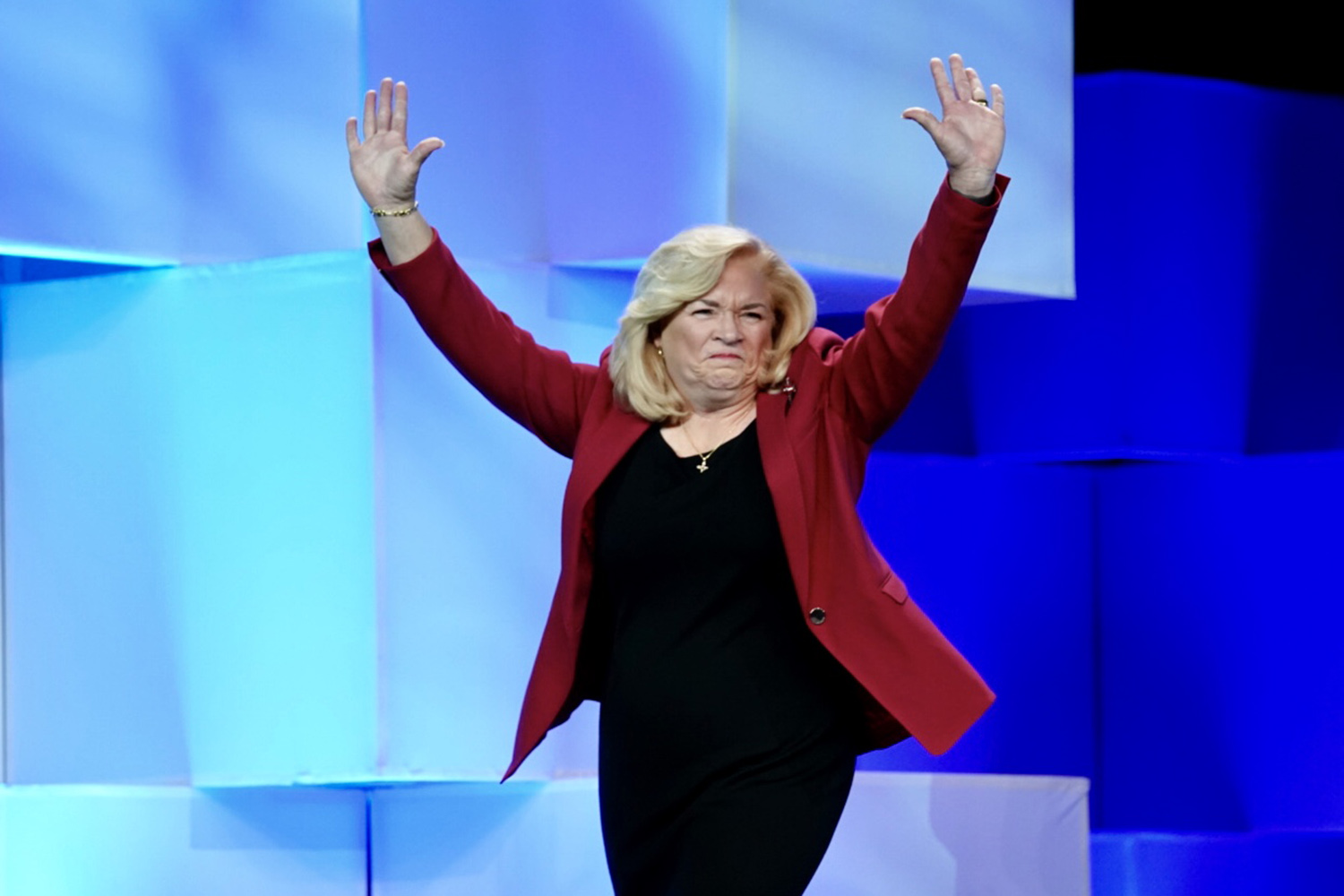 Dickey, though he supported the censure effort, said at the time of the vote that it was important for the party to unite ahead of the 2018 elections and "put this thing behind us." More recently, Dickey noted in a debate against Asche last month that Rule 44 — the censure rule in the party platform — had "a specific set of processes with a lot of protections in it to ensure that censure with penalties has to meet certain bars."
While Dickey isn't touting the censure vote in his re-election campaign, it's nonetheless an issue high on the radars of some supporters.
"I think Joe Straus is a RINO — Republican in Name Only," said David Seitz, a Dickey supporter and delegate for Senate District 31 in the Panhandle. "I've been very opposed to Straus being speaker the whole time."
Asche supporters, meanwhile, said they're backing the candidate because she can grow the state party.
"We need someone who can bring in a wide variety of people in the party," said Jan Ott, a delegate from Harris County, adding that she thought Dickey wasn't as "inclusive" of women in the party as she would have liked.
That January censure vote also didn't sit well with Ott, who said "the only thing [it] accomplished was being divisive within the party."
"We all gotta be on the same team," said Bill Ott, Jan's spouse who's also serving as a delegate at the convention. "If you start fracturing the team, you lose the effectiveness you have as a whole party."
In addition to selecting a chairman Friday morning, delegates will determine who will replace outgoing vice chair Amy Clark. The two candidates are Alma Perez Jackson, a longtime activist from Bexar County, and Fred Rangel, a State Republican Executive Committee member from Senate District 26. Jackson is viewed as more aligned with the Dickey crowd, while Rangel is in Asche's camp.
There was a third candidate for vice chair — former RNC member Denise McNamara — but she dropped out last week and got behind Jackson.
Quality journalism doesn't come free
Perhaps it goes without saying — but producing quality journalism isn't cheap. At a time when newsroom resources and revenue across the country are declining, The Texas Tribune remains committed to sustaining our mission: creating a more engaged and informed Texas with every story we cover, every event we convene and every newsletter we send. As a nonprofit newsroom, we rely on members to help keep our stories free and our events open to the public. Do you value our journalism? Show us with your support.
Yes, I'll donate today
---
Information about the authors