These veterans from Texas were deported. They say they deserve a second chance.
They can see the country they once served from a park in Ciudad Juárez, Mexico. But a number of men who once wore a military uniform are barred from coming back after being deported to their native country.
CIUDAD JUÁREZ, Mexico — On Memorial Day on the Texas-Mexico border, Michael Evans, who served four years in the U.S. Marine Corps, was one of several veterans who helped set up a public display to honor fallen soldiers who have served in America's military.
Later that same day, Lorenzo Nuñez, a Mexican national, stood at attention and paid tribute to those men and women in a minute-long salute to the flags of the U.S. and the various branches of the armed forces.
Those actions sound similar to several that played out across the country earlier this week, but for one exception: Evans and Nuñez are the same person. And the 40-year-old man was marking the holiday in Mexico after being deported in 2009, despite his military service.
"My birth name is Lorenzo Nuñez Fernandez. It sounds like a mariachi name," Evans said with a chuckle from Ciudad Juárez's Chamizal Park, less than a city block from the international port of entry at El Paso. His name changed after he was adopted by an American family in 1984, and he was discharged in 2000 before the second Gulf War.
He is one of several former servicemen in the middle of a unique immigration debate over whether deported veterans should get a second chance at legal status in the U.S. even though they might have committed a crime that led to their deportation.
Democratic U.S. Reps. Vicente Gonzalez of McAllen and Beto O'Rourke of El Paso have authored legislation to allow deported veterans who were honorably discharged to be naturalized overseas. It would exclude veterans convicted of crimes including voluntary manslaughter, murder, rape, sexual abuse of a minor, child abuse and terrorism, according to Gonzalez's office.
The measure would also have the U.S. attorney general cancel or rescind a removal order for an eligible veteran and change their status to legal permanent resident.
Gonzalez, who discussed the matter with President Donald Trump last year, said he was optimistic after the president expressed support for easing up on the veterans, the Chicago Tribune reported.
But the legislation has stalled, and Gonzalez recently took to the House floor to rebuke Republicans for not allowing his bill to be an amendment to a larger military bill, although he's vowed to keep the issue at the forefront and fight for a vote on his bill in Congress.
"These stories are flooding in from all corners of the globe. We are deporting honorably discharged veterans after promising them citizenship," he said. "This is a disgrace."
Born in Chihuahua, Evans graduated from an El Paso-area high school before joining the Marines.
He was deported after serving time in federal prison on a felony drug conspiracy charge. He said he was two weeks from taking his U.S. citizenship oath when a 2-year-old case came back to haunt him. He was adopted two years before amendments to the Immigration and Nationality Act made it easier to become U.S. citizens after adoption. Because Evans was never naturalized, he said he was treated like any other Mexican criminal and ordered to leave the country in 2009.
"Basically, it was like 'You're Mexican, you committed a crime and you got to go back,'" he said. "Back then is when Juárez was at its worst – more murders, more murders and murders" he added, referring to the cartel war that raged in the border city and claimed more than 10,000 lives.
But Evans said he's a little more optimistic that something could get traction now as the issue gains more attention.
"There was no hope for years, zero hope," he said. "But now there is some light at the end of the tunnel. We're kicking up a lot of dust, and there are a lot of people talking. So you never know."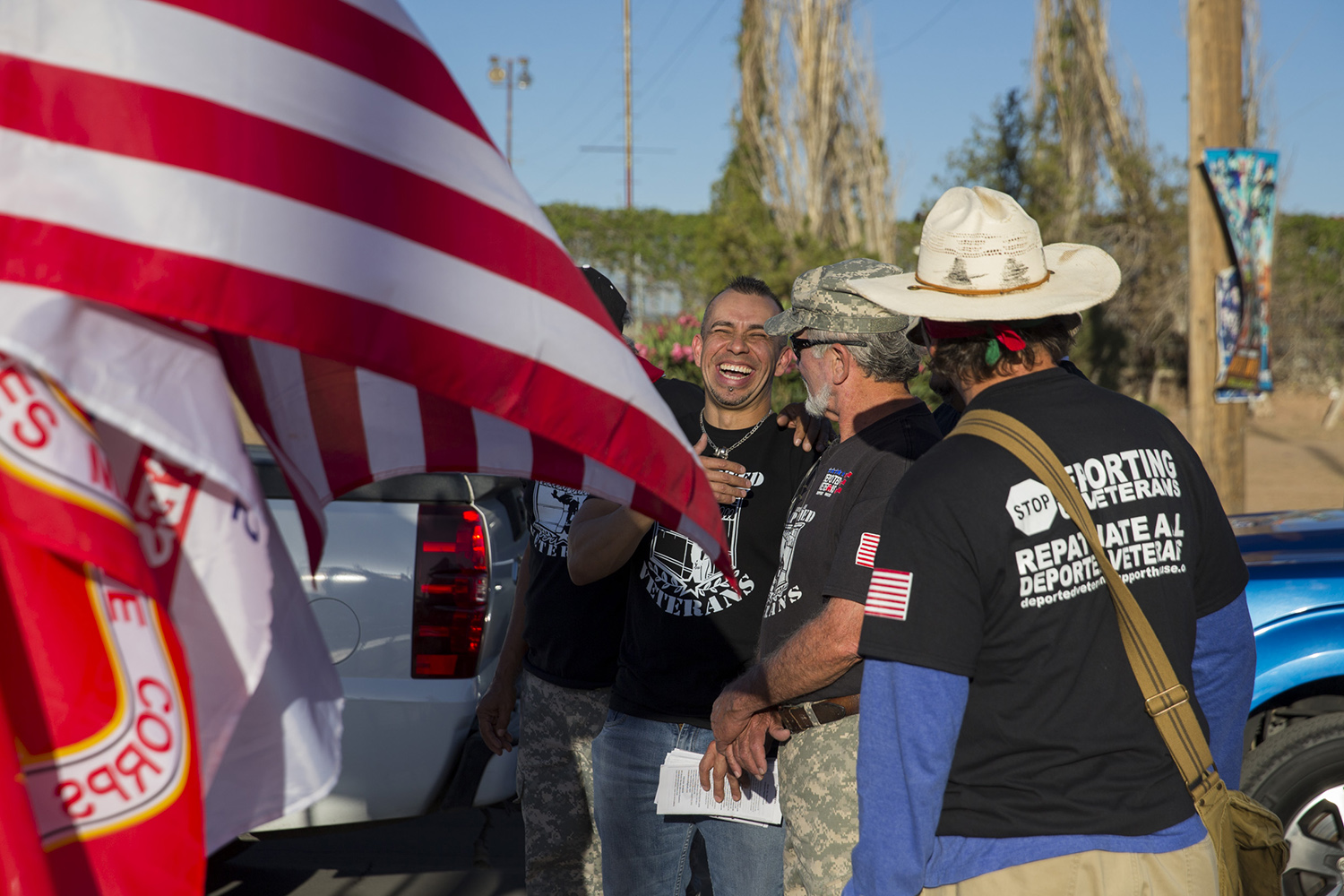 For older veterans of the U.S. military who were deported, there is less hope for themselves but optimism about the younger ex-soldiers.
Francisco Lopez, 73, is the director of the Deported Veterans Support House in Ciudad Juárez, known as the "Juárez Bunker." He told the Tribune he was drafted in 1967 and went to Vietnam, where he served a year overseas. He was arrested in Wichita Falls after buying cocaine he said was for both personal use and for selling. He was deported in 2003 and has turned his house into a shelter of sorts.
"My hopes of being able to return are pretty much dead," he said in Spanish. "Only the president can help us. But what we want is to raise attention that we need medical care. Because that's a right all of the veterans have. And we don't have it."
What's helped the cause, Lopez said, is the attention the movement has gained over the last year. On Memorial Day 2017 the group was photographed by Herika Martinez and the photo was later published by the AFP, The Washington Post reported.
The photograph eventually went viral, and a feature story by the local CBS-FOX affiliate in February prompted more attention.
Navy veteran Juan Valadez, 35, knows that everyone isn't sympathetic. He reads online comments arguing that deported veterans deserve what they got for breaking the law.

"It's a divisive issue, but the way I see it, we made a mistake. But we're still veterans, we served the country," he said.

After attending Socorro High School in east El Paso County, Valadez enlisted and was deployed to the Gulf of Aden and then to the Persian Gulf.
After that, he said, he served two years in federal prison after being convicted of a conspiracy drug charge. But he said he served his time and deserves another shot.
"I understand we're immigrants, but we did something that most immigrants and U.S. citizens won't do. We signed up for the military voluntarily. I deployed twice."
Texans need truth. Help us report it.
Independent Texas reporting needs your support. The Texas Tribune delivers fact-based journalism for Texans, by Texans — and our community of members, the readers who donate, make our work possible. Help us bring you and millions of others in-depth news and information. Will you support our nonprofit newsroom with a donation of any amount?
Yes, I'll donate today
---
Information about the authors
Explore related story topics