"Women can do this": Female inmates in Texas find fulfillment in learning technical skills, but they have fewer options than men
Female inmates are offered fewer educational opportunities than men in Texas prisons, according to a recently released report. Those women who do have access to technical education say they are finding their passions.
GATESVILLE — As the blowtorch in 32-year-old Nicole Gillespie's hand pierces the cool air around her with the smell of gas, she feels like she's making history. Gillespie, an inmate at Woodman State Jail in Gatesville, is part of the first HVAC class that has been offered to women at any Texas state jail. Texas prisons have offered similar classes to men for years.
Gillespie's classroom partner, Amber Kenyon, 38, recognizes that the area she's working in is male dominated outside of prison, but that's not stopping her from pursuing a passion she's found in the four years she's been incarcerated.
"It's usually men who get classes like this," Kenyon said. Men "don't believe we can do this in the first place. Women can do this."
But not every incarcerated woman gets these opportunities.
A report released last month by the Texas Criminal Justice Coalition said that compared to women in Texas' criminal justice system, men are offered far more technical education options — 27 more courses, ranging from truck driving to bricklaying. Although women accounted for less than 9 percent of those in the Texas prison system in 2016, between 2009-2016 Texas' state prison population saw an increase of 500 female inmates while the male incarceration rate declined.

Lindsey Linder, policy attorney at the Texas Criminal Justice Coalition and the report's author, said having educational and vocational programming in prisons is important and that the lack of options in programming is failing incarcerated women.
"Women make up less than 10 percent of the overall incarcerated population" in the Texas Department of Criminal Justice, said Linder. "Their shared experience that they're struggling with prior to their system involvement needs to be addressed while they're with us so that we don't have them recidivating and coming back into the system."
The Texas Department of Criminal Justice offers academic and vocational programs for women, including office administration and culinary arts — but has more options for men. Windham School District, a program serving inmates throughout Texas, has partnered since 1969 with the Texas Department of Criminal Justice to prepare thousands of Texas inmates for GED completion and technical education careers like landscaping, construction and electrical trades.
Officials at both the Windham School District and the Texas Department of Criminal Justice disputed the report's findings, saying women in prison are given fair opportunities to further their education.

Texas Department of Criminal Justice spokesperson Jeremy Desel said the agency "vehemently disagrees with that report," particularly with the part that says women can only receive up to an associate's degree while men can get bachelor's and master's degrees. Desel said the state does offer female inmates three bachelor's degree programs through Texas A&M University.
Desel added that the state has and will continue to "actively seek programs" to prevent recidivism and provide skills to incarcerated women.
Windham School District superintendent Clint Carpenter said the district has strengthened program offerings for Texas' growing female prison population. More women are in prison because of "tough-on-crime" prosecution of drug crimes, psychological and physical trauma and poverty that largely impacts women, the report said.
Carpenter said women were underserved in educational areas before he assumed his role five years ago. But, he said, classes for women have doubled in the past three years, particularly with technology-focused career and technical education classes.
"You're twice as likely as a female to get educational programming as you would be a male," Carpenter said. "We still have a lot to do. But I don't think that publication is all fair or accurate or reflective of what the truth is."
Adding new programs for women can be expensive, particularly with "high-technology" job training, Carpenter said. Last year, Windham School District requested additional funding from the Legislature to expand classes for women but did not get the money. The district asked for $800,000, which would have added 3,696 industry certifications for women. The district's current two-year education budget is more than $104 million.
"That really would have increased the number that we have if our [legislative appropriations request] had been approved by the Legislature," Carpenter said. "That request would have really jump-started our programs."
State Rep. James White, a Republican from Hillister and chairman of the House Corrections Committee, previously told The Texas Tribune that the uptick in the female prison population is something his committee is going to study before the next legislative session. Last year, House Speaker Joe Straus tasked the committee with exploring treatment options and programs for women before the Legislature convenes in January.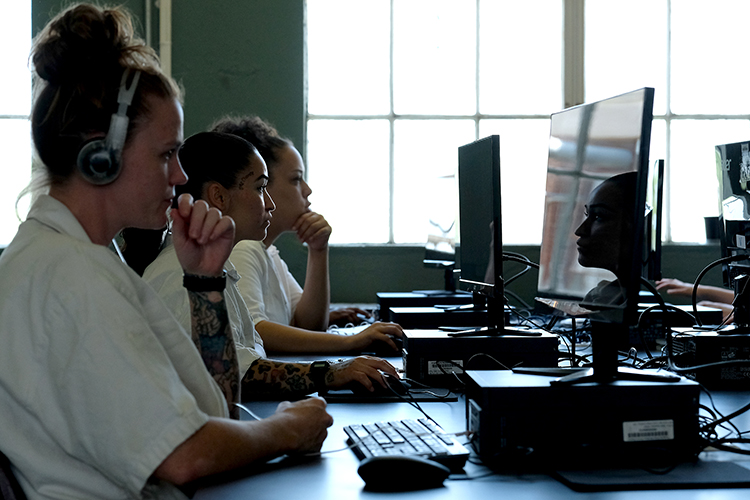 When it comes to providing academic, technical education or vocational programming to Texas inmates, it's not a one-size-fits-all approach. Windham School District started looking at industry certifications where incarcerated women, many of whom are mothers, could work independently and flexible hours while being entrepreneurial.
"Whenever we started looking at what we could do different for the female population, we understood first and foremost they were going to have to be able to get a job so that they were independent — they couldn't rely on someone in a relationship to always be there for them and their children," Carpenter said.
Women at at Woodman State Jail take pride in learning about careers that weren't available to them previously. As women in an electrical class are diligently working away at wiring light fixtures, Chelsea Gage, 24, shows off the wiring work she's been doing since 4:30 a.m. to her teacher, Dan Mayberry.
Mayberry calls his female students a "cut above the rest."
"They get excited about it, and that feeds me — it just keeps me going," Mayberry said. "I see them walking in with their heads down and they walk out with their heads up."
Back in the HVAC classroom, Kenyon and Gillespie take a break from welding pipes together to reflect on how their HVAC class has them looking forward to their post-prison careers. Gillespie, serving time for drug possession and aggravated kidnapping, is eligible for parole in 2019.
"I'm thankful for an opportunity like this," Gillespie said. "I know when I go home, I know that I don't just have to be a service technician. This opens so many doors that I can possibly get into."
Kenyon, who is in her fourth year of a 22-year prison sentence for drug possession, tears up as she talks about her son, who recently graduated from a technical education program at his prison. She's working with Windham School District to make sure he gets a job once he leaves. But for now, Kenyon continues to dream about what her passion in prison will turn into once she's released — perhaps moving to Houston and working on cruise ships, fixing their air conditioning units.
"I dream pretty big," Kenyon laughs.
Disclosure: Texas A&M University has been a financial supporter of The Texas Tribune, a nonprofit, nonpartisan news organization that is funded in part by donations from members, foundations and corporate sponsors. Financial supporters play no role in the Tribune's journalism. Find a complete list of them here.
Texans need truth. Help us report it.
Independent Texas reporting needs your support. The Texas Tribune delivers fact-based journalism for Texans, by Texans — and our community of members, the readers who donate, make our work possible. Help us bring you and millions of others in-depth news and information. Will you support our nonprofit newsroom with a donation of any amount?
Yes, I'll donate today
---
Information about the authors
Explore related story topics