"They're just setting those babies up for the penitentiary": How minor offenses feed overcrowding at Houston youth jail
Across Texas, kids are getting into less trouble with the law even though the state population is exploding. So why is Harris County's juvenile detention center bursting at the seams?
HOUSTON — Throughout Texas, it's clear: Even as the state's population has skyrocketed in recent years, kids are getting into a lot less trouble with the law.
Prosecutors are filing fewer criminal charges against them. Statewide, juvenile prisons are holding fewer youth. And counties are keeping fewer kids in detention while they wait for their cases to get resolved.
So why has the the juvenile detention center in Harris County — home to Houston, America's fourth-largest city — been bursting at the seams?
Just like the rest of the state, Harris County has seen fewer juveniles enter the criminal justice system over the past decade. Yet the population of the 210-cell juvenile detention center, which mostly holds kids between 10 and 16 years old who have not yet been convicted of a crime, has spiked in recent years.
Last year, an average of close to 300 kids stayed there each day, up from just over 160 a few years back. The population spike has forced some youth to sleep in common areas, in portable beds that look like little plastic boats, and last year an average of two dozen kids had to be held in a separate building because the detention center was too full.
Loading...

That's put an enormous strain on the staff there, officials say. Fights break out more often, and kids get a lot less individual attention during school hours.
"Harris County is bucking the trend," said Michele Deitch, an attorney and senior lecturer at the University of Texas at Austin who specializes in Texas juvenile justice policy. "All around the country, and certainly all around the state, the numbers are down in detention.
"The need for the beds just isn't there anymore," Deitch said. "So the idea that this one county is experiencing an increase … that should raise a lot of questions."
The overcrowding affects kids and families far beyond the Houston area: It is one reason lawmakers decided not to raise the age of adult criminal responsibility in Texas from 17 to 18 last year. Seventeen-year-olds accused of crimes in Texas are usually sent to an adult county jail; the "raise the age" bill would have made them part of the juvenile justice system instead.
Harris County's juvenile probation chief, Tom Brooks, said the detention center's overcrowding is mostly due to "a high number of egregious offenders" — kids accused of crimes like armed robbery and assault — who often stay in detention longer.
Brooks added that the county has worked hard to stop unnecessarily locking up kids. Last year, nearly 2,000 fewer kids were booked into detention compared to 2010, according to county data. The ones that are left "actually are here for a legitimate reason, and their due process takes longer," Brooks said.
But data obtained by The Texas Tribune — along with interviews with experts, parents and advocates — suggest there's more to the story. Local officials might blame the overcrowding on bad kids, but experts say it's more about a bad system in Harris County, where local officials plan to build a new juvenile detention center at an estimated cost of $65-70 million.
The data from Harris County's juvenile probation department shows:
The average number of kids held in the detention center charged with minor offenses such as trespass, theft and violating probation — things that some experts say shouldn't land kids behind bars at all — increased by 64 percent from 2010 to 2017. Meanwhile, the average number held for violent crimes like armed robbery and rape, called "felonies against persons," increased by about 46 percent.

Minor offenders were locked up in the detention center for an average of nearly three weeks in 2017, twice as long as in 2010.

From 2010 to 2017, the average number of African-American youth held in the juvenile detention center more than doubled, and the number detained despite being labeled "low risk" has increased by 75 percent.
Experts say this is an unusual trend when it comes to juvenile justice. It's becoming widely accepted that imprisoning kids — and even adults — for low-level crimes is probably doing more harm than good. Taking someone away from their home and school for a minor offense like shoplifting, and placing them alongside those accused of far more serious crimes, is bad for the child and for society, they say.
"Anytime you disrupt the kids' routine, you take them out of the home, away from whatever stable influences they have … It's not a good situation," Deitch said. She added that the Harris County data suggests "there's something very punitive going on."
Michael Schneider, one of the judges who handles juvenile delinquency cases in Harris County, expressed concern after seeing the data. "Why is the increase in detention greater than the increase in violent crime?" he asked.
Paul Holland, an associate law professor at Seattle University who studies national juvenile justice policy, called what's happening in Harris County "alarming." He said the trend in detention there can't just be blamed on an increase in violent crime; local decisions are probably having an impact, too.
"It really does seem like it's a system thing and not a kid thing," Holland said.
"There's a presumption against locking them up"
Texas is one of just a handful of states that still prosecutes 17-year-olds as adults and sends them to adult jails and prisons. There's a growing movement to change that, but Harris County's overcrowded juvenile detention center has made some lawmakers hesitate.
Last year nearly two-thirds of the Texas House of Representatives, including some of the state's most conservative lawmakers, voted to place 17-year-olds in the juvenile justice system starting in 2021. But the idea went nowhere in the state Senate.
John Whitmire, a Democrat from Houston who is chairman of the Senate Criminal Justice Committee, opposed the legislation. He said the state needs to reform its juvenile justice system before making such a big change. He also cited Harris County's overcrowded juvenile detention center: "Harris County cannot absorb 17-year-olds unless we have a plan."
Brooks, the Harris County juvenile probation chief, is against the idea, too — for "fiscal reasons as well as philosophical reasons," he said in an interview with the Tribune last year. In a separate interview, he also said his juvenile detention center already has many "sophisticated and streetwise" teenagers and that he can't afford an influx of 17-year-olds from the adult jail.
But some say this argument is misleading. Most 17-year-olds in Texas end up in adult jail for low-level offenses such as marijuana possession and theft, according to a report released last year by advocates who want to raise the age of criminal responsibility. If the state instead decided to send them into the juvenile justice system, "there's a presumption against locking them up" at all, said Deitch, the UT-Austin expert.
Experts and advocates, along with Deitch, also think Harris County shouldn't use its overcrowded detention center as an excuse to argue against change. They said the county should dig into its own data to figure out why there's overcrowding, and how to fix it. Instead, to their dismay, the county is building a new detention center, which is expected to open in 2020 with hundreds more beds.
Brooks said Harris County has no other choice: The juvenile justice system is seeing more and more mentally ill kids who have nowhere else to get help.
"If we could come up with more mental health resources," it might be possible to lower the detention center's population, he said. But given state funding cuts, "I don't see that getting any better."
Across Harris County, Brooks said, there's a lack of beds for troubled youth — not just those who haven't been convicted of a crime yet, but also "post-adjudication" juveniles whose cases have been finalized but need services like substance abuse rehab or mental health treatment — and it can take time to find them a place to get the help they need. Last year, an average of 35 kids per day stayed in the detention center while they waited for services.
Whitmire said he believes, like Brooks, that "we're dealing with a very tough group of kids and it's driving up the numbers in Harris County. They appear to have larger numbers of violent, youthful offenders."
He was surprised to hear that the number of kids in detention for misdemeanors and violations of probation has also increased sharply. Perhaps those kids already had a criminal record before their latest offense, he pointed out.
If not, "you don't need to lock them up," Whitmire said. "You lock up the people that you're afraid of, not the ones you're mad at."
"Is that the best way to teach the lesson?"
Some advocates have compared the situation at Harris County's juvenile detention center to what's happening in its adult jail. The jail has been at the center of a lawsuit over keeping poor people behind bars for days or weeks simply because they can't afford to bail themselves out.
There's no bail in the juvenile justice system; instead, the probation department is the first to decide to detain kids, and judges regularly check in afterward. But research suggests that even just a few days in detention can increase kids' chances of getting into more trouble later.
"I just feel like they're getting those kids ready to really go to jail," said Ikeyraura Shorts, whose now 16-year-old son spent weeks in the Harris County juvenile detention center last year after getting into a fight at school. "They're just setting those babies up for the penitentiary."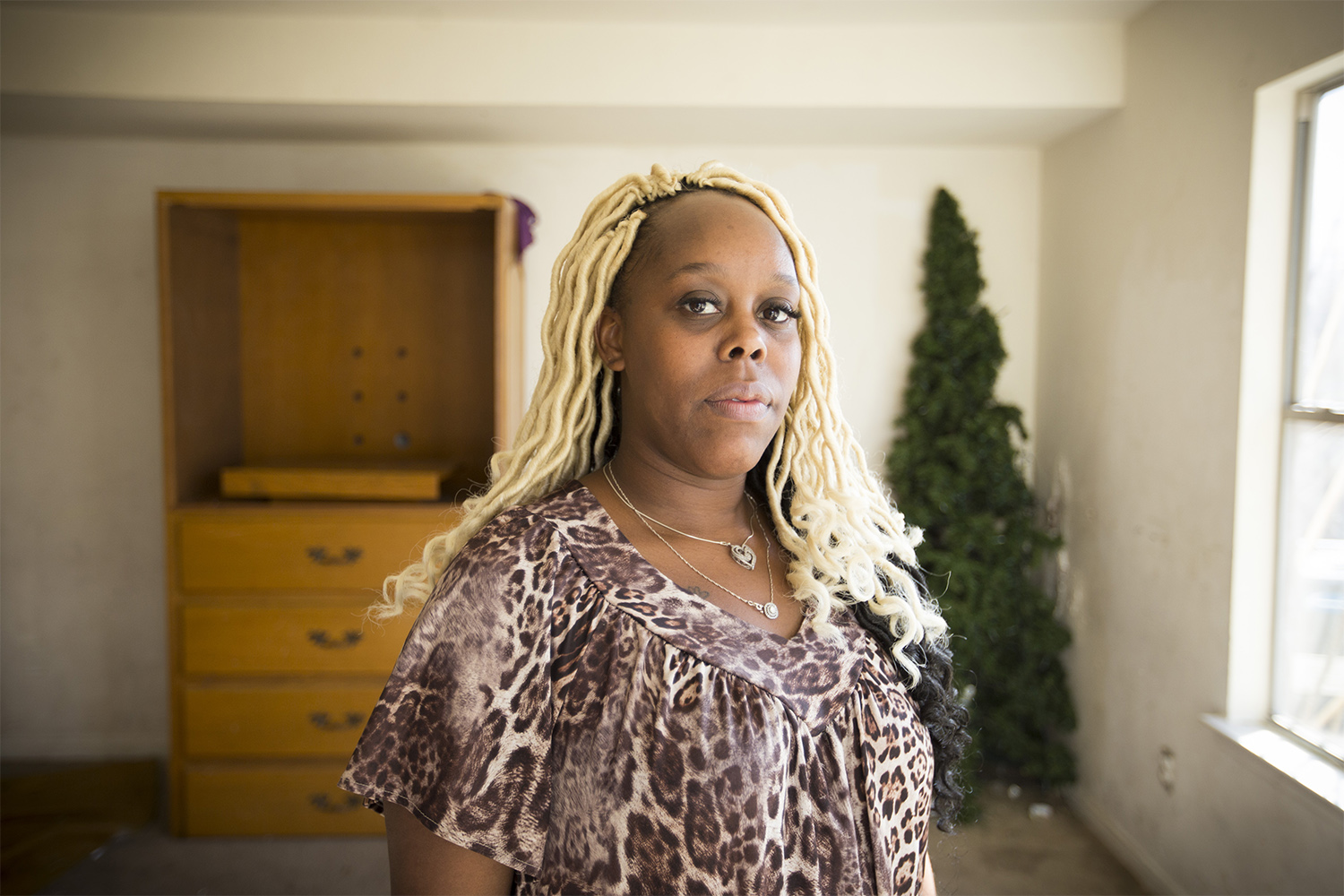 After Shorts' son was arrested, the county's probation department would have used its own special scoring tool to decide whether he should be locked up. The department would consider factors like whether he'd been accused of something violent and whether he had a criminal history.
If he scored an eight or lower, he would be considered "low risk," which means he should generally be sent home. A score of 15 or higher would almost certainly land him in detention.
There's no way to know what score Shorts' son got, because those records aren't public. But Shorts said he'd never been accused of anything worse than a misdemeanor, so he probably would have been considered low risk. Yet he ended up in detention for more than two weeks.
The idea of the scoring system is to avoid human biases, like racial stereotyping. But officials can still ignore low scores and detain a juvenile anyway — and data shows that's exactly what's happened in recent years. From 2010 to 2017, the number of juveniles detained despite having a low score increased by 63 percent.
Brooks, the juvenile probation chief, did not appear to be familiar with this data until the Tribune showed it to him last year.
"Anecdotally, I would probably attribute it to mental health," he said. "We're just getting younger and younger, very sick kids."
Shorts said detention did her son more harm than good. Each time she made the 45-minute drive to visit her son three days a week, he looked "really distressed," she recalled. "All he did was sit up and [say], 'I'm not going home. I'm not going home. I'm not going home. I'm gonna be here for real.'"
Brooks insisted that the department is following its scoring system whenever possible, but sometimes there are factors beyond anyone's control. According to county data, the most common reason low-risk kids got locked up last year was that there were active warrants out for their arrest.
An active warrant may sound serious, but a lot of times all it means is that a kid missed a court date. And if those kids later get picked up by police, Harris County's policy is to detain them, no matter what.
That's what happened to Diane McCoy's son. Facing misdemeanor charges for a fight at school, the now 14-year-old was picked up by police on his way home from basketball practice last year after he missed court. The fight had happened two years earlier, McCoy said, and she'd lost track of the court date.
The day after he ended up in juvenile detention, McCoy and her mother drove to the detention center downtown and begged a judge to release him. "It's really my fault, I forgot about the court date," McCoy told the judge as her son stood in the front of the courtroom in handcuffs and his grandmother sobbed. He was released.
Counties across the country lock up kids for this reason. But many people think it's unnecessarily harsh, including Schneider, the Harris County juvenile judge.
"I can't tell you how many times probation comes to me and they tell me, there was a kid who missed court last week because his mom couldn't give him a ride," Schneider said. "You don't want to punish a child and subject them to being locked up if the problem is that their parents have zero transportation options."
Some large counties have changed their tactics when it comes to warrants. In Cook County, Illinois — where Chicago is located — judges can issue an "alternative warrant" to kids who miss court, which doesn't force police to lock them up. A similar system is in place in Seattle.
Locking up kids simply for missing court is "another example of the system not treating an adolescent like an adolescent," said Holland, the Seattle University expert. "We all agree, showing up to court is important, but is that the best way to teach the lesson?"
"My mom is at work"
The Harris County juvenile probation department plays a big role in initially locking up kids. But once they're in detention, judges have the power to keep them there. Kids must get a detention hearing before a judge within two business days of their arrest; after that, they get a similar hearing every 10 business days.
This system is supposed to protect kids from staying behind bars for too long, but advocates and lawyers say that some Harris County judges are rarely willing to release kids from detention, no matter the circumstances.
"If a kid has any type of gang affiliation, they stay in custody," said Gene Wu, a Houston lawyer who is also a Democratic state representative. "Or if there's any type of weapon involved, even if it's a BB gun, they stay in custody. Well, that's kind of stupid."
Jay Jenkins, an attorney with the Texas Criminal Justice Coalition, a nonprofit that advocates for criminal justice reform, said many Harris County detention hearings he has witnessed seem like a sham: The decision is already made before the kid walks through the door.
"A lot of times, they're just marching these kids out, telling them that they're detained, and then they're marching them back … there's not a lot of concern for the kids' well-being, nor is there concern for protecting the kids' legal rights," he said.
It's almost impossible to evaluate these claims, because no one in Harris County compiles data on what happens during these hearings. One thing is clear, though: Kids are spending a lot more time in the county's juvenile detention center than they were a few years ago, and judges have the most influence on how long they stay.
These days, Harris County Associate Judge Aneeta Jamal presides over most detention hearings. She said she might decide to keep supposedly "low-risk" kids in detention because they have a criminal history or they've been accused of making threats at school — "a misdemeanor, but it's a very serious offense," she said.
Jamal added that she wants to make sure juveniles show up for court, though experts and advocates say it's a bad idea to keep them locked up just for that purpose.
Brooks, the juvenile probation chief, also said kids may be staying longer because of delays on the prosecutor's side. He said he's working with the district attorney's office to make improvements there.
But during visits to the juvenile courts building last summer and fall, the Tribune observed a lot of disorganization. At times, kids would go before a judge and no one seemed to know what was happening with their case.
For example, as one young man stood in front of Jamal last June, she wondered why he was in detention at all. She noted that he had pending cases, but they were all from 2016. So why was he back in the detention center?
"Did he get picked up on a [warrant]?" Jamal asked the child's court-appointed lawyer.
"I think so," the lawyer said, uncertain.
Jamal continued to shuffle through papers on her desk, looking confused. "These are 2016 cases. I just don't understand. This is really odd," she said.
With no family present to take the young man home, he stayed in detention.
That scenario played out frequently during the time a Tribune reporter observed juvenile detention hearings.
"My mom is at work," one young man told Jamal during his detention hearing. He had been locked up because he missed a court date for the same reason, he explained: "My mom had to go to work. If she'd missed work she'd have gotten fired."
"I need your mom here," Jamal told him.
He stayed in detention.
The University of Texas at Austin has been a financial supporter of The Texas Tribune, a nonprofit, nonpartisan news organization that is funded in part by donations from members, foundations and corporate sponsors. Financial supporters play no role in the Tribune's journalism. Find a complete list of them here.
Texans need truth. Help us report it.
Our Fall Member Drive is underway, and we need your support. The Texas Tribune is a critical source of truth and information for Texans across the state and beyond — and our community of members, the readers who donate, make our work possible. Will you join as a member with a tax-deductible donation of any amount?
Yes, I'll donate today
---
Information about the authors
Explore related story topics