The Taking
The border fence looms over these Texans. Should the government pay them?
Scores of Texas landowners who have lived in the shadow of the border fence for years were never compensated for any damage to their property values.
The Taking

Inside the federal government's haphazard, decade-long process of seizing private land for a border fence.
More in this series
BROWNSVILLE — One day several years ago, a crew of federal contractors turned up behind Melissa Solis' family home, a modest house with white siding surrounded by fruit trees and farmland a few hundred yards from the Rio Grande. The workers cleared brush. They dug a deep trench. A pile driver sank steel deep into the ground.
The work was disruptive, the noise a constant distraction for Solis and her parents. Snakes and cockroaches streamed inside to flee the construction. The foundation shifted, knocking doors askew. When it was over, the Department of Homeland Security had erected an 18-foot-high metal fence behind the house – a border barrier to stop people from illegally crossing the river from Mexico into the United States.
The construction workers moved on. But Solis could not.
"It felt unreal," said Solis, 43. "This is your life, your property. It's not like you can pick up and go and relocate and move just like that."
Long before President Donald Trump promised to build a wall, Homeland Security used its powers of eminent domain to seize hundreds of acres of land in south Texas to construct a border fence. Under the law, if the government takes or damages your property, it's supposed to pay to make you whole again. In Texas, the agency has paid $18 million to landholders over the last decade.
The Texas Tribune's reporting on this project was supported by the Pulitzer Center, which is also the lead partner in bringing discussions of this report to schools and universities in Texas and across the United States through its K-12 and Campus Consortium networks.
In Solis' case, the border fence passed within feet of her family's property line. But since it did not actually cross it, Homeland Security decided it had no obligation to compensate her family for the dramatically changed circumstances of their property: the sudden presence of a looming fence 40 feet from their back window.
Homeland Security made similar decisions for scores of other property owners, even though the fence likely reduced the values of their homes and land, according to a review by ProPublica and The Texas Tribune.
"We're on a budget, and unfortunately my parents, they're not rich, you know?" said Solis, a charter school employee. "It's like who can I call? Who can I send an email to?"
The government's actions were legal. For Solis and others, they still didn't seem quite fair.
ProPublica and The Texas Tribune's examination of the government's vast seizure of land a decade ago laid bare a process marked by inequity, incompetence and epic delays.
But the people who had their land taken were only one universe of landowners affected by the extraordinary exercise of government power.
Others felt effects because Homeland Security decided build the fence up to two miles away from the Rio Grande to avoid having to follow the river's serpentine bends. Today, in one Texas county, some 15,000 square acres, much of it prime farmland, sit between the border fence and the actual U.S. border — a swath of land locals call "no man's land."
By cutting off access to the land, much of it used for farming, the government would have had to pay landowners for the acreage — perhaps adding tens of millions of dollars to the cost of buying land for the project.
To avoid that cost, Homeland Security decided to build gates in the border fence. As long as an owner could still reach the land through one of the gates, the agency argued that it had not seized the property. Property owners and farmers received access codes to wide gates to allow the passage of giant farm machinery to the fields.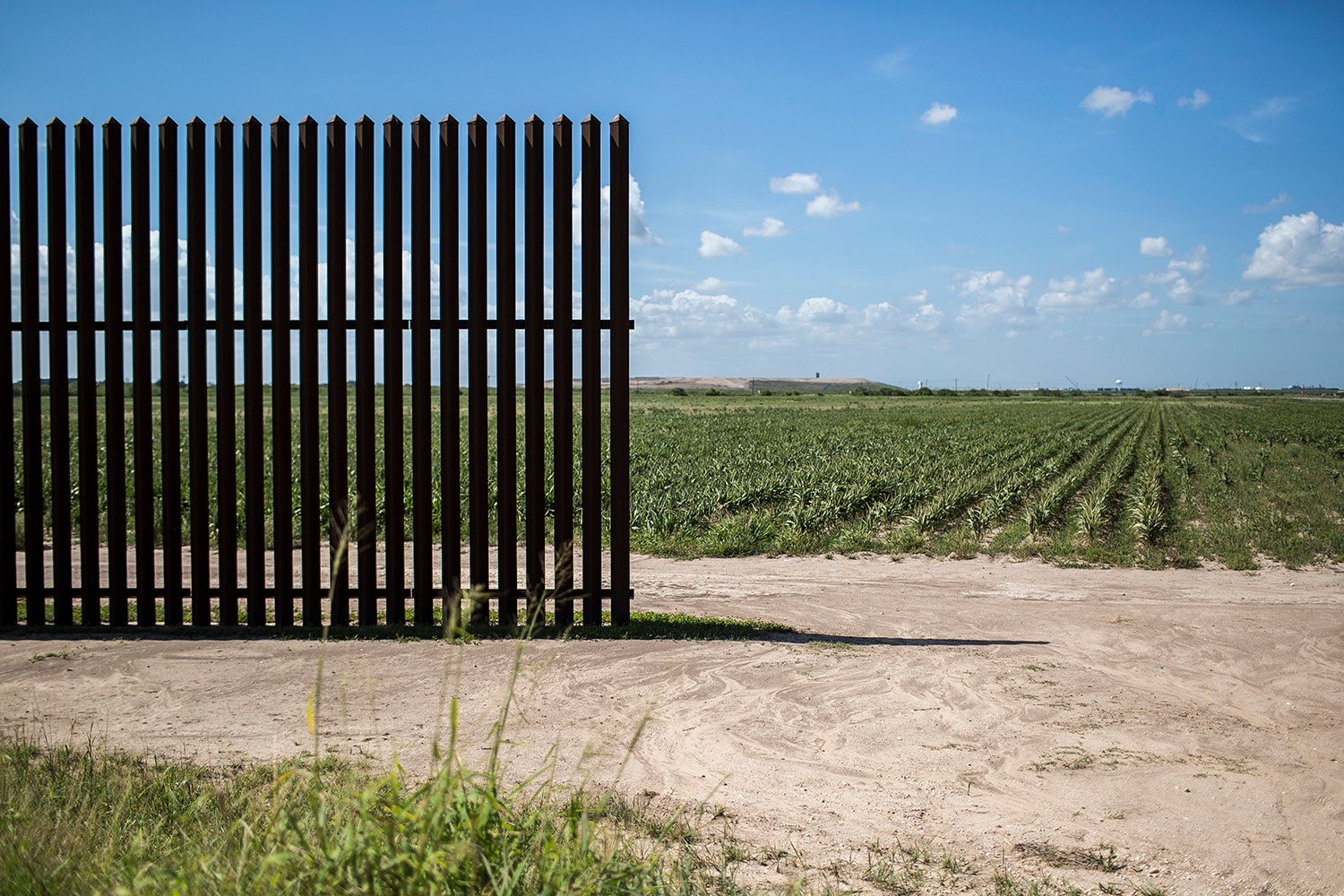 Those gates were also used as justification for not paying compensation to owners whose homes were left stranded in no man's land. Pamela Taylor, 89, lives just down the road from Solis. She watched government contractors erect the border fence in front of the home that she and her husband built after he returned from World War II.
Taylor's children grew up playing with kids from Mexico, who easily slipped across the border. But she had also seen bad omens: dead bodies floating in the river, drug dealers who knew what type of car her daughter drove.
A British expatriate proud of earning U.S. citizenship, Taylor supported a crackdown on illegal border crossers. She didn't protest when Homeland Security left her home trapped between the barrier and the Rio Grande, which flowed in back of her land. A gap in the border fence allows her to freely pass.
She said she never seriously pursued compensation for any damage the fence caused to the value of her home. She wasn't raised like that.
"We're supposed to be tough," she said. "And they seem to take advantage of that situation."
Homeland Security limited the number of landowners it had to compensate partly by squeezing how much land it deemed necessary to accommodate the fence. Initially, the agency wanted to seize strips about 60 feet wide, but planners decided they could get by with swaths just 40 feet wide — and thus avoid paying for additional land from more owners.
Homeland Security referred requests for comment to the Justice Department. An agency spokesman, who insisted on anonymity, said the government followed the legal procedures necessary to build the border fence.
In theory, some landowners who suffered what amounted to collateral damage from the fence's construction had a way to fight back. Landowners who feel the government took property from them without paying can file a special lawsuit known as an inverse condemnation.
In practice, inverse condemnation lawsuits are costly, complex and difficult to pursue. The property owner bears the up front cost of the lawsuit. All litigation takes place at the U.S. Court of Federal Claims in Washington, D.C. And case law generally supports the government's right to determine where it can seize land and when it must pay property owners.
So far, only one group of Texas landowners is known to have filed such a lawsuit in connection with the fence — a set of ranchers who allege that the government built the fence over a levee running across their land without paying them for the right to use the levee. The case is ongoing.
"It's very complicated law," said Ilya Somin, a professor of law at George Mason University who has written extensively on eminent domain. "The bottom line is in most cases, it's not easy to get compensation."
Robert De Los Santos is well aware of the difficulty. Years ago, the government built the border fence across his family's land near San Benito, severing easy access to a strip of brushland by the Rio Grande where the family used to gather for big occasions, like Easter. Homeland Security built a gate in the fence. He can call a toll-free number, summoning a border patrol agent to open it with a key.
What bothers him, though, is that Homeland Security now uses the brushland on the other side of the gate as a rallying point for patrols. They race through on ATVs, leaving behind huge clouds of dust. They cut down mesquite trees to clear a view of the river.
"It's not their land. We didn't give them permission to do that," said De Los Santos, 59, a security guard. "We're not against what they're doing. But you need to pay for it. Then it's yours."
The Texas Tribune and ProPublica, which produces investigative journalism in the public interest, partnered on this project to expose the federal government's unsettling use of eminent domain to seize land for a fence along the U.S -Mexico border.
Texans need truth. Help us report it.
Independent Texas reporting needs your support. The Texas Tribune delivers fact-based journalism for Texans, by Texans — and our community of members, the readers who donate, make our work possible. Help us bring you and millions of others in-depth news and information. Will you support our nonprofit newsroom with a donation of any amount?
Yes, I'll donate today
---
Information about the authors
Explore related story topics