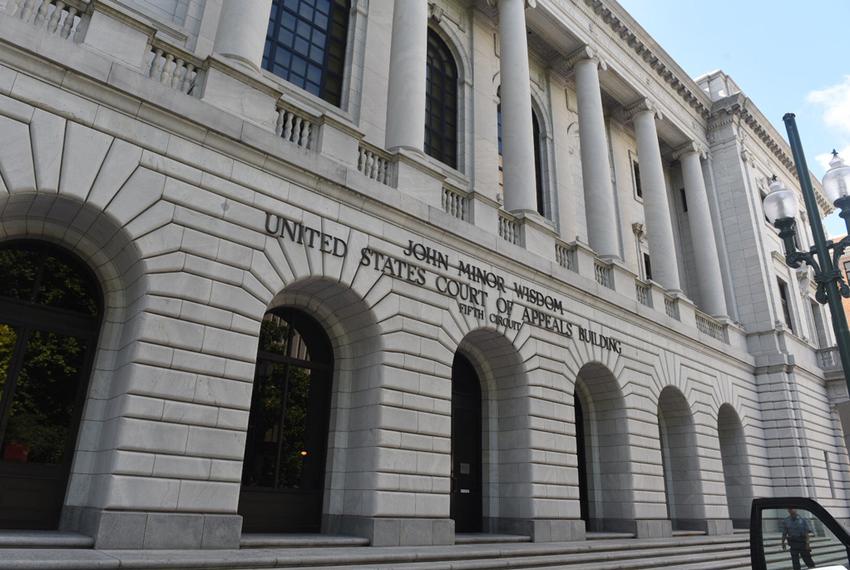 Editor's note: This story was updated throughout after the U.S. 5th Circuit Court of Appeals heard arguments in the Texas voter ID case.
NEW ORLEANS — In Texas' bid to keep its voter identification law intact, it was its legal foes — lawyers representing voting and civil rights groups and individual voters of color — who faced a tougher line of questioning Tuesday before a federal appellate court.
In light of recent revisions to the state's voter ID law, two judges on the three-judge panel of the U.S. 5th Circuit Court of Appeals raised questions about claims that lawmakers intentionally discriminated against voters of color when they passed rules on which photo IDs can be presented at the polls. That intentional discrimination claim, which a lower court affirmed this year, is key to the case over the state voter ID restrictions.
"If there is nothing that says we are trying to advantage white voters ... isn't that proof that there wasn't discriminatory intent?" Judge Edith Jones, a Reagan appointee, said of the plaintiffs' lack of a smoking gun to prove purposeful discrimination by lawmakers, despite thousands of pages of memos and transcripts of debates over the voter ID requirements.
"You have nothing," she later added. "Not one stray word reflecting a racially bias motive appears."
Jones was responding to voter ID foes' claims that the law was crafted to disproportionately burden voters of color who are less likely to have one of the seven forms of identification the state required them to show at the polls. Those opponents want the appellate court to affirm a lower court ruling that found lawmakers did so intentionally.
The 5th Circuit has already agreed with the first claim, ruling last year that the 2011 law violated federal safeguards against racial discrimination in elections. The case, which was sent back to a lower court, returned after U.S. District Judge Nelva Gonzales Ramos ruled that the state discriminated against voters of color on purpose.
It's unclear when the appellate court will rule in the case. A previous ruling gave Texas the OK to use the new voter ID law for next year's elections.
State attorneys have argued that any findings of intentional discrimination should be nixed because lawmakers this year rewrote the voter ID law to address the faults identified by the 5th Circuit.
Debating the impact of Senate Bill 5
Texas lawmakers passed Senate Bill 5, which mostly followed the lead of temporary voter ID rules Ramos put in place for the 2016 elections in an effort to ease the state's requirements.
Key to the state's defense: The new law allows Texans without photo ID to vote if they present alternate forms of ID and sign affidavits swearing a "reasonable impediment" kept them from obtaining the proper ID. Those voters could present documents such as utility bills, bank statements or paychecks to confirm their identification. Those found to have lied about not possessing the proper photo ID could be charged with a state jail felony, which carries a penalty of 180 days to two years in jail.
That revision "completely changes the nature of the law," Texas Solicitor General Scott Keller told the judges on Tuesday, arguing the appellate court should dismiss Ramos' August decision to toss that bill out, too. Ramos said SB 5 didn't clear Texas lawmakers of discriminating against Hispanic and black voters when they passed the original law.
Attorneys representing the voting and civil rights groups suing the state asserted that the "reasonable impediment" provision was a faulty remedy to issues with the original law.
Voting "under the express threat of going to jail" would have a "chilling effect" on voters without photo ID who are more likely to be people of color, said Janai Nelson, an attorney with the NAACP Legal Defense and Educational Fund.
"What one hand gives, the other taketh away," Nelson said of "reasonable impediment" addition.
Jones questioned why plaintiffs took issue with SB 5 even though it largely tracked the interim remedy both sides agreed to for the 2016 elections. Nelson responded that SB 5 didn't "mirror" that remedy, which didn't include the mention of criminal prosecution.
Judge Patrick Higginbotham, also a Reagan appointee, questioned Nelson about whether plaintiffs would oppose the affidavit option if it didn't include an express warning of the state jail felony.
State attorneys have also argued that Ramos' decision to block SB 5 was improper because "a new law requires a new challenge" and that legal claims against the original 2011 law are now moot. Additionally, they said, plaintiffs cannot identify a single voter who faces a substantial burden to voting under the revisions.
"Without ongoing discriminatory effect, there can be no ongoing constitutional violation," said Keller, who faced fewer questions from the judges.
The state was backed in its claims by the U.S. Department of Justice, which originally sided with civil rights groups fighting the Texas voter ID law but reversed its position after President Donald Trump took office.
John Gore, a DOJ lawyer, also argued before the appellate court on Tuesday, telling the judges that SB 5 "fixes" any issues with lawmakers' purpose behind the original law because it eliminated any discriminatory effects of the law.
Three attorneys representing voting and civil rights groups disputed those claims. It would be unlikely to find a clear statement of racial motives by lawmakers behind crafting the voter ID restrictions, they argued. And SB 5 "carried over the most discriminatory factors" of the original law, they said, pointing to findings that voters of color were less likely to have permissible IDs.
That list remains unchanged under the state's new ID law: a state driver's license or ID card, a concealed handgun license, a U.S. passport, a military ID card, a U.S. citizenship certificate or an election identification certificate.
More broadly, the lawyers challenging the voter ID law said no revision would eliminate the intentional discrimination that tainted the crafting of the original law. When it comes to intentional discrimination, the law requires a fix that removes any discriminatory intent "root and branch," they argued.
The issue of preclearance
That finding of intentional discrimination is key to voting rights advocates' efforts to persuade a federal judge to invoke a section of the Voting Rights Act that would place Texas back under federal oversight of its election laws — a process called preclearance.
For decades, Texas was on a list of states and localities needing federal permission to change their election laws, a safeguard for minority voting rights. The U.S. Supreme Court wiped the list clean in 2013 but left open the possibility that states could return to the list if they intentionally discriminated in the future.
State attorneys accused the plaintiffs of trying to keep the legal challenge to the voter ID law alive to argue for a return to preclearance. And Higginbotham at one point suggested it was clear that plaintiffs were working "to keep that intent finding intact."
In response to those claims, plaintiffs argued that the case and lawmakers' actions served as proof that voters of colors still needed "judicial protection" and that the state's attempt at a remedy through SB 5 still dripped with discrimination because it perpetuated discriminatory features of the original law.
"We're not just talking about effect. We're talking about intent," Chad Dunn, an attorney for the plaintiffs, said of the discrimination behind SB 5 and the original voter ID law. "The state has to prove that SB 5 is a remedy ... and from our standpoint, you can't."
Texans need truth. Help us report it.
Independent Texas reporting needs your support. The Texas Tribune delivers fact-based journalism for Texans, by Texans — and our community of members, the readers who donate, make our work possible. Help us bring you and millions of others in-depth news and information. Will you support our nonprofit newsroom with a donation of any amount?
Yes, I'll donate today
---
Information about the authors
Explore related story topics