In Harvey's Wake
Harvey was three months ago. These displaced families are still in limbo
Two families displaced by Harvey say they're not close to having their lives back to normal. Tens of thousands of others are also facing a long recovery before their biggest need — a permanent place to live — is settled.
Almost three months have passed since Yashica Foster watched her Houston townhome flooded by Hurricane Harvey on TV. Foster, her husband Raymond and their three kids had rushed out in time to escape the 17 feet of water that ultimately invaded the complex.
But the deluge forced the family apart: while the parents and their oldest daughter are staying in two hotel rooms at the Greenspoint Marriott — funded through the Federal Emergency Management Agency — their 19-year-old son is living with a friend and their 15-year-old daughter is with family members so they can be close to their schools.
Being displaced has scrambled the family's routine — they eat their meals at Foster's mother's house, seven miles from the hotel — and like thousands of others, they're facing changing deadlines for finding new housing. They had already started looking for a place after FEMA announced it would end the hotel program on Nov. 27, then last week the agency extended the deadline to Jan. 16.
"I'm grateful, but I hate it," Foster said.
Twenty-two miles south, in Houston's Montrose neighborhood, Maria Keene made a decision she now regrets. A few days after a boat rescued Keene, her husband and their two children from Harvey's rising floodwaters, she clicked "confirm" on a 9-month lease for a luxury condo. Given the high demand after Harvey, she thought waiting would make it harder to find a good rental option – the condo didn't require a security deposit and would accept her dog, Harry.
"I was thinking 'It's gonna be so crowded, we're never gonna get an apartment,'" she said."You go into panic mode."
Keene assumed her flood insurance would cover the rent, like it did during Tropical Storm Allison 16 years earlier, but she was wrong. Her family is now paying $4,700 in rent on top of their mortgage and still face house repairs not covered by their insurance.
Foster and her family are among the more than 47,000 people still living in hotels paid for by FEMA, while Keene is among the more than 90,000 people who have filed insurance claims through the National Flood Insurance Program, also managed by FEMA.

But the number of Texans who need help with housing is likely much higher. Neither FEMA nor the state of Texas know exactly how many homes were damaged by Harvey or how many residents remain scattered around the state, living with family or friends, in hotel rooms, in rentals, or even in their cars.
With their routines disrupted, thousands of renters and homeowners now face a harrowing path to a permanent housing solution. For many, the long process of waiting for insurance inspections, government assistance and home repairs is just getting started.
Many could be stuck in temporary housing for months or years. After Hurricane Katrina, for example, some New Orleans residents were still living in FEMA trailers six years after the city flooded.
"Where do we start?"
Foster, 38, has spent her days jumping back and forth from the hotel where she works as a housekeeper to the FEMA-funded hotel room where she's now living. It feels weird and uncomfortable, she says, but the worst part is that two of her three children are not there.
Every day she and her husband, who drives a delivery truck, wake up at 5:45 a.m. to start an 86-mile journey to pick up and drop off each family member at school or work. At the end of the day, when each of them goes their separate ways, she's heartbroken.
"We used to have time for each other," she said. "We don't have that anymore because our days are constantly spent driving around and getting to what we have to get to."
Transportation is only one of the problems that many people living in hotels after Harvey must face, said John Henneberger, co-director of the Texas Low Income Housing Information Service, an Austin-based nonprofit that researches housing solutions for low-income people.
"You have no kitchen, you have very little privacy, you almost inevitably will be overcrowded, meals cost more because you can't cook, your personal possessions are maybe in some storage, in your car, or piled up in the hotel room," Henneberger said.
Keeping people in hotels is "a horrible solution" that should only be used immediately after a disaster, he said.
The Fosters have been at the Greenspoint Marriott for almost a month. A lavender candle burns on the night stand, a bouquet of red and yellow roses sits is in front of the TV, and the top of the mini-bar is packed with snacks. On the floor sits the carry-on sized suitcase they packed in a rush as the floodwaters rose.
Yashica Foster knew it was time to go when the water reached her ankles. She can't swim. They grabbed an old photo album and some clothes and rushed out of their townhouse.
It was the right call. Harvey's floodwaters swallowed the entire first floor and most of the second floor of the townhome, making the whole structure unstable. "The whole time, all they kept showing was our townhomes on the news, covered in water," Foster remembers.
The family lost almost everything they owned and the townhome will soon be torn down.
FEMA gave the Fosters vouchers for two hotel rooms, plus $500 for immediate needs. Their application for property damage assistance is still pending.
The couple, who were highschool sweethearts, spent years building a life for their family. "All of our stuff was paid for," Foster said. "Where do we go, where do we start? All over again..."
The Fosters are now saving up for a security deposit so they can sign a lease at a new apartment before Christmas, but Foster is worried their applications will get denied because their income is not high enough.
FEMA has extended the hotel program multiple times, but for disaster victims, watching the next deadline approach as they're still waiting to find a new apartment or get their flooded homes repaired can add more anxiety to an already stressful situation.
"Families are scrambling to find a place to live because they think that the hotel vouchers are going away, so many of them leave, go sleep in their cars, double up in couches or go back to their homes, even if they are not in a habitable condition," said Sarah Mickelson, director of public policy at the National Low Income Housing Coalition, an affordable housing advocacy group.
In addition to the hotel voucher program, FEMA has also provided rental assistance for one or more months to almost 134,000 Texans displaced by Harvey.
The Texas General Land Office is responsible for FEMA-funded short- and long-term housing alternatives for Harvey victims, including mobile homes, grants for home repairs and a direct leasing program in which local governments sign leases on behalf of Harvey victims.
Anyone who applied for immediate assistance through FEMA will automatically be considered for these programs. FEMA officials said they don't have a full accounting of how many people have actually received help, since most of the programs are in "implementation stage." The GLO said 176 families are living in mobile homes and more than 800 people have become eligible to receive home repair grants, though only one home has been repaired so far.
The GLO is also seeking property owners to participate in the Multi-Family Lease and Repair program, which pays for repairs on apartment complexes "in order to provide more housing for survivors," according to the program's website.
Mickelson said this program could help displaced, low-income renters, but the agencies still haven't answered basic questions, such as who is eligible and for how long people will receive assistance.
"The program isn't up and running yet," she said.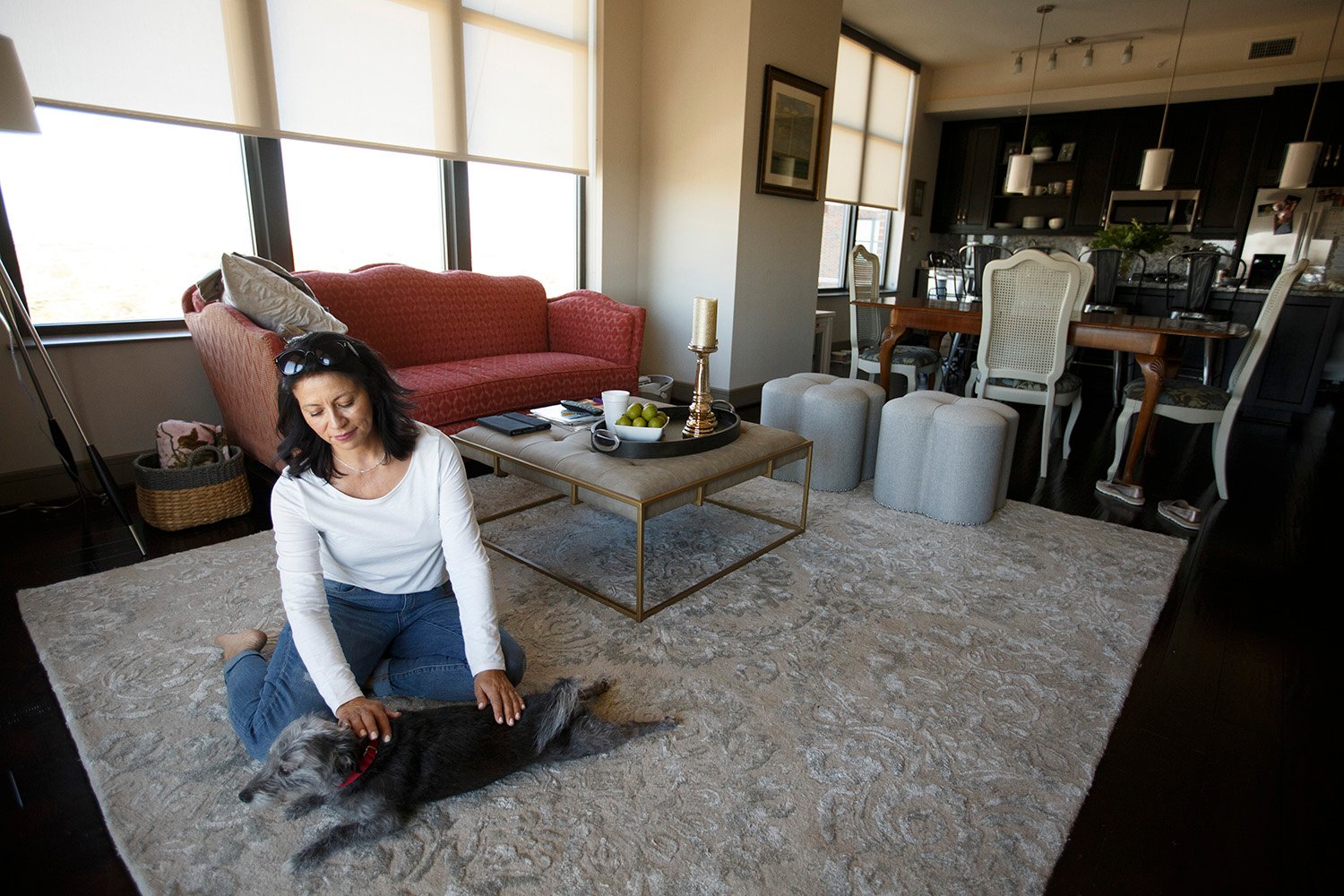 "I feel like I'm in limbo right now."
For homeowners, the situation is also complicated.
Keene's house in Braeswood Place is completely gutted, the flooring and parts of the walls ripped off. As she steps in, Keene, 51, offers a tour: "This is the living room, this is the kitchen..."
Then she comes back to reality. "It was pretty," she said. "It's depressing to see the damage. You look around and it's yucky. It's gross."
Two and a half feet of Harvey's toxic floodwaters washed away all the custom-made furniture that saw 17 years worth of birthday parties, Halloweens and Thanksgivings. What's left sits in the backyard, where boxes are crammed with trash, memories and memories-turned-trash – a McDonald's quarter pounder box is mixed in with a self-portrait that Keene's 14-year-old daughter Sarah drew in kindergarten.
As she walks around the skeleton of her house, Keene fetches the mail, checks the kitchen's bulletin board for any forgotten notes – "We have to pay this," she says when she finds an old bill – and picks up some notes from friends that her eldest daughter Gabrielle had attached to the wall in her room. She's determined to build back the family's normality, bit by bit, while her husband Andy, 60, returns to work at his dental practice.
Keene filed a flood insurance claim weeks ago and an adjustor has already been to her house to evaluate the damage, but she still hasn't received an estimate of how much of the damage her insurance company will cover. Without that information, her family can't decide whether to remodel, rebuild or sell.
"I feel like I'm in limbo right now," she said.
Still, Keene doesn't want to waste time. She is already meeting with builders to get estimates and evaluate her possibilities.
Remodelling would take one or two years – during which the family would still have to pay rent – and nothing guarantees that another flood wouldn't damage the house again. Rebuilding an elevated house would be a safer but much more expensive solution. The first option would cost between $250,000 and $330,000,and the second could cost as much as $900,000, Keene said. They could also buy a townhome or rent an apartment and sell the house for less than what they paid for it.
"At the end of the day, those are not good options," she said. "You just know you're getting scammed."
Rebuilding is going to be a long process for a lot of people, according to Scott Norman, executive director of the Texas Association of Builders. Thousands of people need to repair their homes and contractors are booked for months, if not years.
"Some remodelers in Houston mentioned a one to two year wait list," Norman said. "Even if you have the funds available, there is a shortage of workers and shortage of contractors to do the work."
The association estimates that the Texas building market was short 250,000 workers before the storm. Harvey might have added the need for another 100,000 workers. Norman estimates that in greater Houston, the demand for new homes has doubled to around 54,000 new homes in 2017, and that doesn't count households that have to be renovated because of flood damage.
Wages and material costs are also going up due to the high demand, he said.
"So you're going to have to wait, and that's the most frustrating thing of all because people want to get their homes back together so they can get their lives back to normal, without having to live out of a suitcase, or staying with friends or family, or in temporary housing," Norman said.
Keene and her husband had already started thinking about retiring. But with their housing situation in flux and Gabrielle about to start college, nothing's certain now.
"In 10 years we would've paid our mortgage. Just the thought of another debt … or will [rebuilding] be an investment and we're gonna be okay? We don't know." she said.
"It's hard when a disaster pushes you to make these huge decisions."
Support for this reporting was provided by the Fund for Investigative Journalism.
Texans need truth. Help us report it.
Independent Texas reporting needs your support. The Texas Tribune delivers fact-based journalism for Texans, by Texans — and our community of members, the readers who donate, make our work possible. Help us bring you and millions of others in-depth news and information. Will you support our nonprofit newsroom with a donation of any amount?
Yes, I'll donate today
---
Information about the authors
Explore related story topics