At Dallas convention, calls for GOP comity ahead of 2018 primaries
At the biennial gathering of the Texas Federation of Republican Women, the usual red meat was mixed with some calls for party unity ahead of a potentially brutal primary season.
DALLAS — As the Texas GOP gears up for a potentially bruising primary season, some of its leaders came to a conference here this weekend with a message of caution: Let's not go overboard in 2018.
"I know that we are about to enter into the primary season, which is not usually the time of the year where Republicans are on our best behavior," Amy Clark, the vice chair of the Texas GOP, said Thursday morning at the biennial gathering of the Texas Federation of Republican Women. "It's incumbent upon all of us to continue to elevate the debate. People are watching us — not just Republicans, but the people in the middle who haven't made up their minds."
The sentiment was echoed two days later by Lt. Gov. Dan Patrick, a regular participant in intra-party debates. Referring to Clark's comments, he urged the state's Republicans to "stand together as one party," saying they cannot afford "discord in Texas like they have in Washington."
Clark and Patrick weren't the only speakers here who made a pitch for GOP comity in their speeches. In an animated speech Friday morning, state Sen. Donna Campbell of New Braunfels asked fellow Republicans to "remember we fight for each other, not against each other."
State Rep. Jason Villalba, the Dallas Republican who often clashes with some of the big players in Texas primary politics, warned later Friday morning that Republicans are "facing a crisis in our party ... a house divided," as he recalled the sharp differences in the recent tax reform debate between U.S. Sen. Ted Cruz, R-Texas, and U.S. Sen. Bernie Sanders, I-Vt., a self-styled Democratic socialist.
"Unless we join together, there'll be more Bernie Sanderses and not nearly enough Ted Cruzes," Villalba said to several seconds of applause. "I will not let that happen."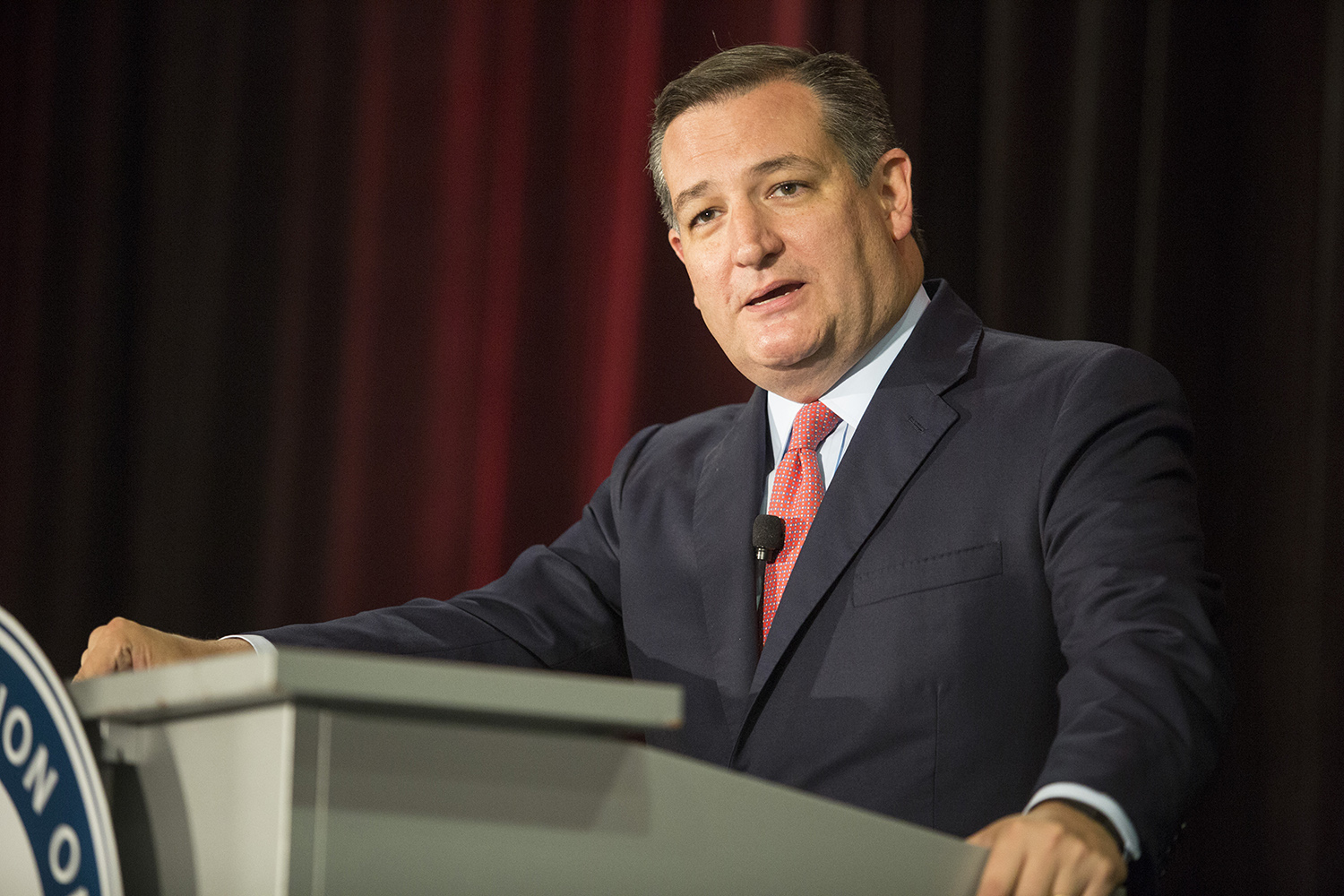 The biennial TFRW convention had drawn nearly 600 women — many of them decked out in red — to the Kay Bailey Hutchison Convention Center over three days, ending Saturday. It's usually the largest, most star-studded Republican event in the state behind the Texas GOP convention, which also happens every other year.
This year's convention unfolded on the precipice of a primary season that promises to be action-packed, with intra-party tensions still flaring from the contentious regular legislative session earlier this year and the special session that followed it. But there was just as much talk from Republicans — if not more — about the other side.
"We have Democrat challengers outraising some Republican incumbents, so they are serious. They are energized," state Sen. Dawn Buckingham, who's leading the 2018 Victory effort for the state Republican Party, said in a Thursday morning speech. "We have a significant fight on our hands."
So far, the most prominent Democratic challenger to emerge is U.S. Rep. Beto O'Rourke of El Paso, who is taking on Cruz in 2018. In a speech to the convention Friday morning, Cruz made a brief — but new — reference to the race, warning that Democrats "want to win this seat so they can make Chuck Schumer majority leader."
Speaking with The Texas Tribune after his speech, Cruz said recent Democratic fundraising in Texas should "absolutely" be a warning sign to some Republican incumbents. Four Republican members of Congress were outraised by Democratic opponents during the second quarter, and two of them remained behind in fundraising this past quarter.
"The hard left is angry, and they're energized," Cruz said, accusing Democrats of "simply running on anger" in the wake of the 2016 elections. "I think that underscores the need for Republicans to take seriously the electoral challenges."
Cruz declined to specifically attribute O'Rourke's fundraising — he out-raised Cruz in the second quarter and came close in the third quarter — to Trump-era rage, saying the dynamic is unfolding "all across the country."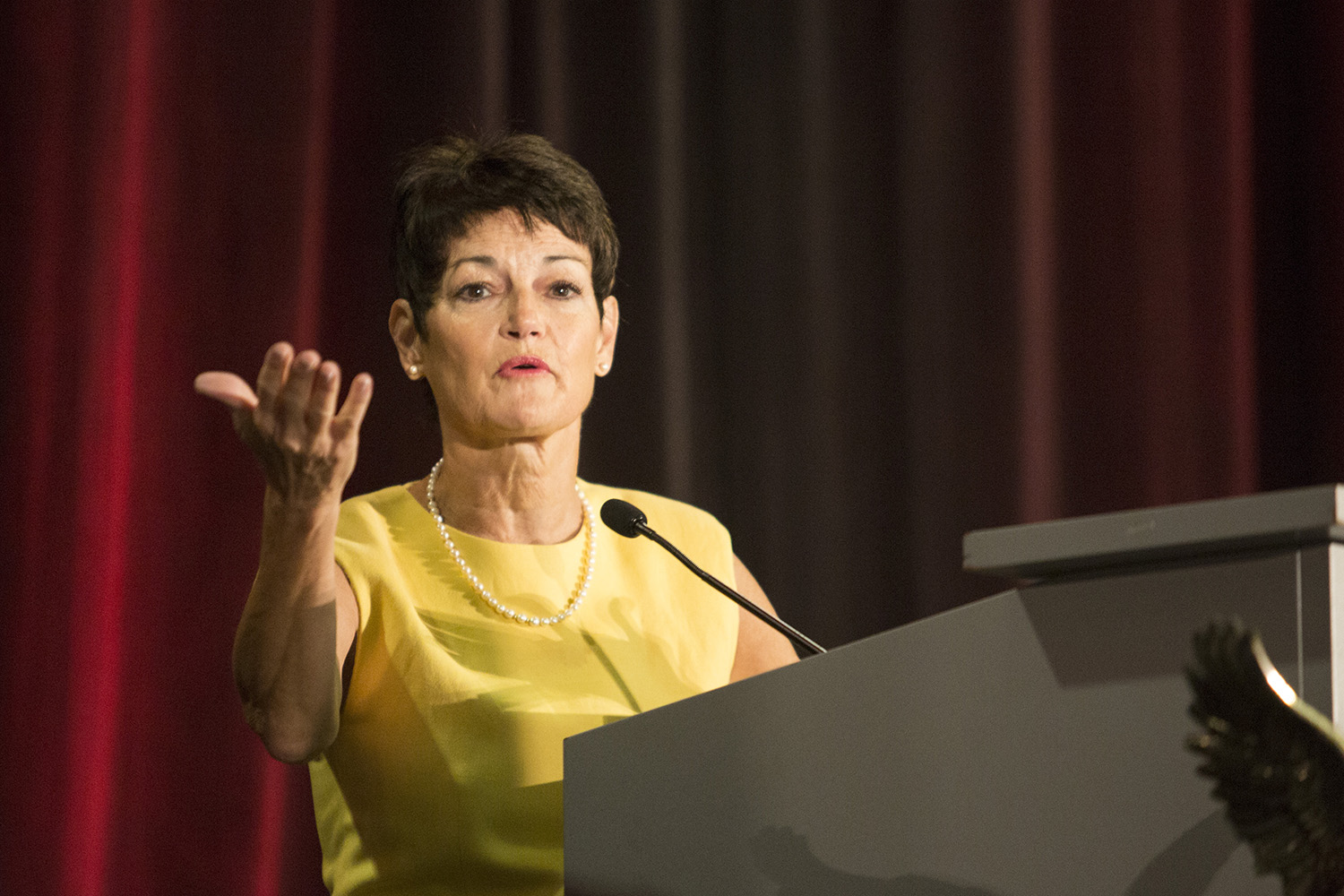 Trump himself wasn't a dominant topic at the convention. The president most prominently came up in remarks by Robin Armstrong, the Republican National Committeeman from Texas, who offered a fierce defense of Trump in regard to several recent controversies. Armstrong went on to caution that every race in Texas next year will be "affected by the perception that people have of our national party and our president."
"We have to push back hard," he added.
The convention was otherwise filled with full-throated appeals to its core constituency, including an extensive pitch Friday afternoon by House Speaker Joe Straus, R-San Antonio, for more Republican women to run for the lower chamber, especially with two female GOP members not seeking re-election in 2018.

"Hillary Clinton doesn't speak for you — you speak for you," said Gov. Greg Abbott, who helped close out the convention at a luncheon Saturday afternoon.
Abbott and every other major statewide official, all Republicans, are up for re-election next year, but so far not many serious Democratic challengers have surfaced. That led to limited talk of re-election bids, though Patrick spent a few minutes sketching out a 2018 campaign centered on three issues he's long championed: providing property tax relief, fighting illegal immigration and instituting a private school choice program.
When he took the podium Thursday morning, Texas Land Commissioner George P. Bush used part of his remarks to tackle a festering political problem: some intra-party suspicion of his plan to "reimagine" the Alamo.
"To borrow a phrase from the president, there's a whole lot of fake news out there on this," Bush said, directing the audience to visit a new website his campaign has set up, AlamoTruth.com. "There you will learn the United Nations will never touch the Alamo. The Alamo will always belong to the people of Texas."
Some speakers passed on even mentioning their 2018 campaigns, such as Attorney General Ken Paxton, who's fighting securities fraud charges that have dogged most of his first term but has yet to get an opponent of any political stripe. After his speech, Paxton said he is "absolutely" running again.
It may end up being Paxton's wife, Angela Paxton, with the bigger political fight on her hands next year. She's running against Phillip Huffines, the chairman of the Dallas County GOP, for Senate District 8, where Van Taylor, R-Plano, is giving up his seat to run for Congress.
Both candidates made appearances throughout the convention, and their campaigns had booths inside the exhibition hall, right alongside others sponsored by major statewide officials.
Paxton's booth was passing out stickers reading, "Pistol Packin' Mama for Paxton" — a reference to the song she's been known to perform at Republican events — while Huffines' booth had campaign literature mapping out all the business his family's done in SD-8, where he's already facing criticism for not being a native son.
Texans need truth. Help us report it.
Our Fall Member Drive is underway, and we need your support. The Texas Tribune is a critical source of truth and information for Texans across the state and beyond — and our community of members, the readers who donate, make our work possible. Will you join as a member with a tax-deductible donation of any amount?
Yes, I'll donate today
---
Information about the authors
Explore related story topics