For former state Rep. Dunnam, Baylor is family — and now a legal foe
Jim Dunnam counts 26 Baylor University degrees in his family — and he worked for years on its behalf in the Texas Legislature. Now, he's suing the school on behalf of 14 women who were sexually assaulted while students.
WACO — On the wall outside Jim Dunnam's office, there's a green plaque commemorating one of his proudest achievements.
In 2001, his alma mater, Baylor University, named him "Young Lawyer of the Year." The honor was bestowed when Dunnam was a major asset for the private Baptist school — not only as a talented attorney but also as rising star in the Texas House.
Sixteen years later, he has become one of the school's biggest threats.
Dunnam still has deep personal ties to his hometown university. He counts 26 Baylor degrees among members of his close family, and by his count 10 of the 11 lawyers who work in the firm that bears his family name went to law school at Baylor.
But just feet from where the plaque hangs, Dunnam has been helping 14 women sue the university based on allegations that it mistreated them after they were sexually assaulted by fellow students. He has handled the case in his typical pitbull-like manner.
He has repeatedly submitted public court filings that include damning or embarrassing information about Baylor, further extending a sexual assault scandal that brought national scorn and prompted the departure of the school's president, athletics director and football coach.
And even if the case never makes it to trial, it seems certain to continue to take a toll. Dunnam continues to receive and pore through thousands of pages' worth of internal Baylor documents, and the potential for the airing of more dirty laundry persists.
Dunnam says he doesn't delight in the fight. But he's dismayed over how Baylor has behaved, and he hopes that the lawsuit can bring change.
"I want to be proud of my school again, and I'm not and I hate that," he said in an interview.
14 clients
Dunnam, who earned his bachelor's degree from Baylor in 1986 and his law degree there a year later, has proved for decades that he's not one to back down from a fight. Elected to the Texas House in 1996, he quickly established himself as an aggressive and canny Democrat. He served for years as minority leader, battling the Republican House Speaker Tom Craddick from a position of disadvantage. In his most memorable fight, he helped orchestrate a famous Democratic walkout to Oklahoma to block a mid-decade redistricting plan being pushed by Republicans in the state.
But he picked up his share of enemies, too, thanks to his willingness to pick fights. In 2009, Texas Monthly decried his warrior mentality, citing how he killed a bill honoring a slain Austin policewoman because the bill's sponsor had held up one of Dunnam's bills.
Through it all, he was a strong advocate for Baylor, working to preserve state-funded scholarships for private school students and helping secure a $10 million appropriation for a Baylor research center in 2009. He lost his re-election bid in 2010 but still plays keyboard for The Bad Precedents, a rock band made up of lawmakers and legislative staff.
When scandal began to consume Baylor in 2015, Dunnam watched with interest. Football player Sam Ukwuachu had been convicted of raping another student. (The conviction was later overturned, and the case is currently pending an appeal.) During the trial, it was revealed that the alleged victim reported the rape to school officials but no disciplinary action was taken.
Soon, numerous similar stories emerged, and Baylor hired the law firm Pepper Hamilton to investigate. After a months-long review, university regents reported widespread mishandling of allegations of sexual assault by students — not just in cases involving football players. Employees may have engaged in victim-blaming, and efforts to respond to sexual assault cases were "slow, ad hoc, and hindered by a lack of institutional support and engagement by senior leadership," the school said.
The school's football coach Art Briles was fired, and its president Ken Starr was reassigned and eventually left the school.
Dunnam received calls from students and alumni who said they had been raped. One said she was raped on campus in 2004, struggled to deal with the trauma and dropped out soon after. Then, she tried to return to Baylor in 2015 and found little sympathy over the reasons she had left. Others said they were raped more recently but found their school had little willingness or ability to investigate.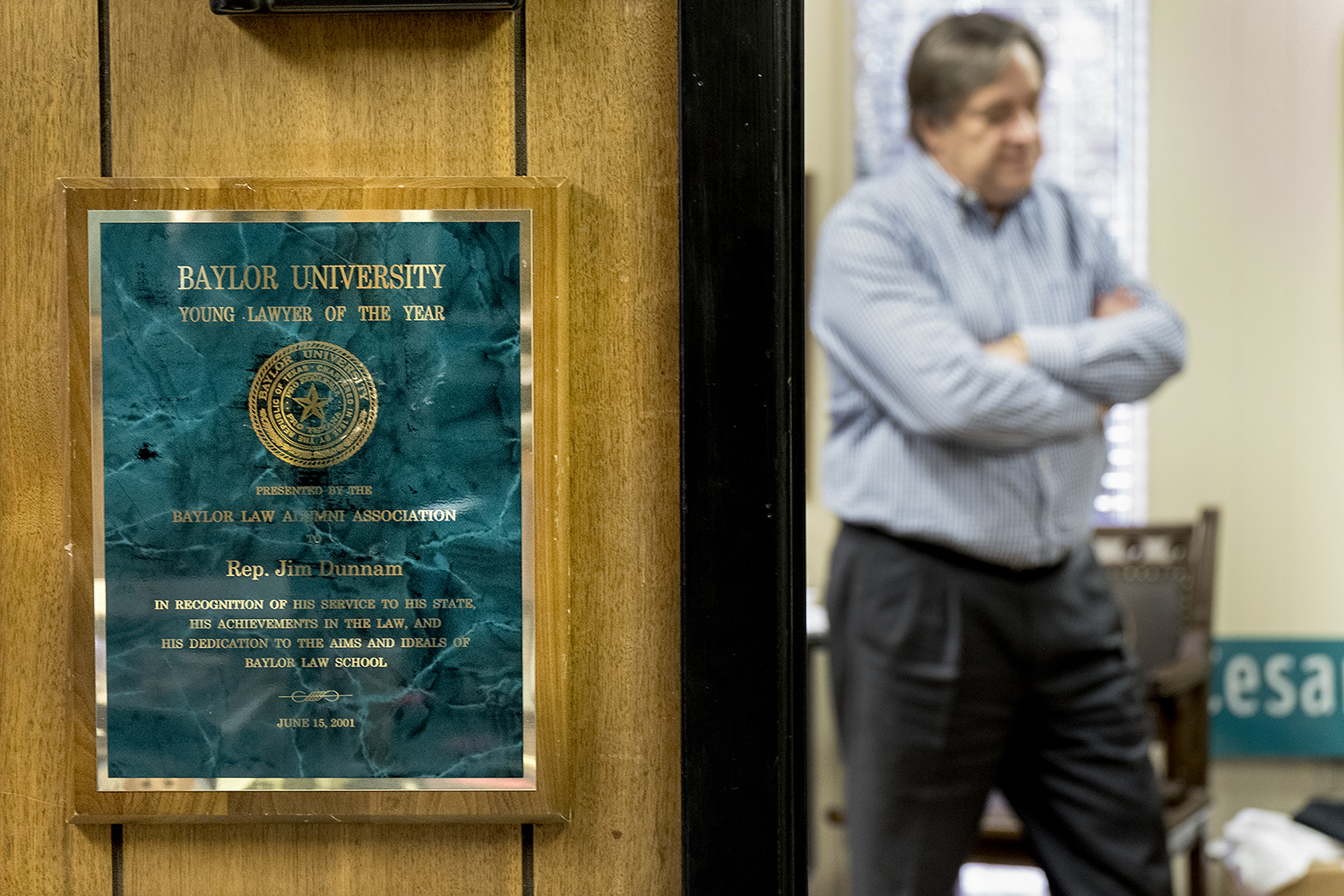 Dunnam enlisted leading Houston attorney Chad Dunn to join him on the case. And in June 2016, they filed suit on behalf of three women. He has picked up 11 more clients since. The case has allowed him to gain access to thousands of pages of Baylor records.
"The institution that I know and love should not treat its students this way," he said.
University Vice President for Marketing and Communications Jason Cook emphasized that Baylor has enacted major changes since the scandal broke. No other school in the country has taken such significant action to address sexual assault, he said, although he admitted that "establishing trust takes time."
But Dunnam's frustration with the school has been made clear in the filings he and his team have turned in. Often, those public documents talk about victim-blaming and an unfriendly climate for women. Examples include:
In June, the team filed a 220-page deposition transcript for David Garland, a professor of Christian scriptures who served as interim president of Baylor after Starr's departure. Garland had often publicly said that his top job as interim president was to implement a series of recommendations to improve Baylor's handling of sexual assault allegations. But during the deposition, he seemed to have little knowledge of the law firm's investigation that prompted those recommendations. In the deposition, he said he didn't know — and didn't want to know — why the school was being investigated.
In July, they included in a filing a 2009 e-mail from then-regent Buddy Jones, a top Austin lobbyist, describing female students he suspected of drinking alcohol at parties as "perverted little tarts," the "vilest and most despicable girls" and a "group of very bad apples."
Last month, the lawyers unearthed an e-mail conversation between Garland and another Baylor official. In the exchange, Garland describes hearing a radio interview about drinking in college that helped him understand why some women "seem willingly to make themselves victims."
Many of the filings have generated negative news stories for Baylor, leading to questions about whether Dunnam is trying to litigate the case through the media or pressure Baylor to settle. Dunnam denies that, saying he's just doing his best to aggressively boost his clients' case.
Headed for a courtroom?
Among the Baylor community, feelings are mixed. Many alumni cringe each time negative news comes out. And Baylor has at times questioned Dunnam's tactics, saying in court documents that he has mischaracterized e-mails and statements by some officials.
But there is also lingering anger at the school.
"There are so many questions that Baylor has refused to answer," said Tom Nesbitt, an Austin lawyer and former president of the university's alumni association. If the lawsuit helps find those answers, Nesbitt said, then "Jim Dunnam is doing a service to Baylor."
One key point of interest has been the Pepper Hamilton report, or lack thereof. When the firm completed its review of Baylor, it never produced a written report, other than a list of 105 recommendations for the school to improve its processes.
But in August, the federal judge overseeing the case ordered the university to hand over a lot of the information compiled during the investigation. Whether the public sees any of those records could depend on whether Dunnam's case ever makes it to trial.
Many alumni will continue to watch the case closely in the coming months. A trial date has been tentatively set for next year. But Baylor has settled cases with many current and former students before their suits ever make it to court.
Dunnam said his clients are suing "for a larger purpose than themselves."
"It's to correct a wrong, to fight for what they believe this institution stands for and to try to do something so that people will not have to go through what they have gone through," he said.
Still, the financial incentive to settle might be strong. And the clients may be hesitant to put themselves through a highly public trial.
Asked how Baylor hopes to resolve Dunnam's cases, the school's vice president for communications Cook said that "each individual case and each individual survivor reaches resolution in a different way."
"For some survivors, that is a conversation with the president," he said. "Others, that could be a settlement. While others that could be full resolution through the legal process."
Meanwhile, Dunnam says his main goal is to "aggressively serve his clients." But he also hopes that his work will lead to positive change at Baylor. And he bristles at the suggestion that he is harming his old school.
"Ken Starr didn't go to Baylor University," he said. "David Garland didn't go to Baylor University. They are temporary. I don't see them as the heart and soul of the university. The heart and soul of the university are my clients."
Disclosure: Baylor University has been a financial supporter of The Texas Tribune. A complete list of Tribune donors and sponsors is available here.
Texans need truth. Help us report it.
Independent Texas reporting needs your support. The Texas Tribune delivers fact-based journalism for Texans, by Texans — and our community of members, the readers who donate, make our work possible. Help us bring you and millions of others in-depth news and information. Will you support our nonprofit newsroom with a donation of any amount?
Yes, I'll donate today
---
Information about the authors
Explore related story topics