In Harvey's Wake
In Houston, low-income residents struggle after losing vehicles in floods
In addition to replacing clothes and finding new places to live, many in southeast Texas must repair vehicles or buy new cars. But not being able to get to work for more than three weeks makes that a challenge.
HOUSTON — Daniel Gonzalez stood next to his father under the shade of a tree at the Imperial Oaks apartment complex last week and offered fallow glances at the parking lot where the men's two immobile vehicles sat.
The 18-year-old and his dad used to pay the bills by working as day laborers at various construction jobs. But ever since Hurricane Harvey dumped more than 50 inches of rain on parts of this city, flooding their parking lot and rendering their cars useless, they're now unable to get to work. That's left them spending their days in a monotonous, hopeless holding pattern that's stretched on for weeks.
"I don't have nothing to do," Gonzalez said. "I don't have work. I don't have a car."
Gonzalez is among tens of thousands of southeast Texans whose vehicles were damaged or totaled when the worst rainfall event in American history flooded streets, houses and entire neighborhoods.
Like thousands of other people in this battered region, they only carried the minimum amount of auto insurance required by Texas law. But those liability policies don't cover flood damage.
And for people like Gonzalez, his dad and scores of neighbors who live paycheck to paycheck in a city that was built around cars, the lack of a vehicle is compounding the already daunting task of getting life back on track. That's especially true in far-flung, low-income neighborhoods like Greenspoint, where Gonzalez and his family live in northeast Houston.
"Your public transportation, your commuting options are awful," said Andrea French, executive director of the Houston area's Transportation Advocacy Group. "So you just have to sit and wait."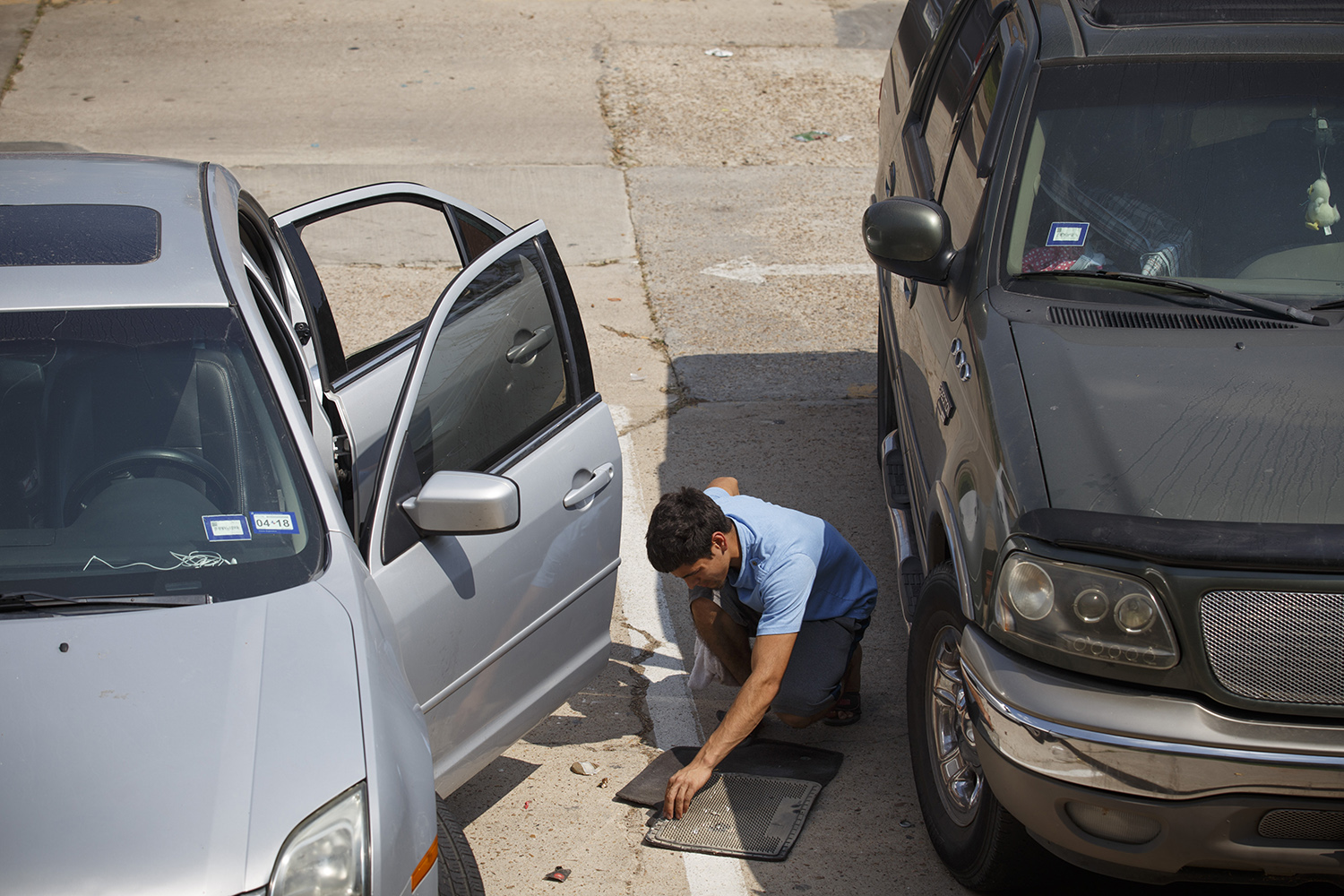 Estimates of how many vehicles were damaged or totaled during Harvey vary widely. The Insurance Council of Texas estimates that 250,000 cars were impacted along the Gulf Coast, and more than 90,000 of those vehicles were either uninsured or didn't have policies that cover flood damage.
The wide swath of property damage sent insurance companies, rental car outlets and car dealerships scrambling to respond to a sudden spike in demand for loaner and replacement vehicles.
But for folks making low wages, dealing with federal assistance applications and finding temporary housing is compounded by an inability to get to and from work and earn a paycheck when they need it the most. Many who lost vehicles also lost furniture, clothes and rental housing.
Develron Walker hasn't been able to get to work at the Bill Clair Family Mortuary in South Central Houston since Harvey hit. His 2011 Nissan Armada was parked at a friend's house in Kashmere Gardens in northeast Houston while he was out of town during the storm. He returned to Houston to find it totaled.
Walker was still making payments on the vehicle and thinks he carried enough insurance to pay off what he owes and break even. But that leaves him with no money or trade-in vehicle to put a down payment on a replacement.
What's worse for him is that the SUV served as the shuttle for congregation members of the Towers of Hope church, where he's a pastor. With the church's roof and ceiling damaged and no transportation for many of the congregants, services haven't been held since the rains came the last weekend in August.
In between dealing with insurance claims and emergency management paperwork, Walker now relies on friends for rides and small amounts of cash to get him through days that he said are shrouded in uncertainty from one minute to the next.
"Once that minute is up, you're right back to square one and you're looking for something to help you for the next minute," he said.
Gonzalez knows the feeling. For meals, he and his extended family rely on the Red Cross, churches or whatever various nonprofits happen to send to their Greenspoint apartment complex each day. They're also battling the apartment complex management over their security deposits and September rent payments, which they want back so they can live somewhere else while their units are being repaired after being inundated with feet of water.
A friend who is a mechanic told Gonzalez it will take $2,500 to fix his sedan. That's more than three months' worth of rent. Gonzalez said he thinks it will take three or four months to save enough money to repair or replace the vehicle. And that's if he can find a way to get to and from construction jobs to earn anything.
"I gotta think what I'm gonna do," he said as his wife and other relatives milled around the building, holding babies and watching kids play. "A lot of families lost everything. The best thing is we didn't lose the family."
Disclosure: The Insurance Council of Texas has been a financial supporter of The Texas Tribune. A complete list of Tribune donors and sponsors is available here.
Texans need truth. Help us report it.
Our Fall Member Drive is underway, and we need your support. The Texas Tribune is a critical source of truth and information for Texans across the state and beyond — and our community of members, the readers who donate, make our work possible. Will you join as a member with a tax-deductible donation of any amount?
Yes, I'll donate today
---
Information about the authors
Explore related story topics