The Brief: The latest U.S. News college rankings are here
Where did Texas universities fall on this year's U.S. News and World Report's college ranking list?
Thanks for reading The Brief, our daily newsletter informing you on politics, public policy and everything in between. Forward this email to friends who may want to join us. They can sign up here. — CP
What you need to know
Where did Texas universities fall on this year's U.S. News and World Report's college ranking list? Here's what you need to know:
• Rice University is by far the best-ranked school in Texas, and the University of Texas at Austin sits in the state's No. 2 slot. On the national stage, Rice is ranked the 14th-best school in the country — and UT-Austin, ranked 56th, edged out Southern Methodist University at 61st. Texas A&M University is fourth in the state this year, bypassing Baylor University, which dropped four spots this year to 75th in the U.S. overall. Some warn the U.S. News rankings should be taken with a grain of salt, but the rankings still carry a lot of weight, even if it's only from a marketing standpoint.
• Since we're talking about higher education, let's not fail to mention Hurricane Harvey's impact on universities in Southeast Texas. At the University of Houston, classes were canceled for a week, and when school finally re-opened, the 45,000 students plus faculty began their semester already facing a wide swath of challenges related to the storm. Rice University — home to around 6,000 students — was "spared" by the storm, as the campus put it on Sept. 5. All things considered, most campuses in the region saw delayed start dates and minor damage.
• And now, a belated introduction... Our "Now on the Books" series was originally set to kick off Sept. 1, when more than 650 new state laws went into effect. But then Harvey happened — and everyone's priorities shifted. We're ready to kick off a month-long series outlining several new measures the Texas Legislature passed this year, and how they may affect you. Dive into today's feature, which is about a law expanding knife owners' freedom to carry one almost anywhere in Texas, and revisit Monday's story here.
Other stories we're watching today:
• House Speaker Joe Straus is speaking to the San Antonio Chamber of Commerce at noon today, where he's set to discuss this year's regular and special legislative sessions. Follow Texas Tribune reporter Patrick Svitek for updates.
Tribune today
• State Rep. Larry Phillips, R-Sherman, isn't running for re-election. There are now six open seats in the Texas House ahead of the 2018 elections.
Pencil us in
Join us for a conversation on Sept. 14 with Phillip Huffines, chairman of the Dallas County Republican Party and candidate for Texas Senate District 8.
The full program for the 2017 Texas Tribune Festival is now available! Join us for three days of the best conversations in politics and public policy, Sept. 22-24. Check it out.
What we're reading
• Resolve, tears and hope marked the 16-year anniversary of 9/11. (Associated Press)
• U.S. Sen. John Cornyn wants the former White House chief strategist to target Democrats instead of incumbent Republicans ahead of the 2018 elections. (The Washington Examiner)
• A Confederate statue in Amarillo was vandalized over the weekend. (Amarillo Globe-News)
• Donald Trump, Jr. is speaking at a private business conference in Fort Worth today. Hillary Clinton is coming to Austin in November for a book signing. (Fort Worth Star-Telegram and The Austin American-Statesman $)
Harvey today
• Texas GOP leaders appear to have their eyes on a long-delayed reservoir project that experts say would have saved thousands of Houston homes from flooding.
• U.S. Rep. Lloyd Doggett, an Austin Democrat, is wondering about Texas prisoners' safety in Beaumont after Harvey.
• Fifteen women affected by Harvey are set to receive abortions at no cost.
• If your family was displaced by Harvey and is trying to get kids back in school, we want to hear from you.
• All but two refineries in Southeast Texas have restarted or are beginning the process of doing so. (Beaumont Enterprise)
• Mexico said it's dropping Harvey aid to Texas because it has its own natural disasters to worry about. (The Dallas Morning News $)
• Students in Houston ISD returned to school on Monday — but the school district's future still hangs in balance. (The Houston Chronicle $)
Photo of the day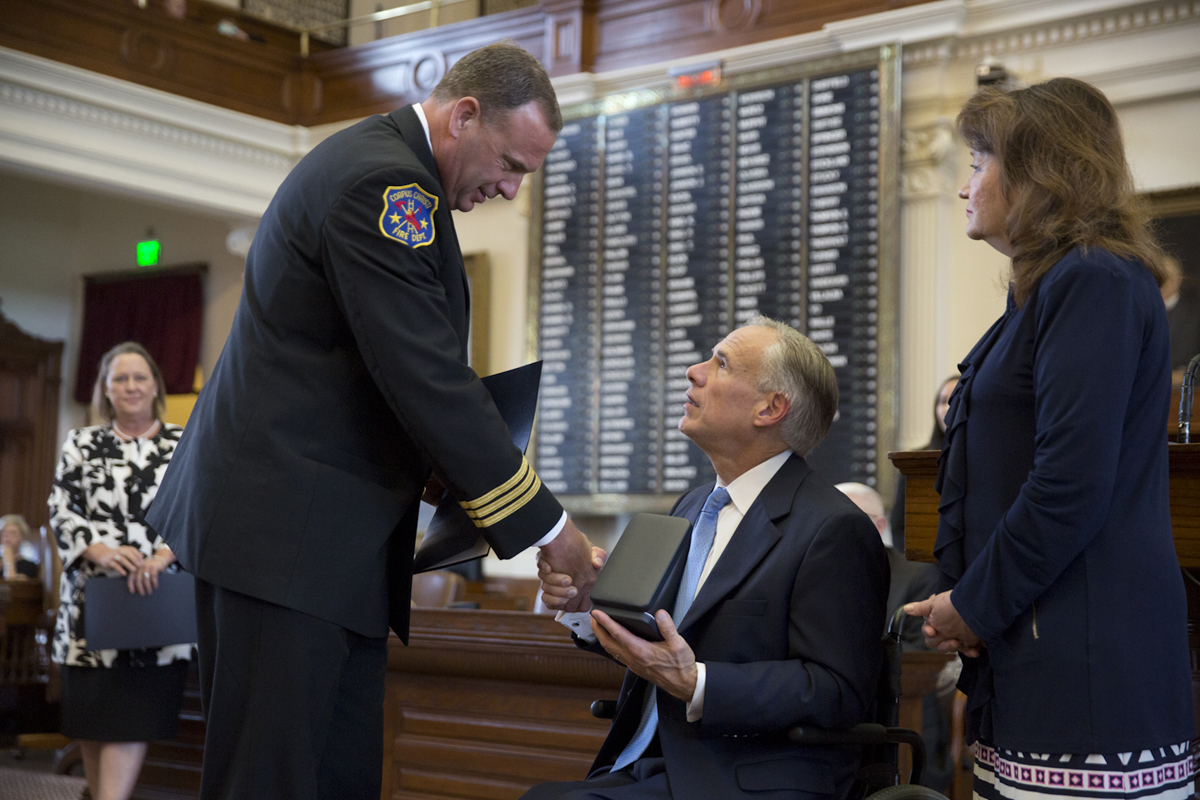 Gov. Greg Abbott presents the 2017 Star of Texas awards to family members of men and women who have been killed or injured in the line of duty, on Sept. 11, 2017. Photo by Marjorie Kamys Cotera. See more photos on our Instagram account.
Quote to note
"They have no choice. If they don't do that, we're going to get another one of these, you know, maybe not in five years but ... within the next decade."
— Phil Bedient, a Rice University scientist, on Harris County needing an additional reservoir to avoid flooding.
Feedback? Questions? Email us at thebrief@texastribune.org. As always, thanks for choosing The Brief — if you liked what you read today, become a member or make a donation here.
Disclosure: The University of Texas at Austin, Baylor University, Texas Tech University, Texas A&M University, the University of Texas at Dallas, Southern Methodist University and Rice University have been financial supporters of The Texas Tribune. A complete list of Texas Tribune donors and sponsors can be viewed here.
Your New Year's resolution list isn't complete without …
… supporting the Tribune. This new year, resolve to do your part to sustain trusted journalism in Texas. Join thousands of readers who power The Texas Tribune's nonprofit newsroom.
Donate now