In Harvey's Wake
In beleaguered La Marque schools, Harvey stirs up old anxieties
Last year, the state forced Texas City ISD to annex, or absorb, its neighboring district. After months of work, efforts to improve conditions for students from annexed La Marque ISD hit a significant speed bump: Hurricane Harvey.
LA MARQUE— As hundreds of parents sat nervously in the La Marque High School auditorium last Thursday, Nicole Gardner stood from her seat and raised her hand to ask what was on everyone's minds.
"I was wondering how long this relocation is going to last."
The response was just as Gardner, the mother of a kindergarten and second-grade student, had feared.
"Unfortunately, we don't know," said Susan Myers, Texas City ISD deputy superintendent.
Gardner's children are enrolled in two of three schools in Texas City ISD closed temporarily due to damage from Hurricane Harvey, pushing officials to relocate about 1,600 students to other buildings within the district, starting Monday. For parents and administrators of the three closed schools, the flooding means more disruption in a period already marked by upheaval.
In 2016, the state forced the Galveston Bay school district to annex, or absorb, its neighboring district, and once football rival, La Marque ISD, which was hemorrhaging enrolled students and failing to prepare those who stayed for graduation. For months, tensions were high with rumors swirling that outside forces had conspired to destroy La Marque's schools. When school started last fall, people from both communities were nervous about how their hybrid district would work.
"This year, it feels like we're redoing last year," said Flo Adkins, principal of La Marque Middle School, as parents queued up around her to pick up their kids' new building assignments Thursday evening. "You know, when the annexation and all that happened, it feels like there was so much anxiety in the community."
The three buildings flooded due to Harvey all belonged to former La Marque ISD, where the newest school building was constructed 47 years ago. Texas City ISD was promised $17 million over five years from the state in June to improve its recently acquired, neglected facilities. In just a few days, Hurricane Harvey, slow-moving and destructive, knocked back the timeline for renovation.
"We got through last year with the annexation, we can get through anything," Adkins said. She pulled out her phone and swiped through photos of Texas City teachers helping their La Marque colleagues fill boxes with school supplies Thursday morning. The storm will bring the district closer together, she said.
Hundreds of parents filled the La Marque High School auditorium Thursday evening, after two weeks of cancelled classes, to hear the plans district administrators had for where and how to relocate their students. They were terrified and unhappy.
Administrators made sure to stay cheery as they explained how students from three La Marque schools that cover pre-K through eighth grade would temporarily attend classes in other school buildings, starting Monday. All their teachers and principals would go with them. They would all get free meals, and new bus routes as needed. Teachers would work hard to get students academically on track. Students, including some who lost their homes in the storm, would finally have a routine again.
"Our teachers know right now our instruction has to be intentional and intensive," said Ricky Nicholson, La Marque High School Principal. "We have to the stop the bleeding on the loss of instructional days."
Gardner was trembling as she later lined up to get a copy of the map showing her where her children would temporarily attend school, miles away in Texas City. Her second grader is behind in math and reading, and now has missed two weeks of instruction. The family moved from Deer Park to La Marque, before the start of the new year. "I'm hoping it'll be six weeks or something," she said, estimating the length of the school closures. "I feel like it will be two or three months."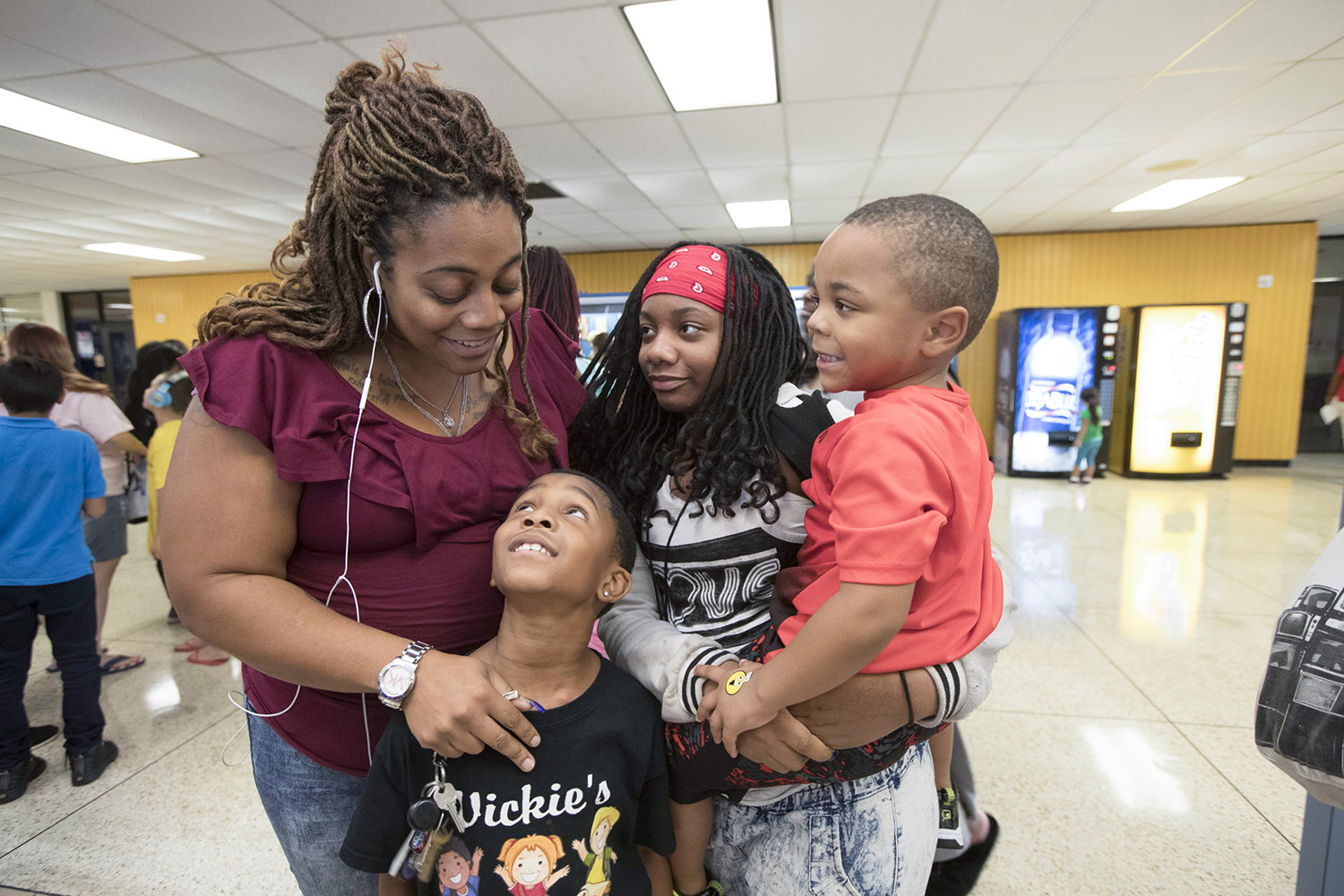 The main priority, officials repeated over and over, was to keep La Marque students in Texas City ISD.
"We're one big school district," said Superintendent Rodney Cavness, new to Texas City this year, to the crowd of attentive parents. "Annexation, all that's behind us."
Not everyone was buying it. Monique Lazard planned to transfer her daughter Radiance Willson from Dickinson ISD to Texas City ISD this fall. When Lazard heard her 11-year-old would be studying in the same building as 17 and 18-year-olds, she immediately decided to re-enroll her in Dickinson ISD instead.
Already prone to letting water leak in, La Marque Middle School filled with two inches of water during last month's hurricane. Those students will be relocated to La Marque High School, two miles away. Administrators promised to keep the two student bodies on different floors of the building, with no overlap, and to ensure teachers accompanied the fifth and sixth graders around the high school.
"Although they say they're going to separate it, kids will be kids," Lazard said. "Texas City can't tell me there's not other schools."
She said she didn't expect a better solution from the district. "Texas City and La Marque have always had their separation," she said. "Even though it's supposed to be one district now, there's still a lot of separation. And it's not good."
Lazard and her children are still living in a home that filled with three feet of water over the course of the storm — among hundreds inundated in La Marque and Texas City. She was denied a hotel voucher through federal shelter assistance but she has filed for long-term federal disaster assistance while looking for a safer place to live.
Texas City ISD officials will soon submit a flood insurance claim for the damaged schools. They are also working with a FEMA consultant to apply for federal public assistance, along with all the other qualifying municipalities and institutions in 43 counties included in the federal disaster declaration.
Before the flood, La Marque buildings were safe, but not in good shape, projected to need $42 million for repairs and about $100 million for replacement. The state granted Texas City ISD $17 million over a five-year period in June to fix the buildings.
Meanwhile, Texas City ISD replaced and renovated the Texas City buildings in 2007, after its voters approved a $118 million bond referendum. Those buildings weathered the storm.
"All Texas City ISD students deserve the same educational experience," said former Superintendent Cynthia Lusignolo, who lobbied the state for the $17 million this winter. That dream of equity is now even further away.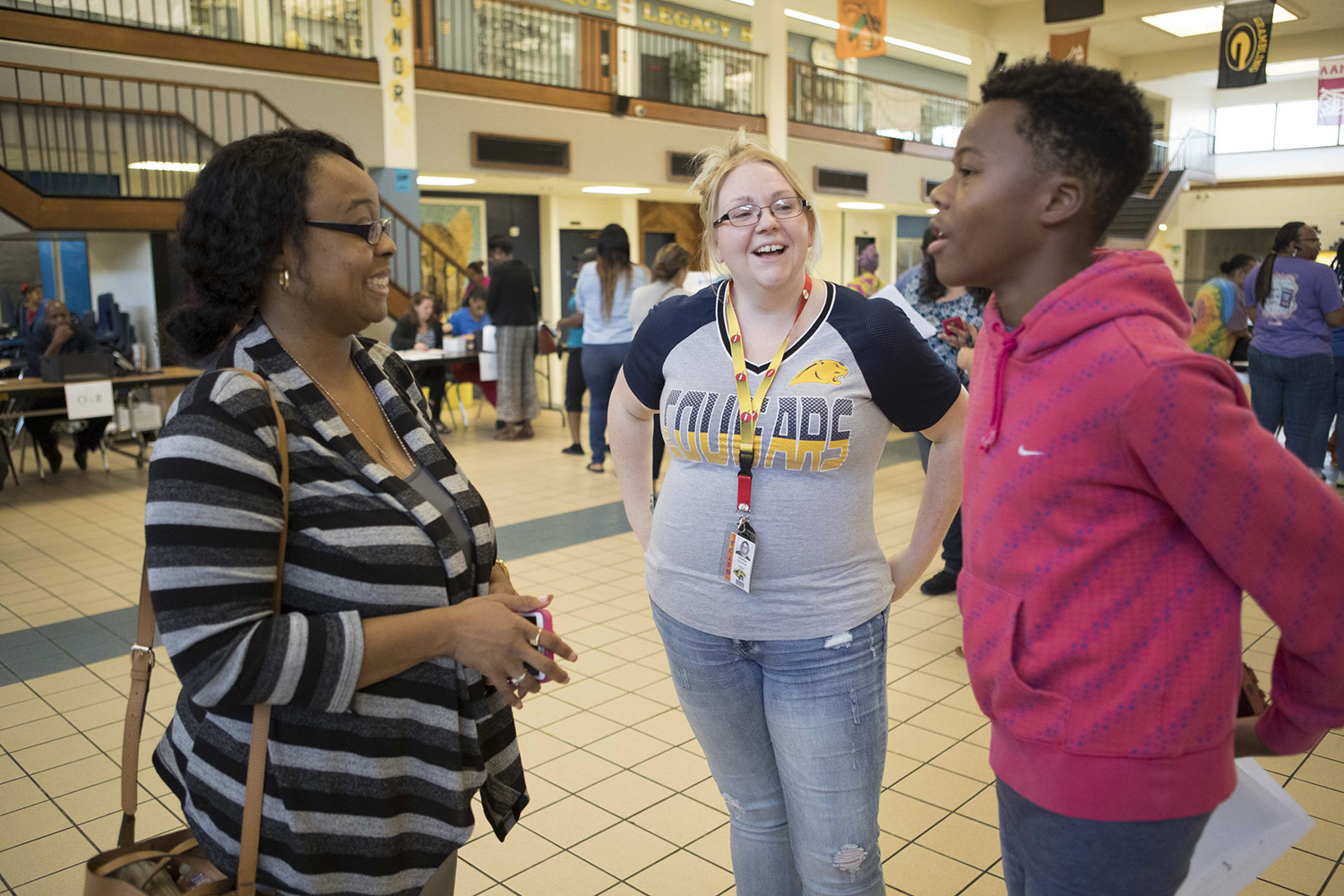 Heather Dummar toiled for three weeks last summer hanging sheets of corrugated metal from the walls and constructing long tables and stools to transform her eighth-grade English classroom in La Marque Middle School into an "industrial coffee shop." She spent more than $1,000 of her own money to bring to life the calming environment she found at her local coffee shop in college.
"It was more than just slapping up posters," she said.
It took her and a team of Texas City ISD teachers three hours last Thursday to pack up all the textbooks and pencils they would need to hold classes in a completely different building, as contractors in the middle school rip out soggy drywall and bleach the mold that had started to grow at the base of the chair legs.
None of the coffee shop's decorations went with Dummar to La Marque High School. Her new temporary classroom was previously used for high school science and has laboratory tables attached to the walls. She went back to her middle school classroom to pack up books Thursday and saw some of the chalkboard paint peeling off the walls and the dirty water line two inches up the corrugated metal.
"That's heartbreaking, because that's our home," she said.
Quality journalism doesn't come free
Perhaps it goes without saying — but producing quality journalism isn't cheap. At a time when newsroom resources and revenue across the country are declining, The Texas Tribune remains committed to sustaining our mission: creating a more engaged and informed Texas with every story we cover, every event we convene and every newsletter we send. As a nonprofit newsroom, we rely on members to help keep our stories free and our events open to the public. Do you value our journalism? Show us with your support.
Yes, I'll donate today
---
Information about the authors