The Brief: Battle lines are (curiously) drawn in Texas' redistricting fight
The Texas Legislature isn't likely coming back for an overtime round in Austin anytime soon — at least not to draw a new congressional map. But what does that mean for one of the most gerrymandered districts in the country?
Good morning and happy Wednesday, folks. Thanks for reading The Brief, our daily newsletter informing you on politics, public policy and everything in between. Forward this email to friends who may want to join us. They can sign up here. — CP
What you need to know
The Texas Legislature isn't likely coming back for an overtime round in Austin anytime soon — at least not to draw a new congressional map. What does that mean for one of the most gerrymandered districts in the country? Here's what you need to know:
• A quick table-setter: A federal court in San Antonio ruled last week that two of Texas' 36 congressional districts — CD-27 and CD-35 — discriminated against minority voters and violated the U.S. Constitution and Voting Rights Act. With the next election cycle in sight, the move set up a redistricting frenzy, and the panel of judges gave the state three business days to decide whether they wanted the Legislature or the court to redraw the map.
• Questions over whether there'd be a redistricting-focused special session were answered Friday, when Texas Attorney General Ken Paxton announced Gov. Greg Abbott didn't intend to bring lawmakers back to the Capitol to draw a new congressional map. Paxton also revealed a state plan to wriggle free of any consequences, asking the Supreme Court to overturn the lower court's ruling that the state intentionally discriminated against black and Latino voters and requesting that the current map stay intact ahead of the 2018 elections.
• There's something curious about CD-35, a long and slender stretch of land in Texas that begins south in San Antonio, runs through parts of Austin and stops just short of Round Rock. Democratic U.S. Rep. Lloyd Doggett, who has represented the district since 2011 when lawmakers divided his old district, called the state's appeal Friday "desperate" and "highly questionable" in a statement. Want to take a look at CD-35 for yourself? Here you go.
• What's next? Texas and its opponents — groups representing minorities in the state — are scheduled to return to court to fight over a new map Sept. 5. There's still a question mark next to whether judges will OK new political boundaries without pushing back the state's 2018 primaries. If that happens, it could shake up races across Texas — just look at Ted Cruz's election to the U.S. Senate in 2012, when battles over the state map delayed the primary elections. To cap this off, judges still haven't ruled on the legality of the state's House map, which could open up a host of other hurdles ahead of election season.
Other stories we're watching today:
• The UT Board of Regents is set to meet this morning to talk university tuition for 2019-2020. The Texas A&M Board of Regents is scheduled for a meeting this afternoon to discuss how a "White Lives Matter" rally that was slated for Sept. 1 was handled, among other things. Follow Texas Tribune reporter Matthew Watkins for updates.
Tribune today
• From Ross Ramsey: Let the 2018 Texas Republican primaries begin.
• Angela Paxton, wife of Texas Attorney General Ken Paxton, may have an eye on a seat in the Texas Senate — which could shake up the race there in 2018.
• An anti-abortion group didn't serve as many patients as they thought they could, and they're losing more than $4 million in state funding because of it.
• Don't forget: Tell us which local control issue we should explore next as part of our ongoing Power Trips series.
Pencil us in
The full program for the 2017 Texas Tribune Festival is now available! Join us for three days of the best conversations in politics and public policy, Sept. 22-24. Check it out.
What we're reading
Links below lead to outside websites; we've noted paywall content with $.
Along with bashing the mainstream media at a rally in Arizona last night, President Trump said NAFTA will probably be terminated. (Politico)
Follow the leader: The University of Texas at Austin's decision to remove its Confederate statues could lay the groundwork for similar moves at other universities. (AP)
White nationalist Preston Wiginton has been — and remains — a thorn in Texas A&M University's side. (The Chronicle of Higher Education)
Add Hidalgo County to the list of local governments and cities opposed to Senate Bill 4, the state's new "sanctuary cities" law. (The Monitor)
U.S. Rep. Beto O'Rourke stopped in Waco to talk legalizing marijuana and said he'd support impeaching President Trump. (The Waco Tribune-Herald $)
State Sen. Van Taylor's started his GOP bid to replace Sam Johnson in Congress. (The Dallas Morning News $)
Photo of the day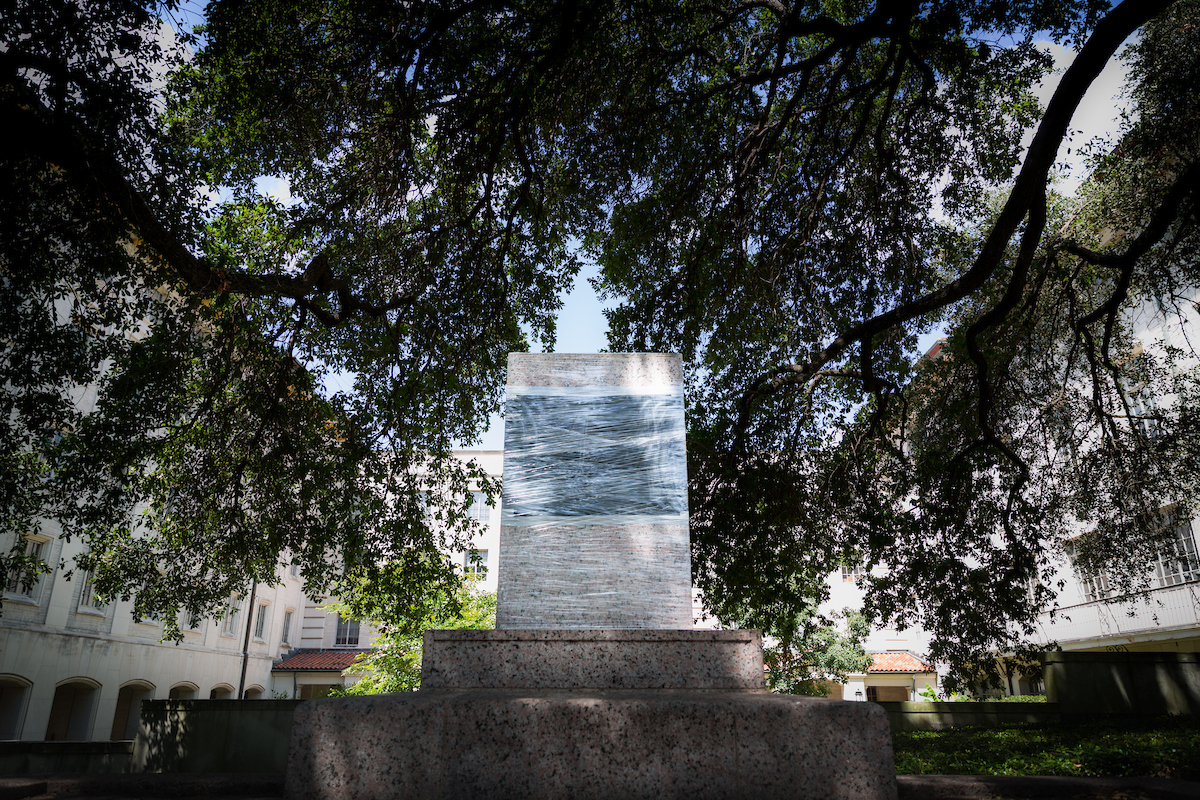 The scene where a Confederate statue at the University of Texas at Austin once stood, following the university's removal of its remaining related monuments Aug. 21. Photo by Shelby Knowles. See more photos on our Instagram account.
Quote to note
"Mrs. Ken Paxton will make an interesting opponent."
— Matt Langston, a spokesperson for Dallas County GOP Chairman Phillip Huffines, about Angela Paxton eyeing a seat in the Texas Senate.
Feedback? Questions? Email us at thebrief@texastribune.org. As always, thanks for choosing The Brief — if you liked what you read today, become a member or make a donation here.
Your New Year's resolution list isn't complete without …
… supporting the Tribune. This new year, resolve to do your part to sustain trusted journalism in Texas. Join thousands of readers who power The Texas Tribune's nonprofit newsroom.
Donate now