After 18 months, hurricane vulnerability documents arrive — but they're thin
Eighteen months ago, we asked the government for documents that should have shed a lot of light on Houston's vulnerability to a massive hurricane. After finally receiving them, it turns out the documents are basically useless.
Eighteen months ago, the Texas Tribune and ProPublica asked the federal government for some documents.
At the time, we were investigating what will happen the next time a massive hurricane hits Houston, and because the city is home to a massive oil refining complex, we knew a big oil spill was one likely consequence.
It's happened before: During Hurricane Katrina, rushing water caused one refinery's oil tank to rupture, sending oil into more than 1,700 homes a mile away. And the Houston area has many schools and neighborhoods that are less than a mile from large refineries and oil storage terminals.
For months, The Texas Tribune and ProPublica tried in vain to get specific information about what could happen if any of the thousands of massive oil tanks along the Houston Ship Channel sprung a leak during a hurricane; whether companies that owned the tanks were prepared; and whether nearby communities understood the risk. Our last hope, we were told, were documents called "Facility Response Plans" that big facilities must submit to the Environmental Protection Agency.
So we asked for the plans submitted by more than a dozen oil refineries and storage terminals that sit along a 50-mile waterway known as the Houston Ship Channel.
That was in January 2016. The documents finally arrived late last month, but they shed little new light on our original questions.
Ever since the 9/11 terrorist attacks, it's becoming increasingly difficult to get any information about the risks of an accident happening along the Houston Ship Channel. That was apparent as we fought to get these documents.
A month after our initial open records request, we got a call from EPA lawyers. They said the documents were "voluminous" and, before releasing them to us, the agency would have to consult with the Department of Homeland Security because of potential sensitive information in the plans.
That agency is basically the place where public information requests go to die.
There was a way to potentially avoid this, or at least speed it up, the EPA said: Narrow the scope of your request. Ask only for a portion of the plan known as "vulnerability analysis."
That seemed reasonable. According to federal law, those documents "address the potential effects (i.e. to human health, property, or the environment) of an oil discharge" on nearby "water intakes, schools, residential areas, businesses," and other places. So we agreed to tweak our request.
"Thank you, we will continue to process your request," the EPA wrote in an email in February 2016.
A month later, the agency called again with more news: They were ready to provide us with one facility's vulnerability analysis, for Shell Oil's refinery in Deer Park. All the other documents would have to go through the agency where public information requests go to die.
Still, getting Shell's document was great news: The refinery is one of the largest in the country, with a crude oil capacity of 14 million gallons. Then the document arrived. It was two pages long and 13 years old — from 2003.
The main detail in those two pages: Oil that spills from the refinery could travel as much as 15 miles away in the event of a spill, depending on weather conditions and the time of day.
When we asked the company for more details, a spokesman told us they updated their Facility Response Plan in 2012. We still don't know why the EPA only produced the 2003 version.
The company also sent us some other portions of the plan — even though the EPA had insisted that any other portion could have sensitive information that could impact national security.
The additional documents noted that Shell had installed new firewalls around its tanks to protect them from damage. They added that an oil spill might affect the "heavy concentration of industrial companies" near the refinery, as well as "adjoining bayous, waterways, bays and wetlands that are environmentally sensitive areas."
More than a year would pass before the EPA gave us any more vulnerability analyses. When they finally arrived on May 23, they were equally underwhelming.
The Stolthaven Houston Terminal stores chemicals, petroleum products and vegetable oils in 188 tanks right by the ship channel. Its analysis is one page long, and is simply a list of "features" near the terminal that might be affected by an oil spill, including "water intakes, schools, medical facilities, residential areas," and "businesses."
The document continues: "Identified vulnerabilities are listed in SECTION 6." A giant black box follows, where information had been redacted.
The Texas Tribune and ProPublica called a number listed on the company's web site as "media relations" for its U.S. branch. A reporter was connected to someone from the human resources department, and after asking for more information related to the vulnerability analysis, was told, "the answer's probably no."
At first glance, the documents for a transfer facility operated by Chevron looked more promising: four pages long. However, each page looked like this: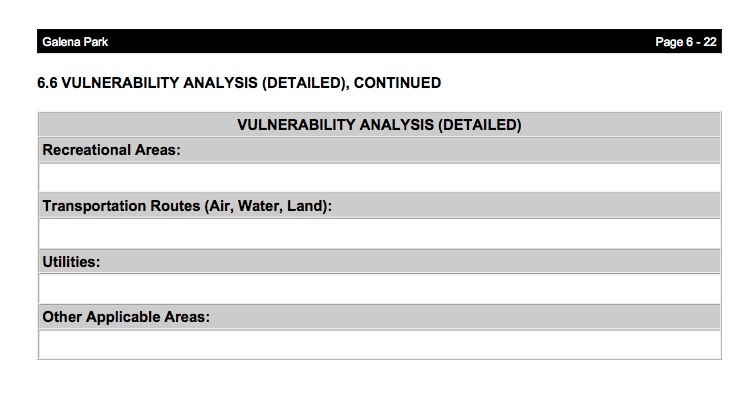 A Chevron spokesman said that the company submitted a "complete" report. "The EPA may have redacted the report for security reasons, but any questions about this should be directed to the EPA," he said.
The documents from a Petrobras Refinery in Pasadena contained a few more details, but nothing that could not have been gleaned from searching for the facility on Google Maps. It notes that two elementary schools and one high school are less than a mile from the facility, and that residential populations "begin within a quarter mile ... and continue outward."
The document continues, "any evacuation efforts for these areas will be coordinated with the local emergency assistance agencies." Those same words and phrases appear in many other vulnerability analyses that the EPA provided.
The EPA didn't respond to requests for an interview, either. But officials there have made presentations about how to prepare these documents correctly, and some of the PowerPoints are online.
According to those presentations, using "generic verbiage" in these documents could be violating the law. So could leaving out the "analysis of potential effects" on schools and residential areas. Both of those issues appear in many of the documents The Texas Tribune and ProPublica received.
In short, as hurricane season begins — and nearly two years after we first started trying to truly understand the risks of what could happen in Houston — we haven't found out much.
All we know is that, as we reported previously, thousands of cylindrical storage tanks carrying the world's largest concentration of oil, gases and chemicals line the Houston Ship Channel. If a hurricane were to hit at the right angle, more than 25 feet of water could be sent up the channel. If even one of those tanks ruptured because of the rushing floodwaters, areas that are home to hundreds of thousands of people could be affected.
Any other details — what companies are prepared for, what the government is doing to monitor them, and specific things that residents can do to protect themselves and their property nearby — probably won't be publicly available until it's too late.
Read related Tribune coverage:
Here's our full investigation into what will happen when Houston's perfect storm hits, and how little has been done to prepare.
Several months after our investigation was published, former President Barack Obama signed a bill that may help expedite the long process of constructing a hurricane barrier on the Texas Gulf Coast.
Dozens of Texas politicians and business leaders recently asked the federal government for $15 billion to build a hurricane protection barrier.
Quality journalism doesn't come free
Perhaps it goes without saying — but producing quality journalism isn't cheap. At a time when newsroom resources and revenue across the country are declining, The Texas Tribune remains committed to sustaining our mission: creating a more engaged and informed Texas with every story we cover, every event we convene and every newsletter we send. As a nonprofit newsroom, we rely on members to help keep our stories free and our events open to the public. Do you value our journalism? Show us with your support.
Yes, I'll donate today
---
Information about the authors