Lawmakers teeter on the brink of special session
As of Sunday night, lawmakers still had little to show for two assignments Gov. Greg Abbott and Lt. Gov. Dan Patrick had given them in the home stretch: property tax reform and a "bathroom bill" that would regulate which restrooms transgender Texans can use.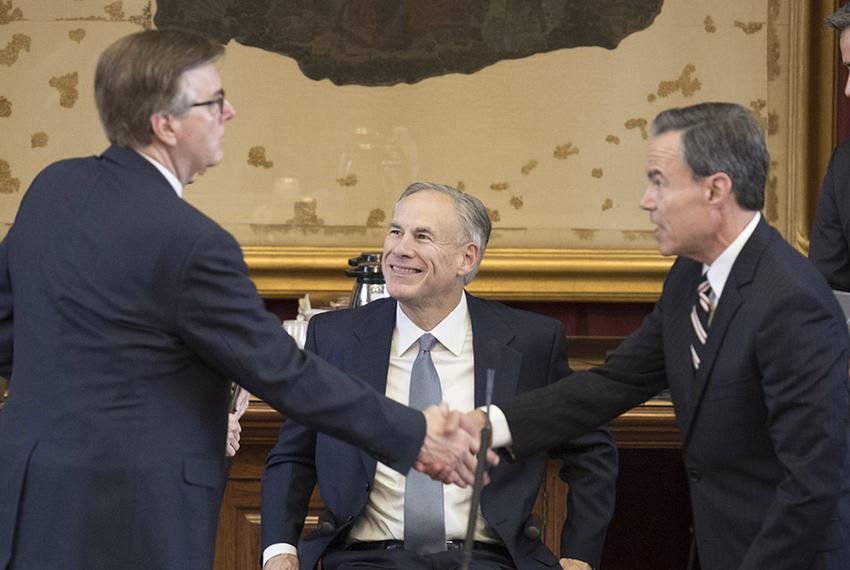 With hours to go until the end of the 85th Legislature's regular session, state lawmakers appear to be edging closer to overtime.
As of midnight Monday — the beginning of the final day of the session — it was unclear whether Gov. Greg Abbott was preparing for such a scenario, but lawmakers still had little to show for two assignments Abbott and Lt. Gov. Dan Patrick had given them in the home stretch. The two state leaders had asked legislators to prioritize automatic rollback elections for property taxes and a "bathroom bill" that would regulate which restrooms transgender Texans can use.
The two chambers adjourned late at night, without any apparent compromise on those issues, which Patrick has said are worth carrying into an overtime round. There was no word out of Abbott's office on whether he was planning to call for a special session, a period that could last up to 30 days with the governor setting the agenda.
Tensions between the chambers have spiked. On Sunday, House members and Patrick, along with some of his senators, held dueling news conferences — the second time in three days — blaming each side for inaction on critical legislation needed to keep some state agencies from closing. Patrick has threatened to hold the measure hostage to trigger a special session if the House does not act on the property tax reform and bathroom issues.
Since Patrick's ultimatum to the House, public pressure has been slowly building for Abbott to take the session into overtime on a variety of issues. The latest appeal came Sunday night from state Sen. Brandon Creighton, R-Conroe, who issued a statement urging the governor to "call a special session on property tax reform."
"We can't continue to treat this issue like a political football and punting it down the field," Creighton said. "The people of Texas deserve action now. The Texas House Leadership fell short of the reform Texans deserve by leaving out a key measure from the Senate's bill which requires voter approval before tax rates can be raised."
In recent days, Abbott had held out hope that all sides could come to an agreement by Monday. In his last public comments on the issue — on Friday morning — the governor seemed optimistic, telling reporters progress had been made because conference committees had been appointed regarding the two big remaining issues: property tax reform and bathroom legislation. In reality, however, only the Senate had picked negotiators for the two corresponding bills, and by Friday night, House Speaker Joe Straus had made clear his chamber was done compromising on the bathroom issue.
Then the House adjourned Saturday without appointing conferees to the property tax bill, leading the go-to senator on the issue, Houston Republican Paul Bettencourt, to declare it dead.
Abbott has harbored an aversion to special sessions, arguing that taxpayers expect their representatives to get their work done on time.
"We proved last session that we can deal with a lot of contentious issues and make dramatic changes ... all in 140 days and send these legislators home," Abbott said in a radio interview as the session began earlier this year. "Texans don't want a permanent legislature like they do in California."
But Abbott continues to face a political dilemma with Patrick pushing for a special session on a set of issues important to Republican primary voters. The lieutenant governor was tight-lipped Sunday when asked about his recent talks with the governor — and whether he had received any indication of Abbott's willingness to call a special session.
"I have talked with Gov. Abbott, and those discussions are private," Patrick told reporters Sunday at the news conference on the sunset impasse. "But it's clear this needs to be fixed."
In addition to the news conferences, frictions were on full display Sunday between the chambers and among GOP factions that have been clashing all session long.
At one point Sunday afternoon, state Rep. Tony Tinderholt, R-Arlington, referenced the bathroom bill's 80 co-authors and asked the speaker if he considered that to represent the "will of the House." Straus flatly responded that he considered that to be 80 co-authors.
Tinderholt then asked for information on the process for selecting a new speaker if the current leader were to resign his House seat. Straus, who announced Saturday that he intends to seek another term in his role, ultimately asked Tinderholt to approach the podium so an answer could be researched.
Over in the Senate, as the chamber moved to adopt a modified version of a major child welfare reform bill, state Sen. José Menéndez, D-San Antonio, told members he had "heard rumors" the House wasn't planning to vote out the conference committee report on the bill — the last legislative hurdle before Senate Bill 11 could head to Abbott.

"Let's pray the other side passes this," Patrick told senators after the chamber unanimously adopted the bill.
The House approved SB 11 shortly afterward along a 107-41 vote.
As the final day of the session opens Monday, Abbott will be putting his signature on legislation that establishes statewide regulations for ride-hailing companies. He is scheduled to hold a bill-signing ceremony at 10 a.m. at the Texas Department of Transportation Riverside Campus in Austin.
Brandon Formby, Cassi Pollock and Alex Samuels contributed to this report.
Texans need truth. Help us report it.
Independent Texas reporting needs your support. The Texas Tribune delivers fact-based journalism for Texans, by Texans — and our community of members, the readers who donate, make our work possible. Help us bring you and millions of others in-depth news and information. Will you support our nonprofit newsroom with a donation of any amount?
Yes, I'll donate today
---
Information about the authors
Explore related story topics