Texans greet plans for Trump's wall with tears, fears or open arms
From the Rio Grande Valley to West Texas, Texans who live along the Rio Grande are preparing for the possible border wall — some eagerly, others fearfully.
VAL VERDE COUNTY — On this stretch of riverfront near Del Rio, Maria Villarreal has an aging but attentive guard dog named Ace who barks in the shade of a fig tree, just feet away from a memorial to her nephew Elias Torres, who died at 21 during a combat mission in Iraq. Nearby is a sign warning that trespassers will be shot on sight and that any survivors will be "shot again."
It's a backyard that could be anywhere in Texas, with one exception: The back fence is the only thing separating her yard from the Rio Grande — and beyond it, Mexico.
The land and her modest house are the result of decades of hard work in San Angelo where, as a single mother, she raised three children while working for the local hospital.
"I saved for this all my life, to retire and come here," she said. "And this is where I wanted to be, and slowly, I managed it."
Then as she described waiting for the mail each day – and the anxiety of potentially receiving a letter from the federal government informing her that land isn't hers anymore — her smile disappeared and tears welled in her eyes.
"For someone to just come and rip our dream away this way, it's sad," she said. "This is ours, this is our life, this is our land, the people's land."
The Trump Administration has been unpredictable on issues like trade and health care, but it has kept its focus on the border wall that President Trump promised at every campaign stop as a candidate. Trump didn't get money for the wall in last month's budget fight to keep the federal government running until the end of September, but he vowed that it will be funded this fall.
The Department of Homeland Security, meanwhile, is already taking proposals for constructing the wall and announced it will begin construction of a prototype in California after winning bids are announced in June.
The Texas Tribune interviewed Texans in four counties along the Rio Grande who are potentially facing government seizure of their land for the wall — or have been living in the shadow of the border fence constructed under President George W. Bush's administration. Their reactions to the specter of more government land seizures — and to the overall growth of border security measures — were as different as the landscape from Brownsville to El Paso.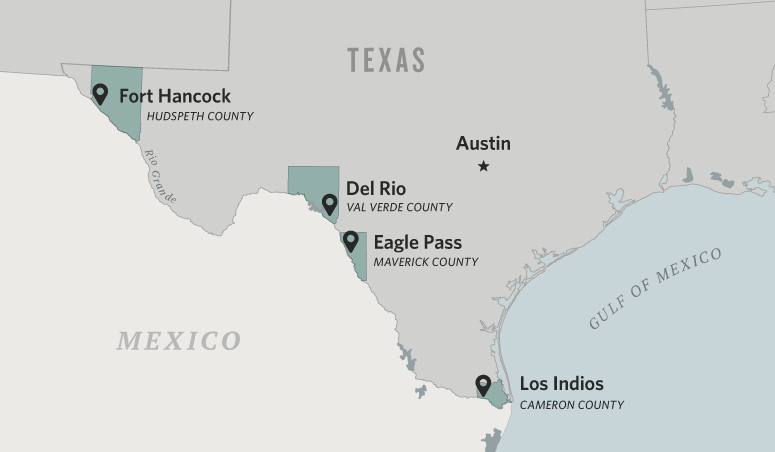 Maverick County: a symbiotic relationship for rancher
About an hour downriver from Villarreal's simple 150-by-200-foot lot, Salvador Salinas is also concerned about the federal government running a wall through his 500 acres along the Rio Grande.
"I hear they just say, 'This is how much we're going to pay,'" he said, referring to rumors the government gives simple, lump-sum offers when it comes to seize property. "Is it for certain acreage or space for the wall? They don't buy the whole ranch, right?"
Salinas and his friend and business partner, state Rep. Alfonso Nevarez, bought the land in 2016, before Trump was elected.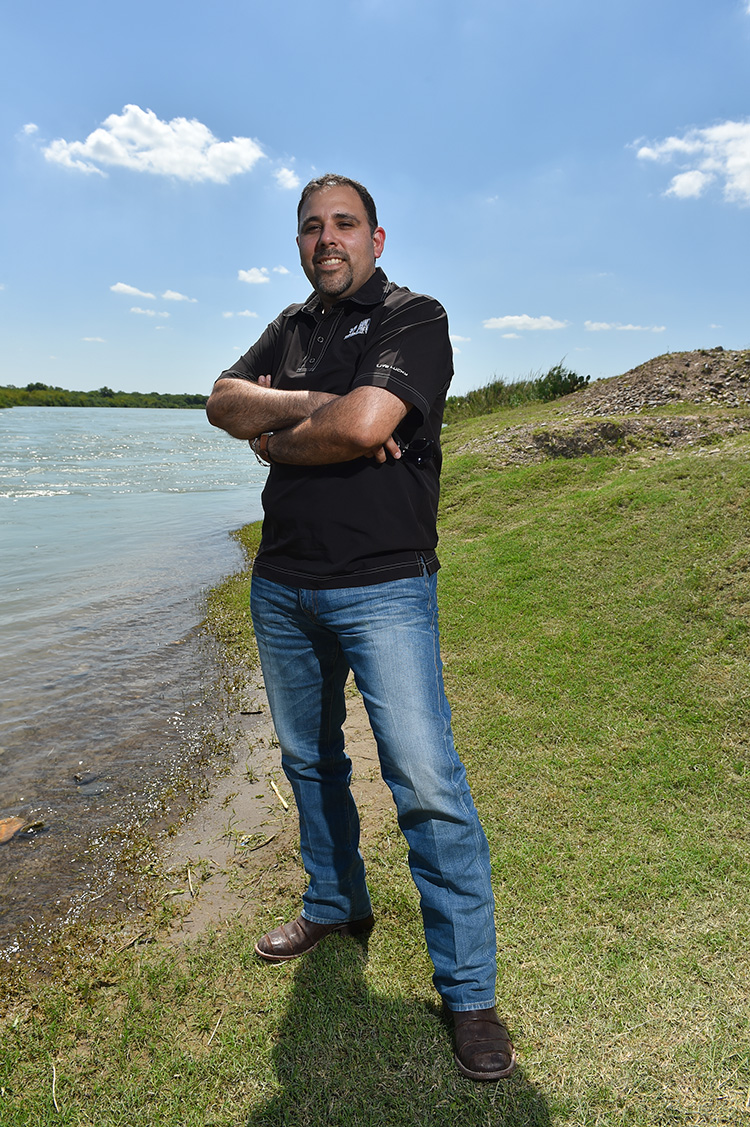 "I didn't know this was going to be an issue," he said as he wound his 4x4 pickup through caliche roads flanked by thorn bushes and lazy-eyed steer. The river here is hidden in places by salt cedar or carrizo cane, which can hide smugglers and drug mules waiting for the right time to move.
But Salinas said despite its size, he isn't concerned about cartels or other smugglers using his land as a staging ground. He sees the occasional clumps of discarded clothing and downed branches that signal illegal crossings, but he said the U.S. Border Patrol does a decent job patrolling the area.
Like other border landowners, he shares a symbiotic relationship with the federal agents: He allows them access to his land — they have copies of the gate keys — and agents keep him and his family relatively safe.
A wall, he said, is not only offensive but impractical. When asked what he thought was a more practical solution, he repeated what many border landowners have repeated for years: "More Border Patrol, more cameras and more boats in the water."
But not everyone in this remote stretch of Maverick County feels as comfortable as Salinas. A neighbor who only wanted to be identified by her middle name, Delia, said she regrets moving so far away from the heart of Eagle Pass. From her backyard, the river is clearly visible, and so is a nearby gazebo where residents of the Eagle Point subdivision have picnics, meetings and even weddings.
Even so, Delia said she doesn't leave her house after 9 p.m. because she fears people crossing the river illegally.
Twice, she said, she's sent her kids to check the mail, only to have them run into Border Patrol agents on the hunt. "They asked, 'Have you seen three guys running around.' I don't know why they would say that" to children, she said.
For her, making room for a wall is a no-brainer, even if it means selling her land.
"I would be more than happy. I would sell it today," she said. "When we bought it, I thought this was what I wanted, but it's very lonely out here."
Eagle Pass was one of the last cities to get a piece of the border fence under the 2006 Secure Fence Act signed by President George W. Bush. The rusty barrier near the banks of the river has blended into the city's landscape since it was finished.
The fence looms near a municipal park where Jesus Daniel Gonzalez, 25, recently practiced for the upcoming championship soccer match for his semi-pro league. His team, the Twin Cities FC, comprises players from Texas and the Mexican state of Coahuila.
"These are the only soccer fields in the area, so if [Trump] builds it here, we won't have a place to practice," he said. "And, a wall isn't going to stop anyone. People are going to find ways to cross."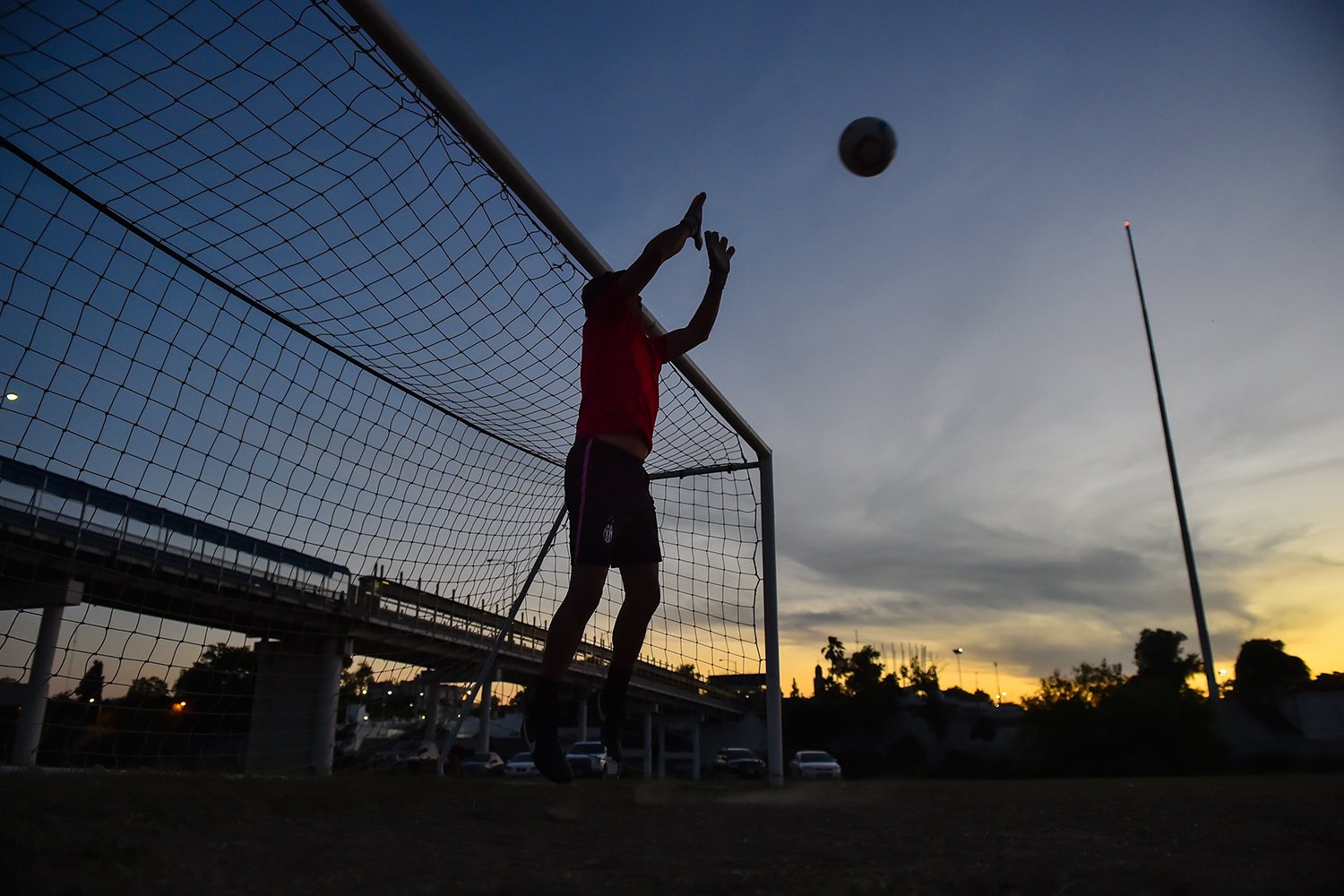 Cameron County: comfort from the fence
Six counties southeast of Eagle Pass, Pat Faltersack doesn't mind the fence, which he said has helped make his area safer.
Faltersack is originally from Minnesota but owns and operates the Anglers Nest R.V. Park in Los Indios, a tiny municipality in Cameron County, during the mild Texas summers. His business is just across the highway from a field where the border fence blocks the view of the Rio Grande. And that's fine with him, he said.
"I've been here 14 years and never had an issue," he said. "As a matter of fact, things have gotten better." He said an influx of local, state and federal law enforcement has helped as much as the fence. But Faltersack said he'd be fine if the government wanted to build a taller, thicker barrier, too.
"I think the wall is a good thing if they patrol it," he said. "It wouldn't bother me one bit."
Hudspeth County: where the barrier ends
More than 800 miles and a time zone away, Jim Ed Miller drove his dusty pickup through his 3,000-acre cotton farm in Fort Hancock, about 55 miles downriver from El Paso.
Miller's had a federal border fence just south of his property line for nearly 10 years. But the barrier stops in the middle of a caliche road just north of the Rio Grande. Where the fence ends, a camera sits fixed to its edge. Miller pulled up to the device, rolled down the window and waved.
"They know me here," he said, laughing. Then he spun his truck around and stared at the fence's edge.
"Do you feel safe?" he asked.
Here, the Rio Grande is little more than a muddy trench where even the slowest rattlesnake can go from Mexico to Texas in seconds.
Like many landowners here, Miller can regale visitors with stories about catching undocumented immigrants on his property. He's always armed — three rifles in the back seat and his revolver at the ready in the front — but he prefers not to use his guns. He said he and his family will call Border Patrol and usually offer the migrants some food and water while they wait. Sometimes, Miller said, he even drives the migrants over to the Border Patrol station himself.
"This is 'Almost America,'" he explained. "There are five checkpoints between here and real America."
He's more pragmatic than some of his neighbors about the prospect of a new wall that could replace the existing fence — and potentially claim more of his land.
"If they want it, they're going to take it," he said as he took out the letter from U.S. Homeland Security that he'd tucked into his copy of the U.S. Constitution. He pointed his large, bony finger to a paragraph he'd highlighted that quotes a federal law.
"... Any officer shall have the power to access private lands for the purposes of patrolling the border to prevent the illegal entry of aliens into the United States, within a distance of twenty-five miles from any external boundary," it reads.
The letter was in response to a claim he filed three years ago after Miller said a Border Patrol agent wrecked a portion of his freshly planted cotton field by crossing it to aid an immigrant who had crossed illegally. His claim was denied.
The letter is a reminder of the place he lives and the power of the federal government.
"It's Almost America," he repeats.
Read related Tribune coverage:
At the U.S.-Mexico border, scientists say existing fencing is hurting endangered wildlife and warn that a continuous wall could devastate many species.
The Trump administration may not be able to move mountains — literally — in its quest to build a coast-to-coast wall along the nation's southern border. But that doesn't mean the White House won't review some longstanding treaties that have stymied past administrations
As the Trump administration sets its sights on building a barrier on the country's southern border, a group of Texas attorneys aims to help border residents ensure they are properly compensated for whatever land the government seizes.
Texans need truth. Help us report it.
Independent Texas reporting needs your support. The Texas Tribune delivers fact-based journalism for Texans, by Texans — and our community of members, the readers who donate, make our work possible. Help us bring you and millions of others in-depth news and information. Will you support our nonprofit newsroom with a donation of any amount?
Yes, I'll donate today
---
Information about the authors
Explore related story topics