Texas budget negotiations turn to higher education as a deal inches nearer
Members of both chambers of the Texas Legislature say they are getting closer to agreeing on a budget. One of the last sticking points? Higher education.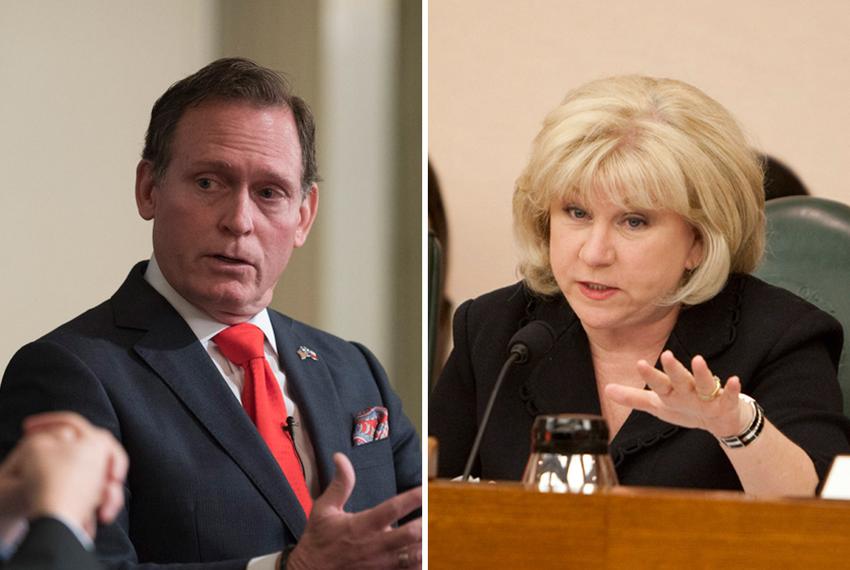 Members of both chambers of the Texas Legislature say they are getting close to agreeing on a budget for the next two years. But a major sticking point remains unsettled: higher education funding. The key negotiator in the House said that would be a focus of negotiations Wednesday.
House Appropriations Committee Chairman John Zerwas, R-Richmond, said Wednesday morning that negotiators purposefully put university funding near the end of the list of differences that they needed to iron out before they pass Senate Bill 1, the budget bill. But he said there remains a "pretty big delta" between the two chambers' proposals.
Nonetheless, he struck an optimistic tone that a deal could be reached.
"We'll all have a chance to vote on this bill next week," he told members of the House Higher Education Committee.
In a statement, House Speaker Joe Straus reiterated that point, saying negotiations were "going well but are far from finished."
Straus said the Senate has indicated a willingness to tap into a portion of the state's more than $10 billion Rainy Day Fund savings account. Negotiators were also working toward delaying a $2.5 billion payment to the state highway fund, Straus indicated. That approach would mean the two chambers would use a combination of proposals pushed forward by the House and Senate to fill budget gaps.
"I'm optimistic that we will produce a reasonable and equitable compromise on the budget," Straus said. "I appreciate the work of the Senate conferees and [Lt. Gov. Dan] Patrick on these issues," he added.
Asked about the situation, lead Senate negotiator Jane Nelson, R-Flower Mound, reiterated her position that the chamber would only use the Rainy Day Fund for "one-time expenses."
"We still have some major decisions to make, but are making progress," she said in a statement.
Universities have a lot riding on where the two chambers settle. The Senate is proposing a major overhaul of how higher education is funded in Texas. They want to end the practice of sending schools money through "special items," in which specific projects are paid for outside the normal university funding formulas.
The current state budget includes more than $1 billion in special items, meaning a lot of money is at stake. The Senate has proposed funneling extra dollars into the funding formulas for schools to partially make up for those losses. But even with that addition, the schools would face major funding cuts under the Senate proposal.
Many schools would also face cuts in the House's proposed budget, but those losses would be smaller in almost every case. (Check out how each school would fare in each competing proposal here.)
Tied up in the budget negotiations are a series of other controversial bills related to higher education. On Tuesday, the House moved to suspend chamber rules to allow its higher education committee to quickly take up a series of bills that already passed the Senate.
The most high-profile ones were Senate Bill 18, which would eliminate a state law that requires schools to set aside a portion of tuition revenue for financial aid for low-income students, and Senate Bill 19, which would freeze tuition for two years and then cap future increases at 1 percent. Both bills were listed as top priorities by Patrick at the start of the session.
The committee heard those bills at a hastily called meeting Wednesday morning but took no immediate action. Committee members could vote on whether to move them forward as soon as Wednesday afternoon. Senate Bill 18 appears to remain a long shot among committee members, however.
The committee's chairman, Rep. J.M. Lozano, R-Kingsville, did say in an interview after the hearing he was open to passing some sort of version of the tuition freeze bill — if the universities fare well in budget negotiations.
"To me, this hinges on what happens in appropriations," Lozano said. "I couldn't in good faith move forward on a bill when the appropriations are looking to be nearer to the worst-case scenario for higher ed."
Read related Tribune coverage:

Jim Malewitz contributed to this report.
Support public-service journalism that's always free to read.
It's been a busy year. Through it all, The Texas Tribune's journalists have not missed a beat. And with redistricting starting in earnest next week and the 2022 elections on the horizon, we know our journalism will continue to be fundamental for Texans everywhere. Support our work today so we can be there for you in 2022 and for whatever else 2021 might throw at us.
Yes, I'll donate today