The Brief: Get ready for a legislative bloodbath in the Texas House
As the Texas House rounded the corner and raced toward a key deadline Thursday night, conservative House lawmakers announced they were killing more than 100 bills.
Happy Friday! Thanks for reading The Brief, The Texas Tribune's daily newsletter that prepares you for the day ahead. If you have friends who might want to join our list, please forward this email. They can click here to sign up. – BB
Tribune today
• State Rep. Eric Johnson's bill aimed at providing relief for the epicenter of Dallas' affordable housing crisis is among legislation expected to be blocked from a House vote on Friday. That would likely kill his bill.
• The Texas House is taking aim at what critics call a "pay to play" culture among Gov. Greg Abbott's appointees.
• From Ross Ramsey: The eyes of Texas reveal a legislative opening for social conservative lawmakers.
• What the Legislature is doing to fix Texas' controversial photo ID law — and what that means for the 2018 primaries.
• The Texas Attorney General dropped a lawsuit against Brownsville over an ordinance that imposed a plastic bag fee.
• A Tribune survey of the Texas congressional delegation found few Republicans weighing in on relationships between Russia and members of the Trump team.
• With looming deadlines threatening to kill bills aimed at bolstering access to public records, a Texas senator muscled them closer to the governor's desk — all at once.
• The Texas Senate unanimously voted out the Sandra Bland Act, a bill aimed at protecting people with mental illnesses who are arrested and may harm themselves in jail.
• A bill that would increase "Buy America" provisions for all state agencies passed out of the Texas House.
• A Texas Senate panel approved legislation that would end straight-ticket voting in all elections.
• Health facilities that perform abortions may soon have to release more data on complications that arise during and after the procedure.
• The inspector general for the Texas Health and Human Services Commission resigned amid revelations of his ties to Iraqi government lobbying.
• The senator sponsoring a bill that would create statewide regulations for ride-hailing companies said he stripped off a controversial amendment defining "sex" as "the physical condition of being male or female."
• A state representative isn't giving up hope on passing a bill that she said would help hungry school kids, despite some lawmakers killing its consideration earlier this week.
• The Senate added a provision for private school tuition subsidies to the House's major school finance reform bill.
What you need to know
The Texas Legislature is in hot water.
As the clock ticked closer to a key midnight deadline Thursday night, House lawmakers realized they had not yet passed what's known as the "sunset safety net" bill. This bill would keep a handful of important state agencies alive and is considered a must-pass for the state to stay in business.
While lawmakers began speeding things up in that final half hour, delay tactics from a conservative bloc in the House did indeed prevent that bill from passing before midnight. If the Texas Senate isn't able to pass a similar measure, Texas Gov. Greg Abbott might be forced to call a special session.
That isn't the only drama from Thursday night. Here's what you need to know:
• You kill a bill, I kill a bill. At least according to the Freedom Caucus, an ultra-conservative bloc in the House. Members from the caucus said they planned to knock more than 100 bills off Friday's local and consent calendar, the fast track for legislation not expected to generate debate, after some of their bills were knocked off the same calendar Thursday. "It's been personal attacks, personal retributions, petty personal politics," said state Rep. Jeff Leach, R-Plano. "And this caucus has had enough of it."
• What's on the targeted calendar? The school lunch bill by state Rep. Helen Giddings, which would ban school districts from identifying students without enough money in their school lunch accounts, along with a proposal that would help first-time pregnant women in Medicaid connect to health services, are included in the bills on today's local and consent calendar. Here's the full list.
• Thursday's floor debate brought tears. While some House Republicans stalled the calendar as the clock neared midnight, state Rep. Drew Springer, R-Muenster, tearfully begged members to hear a bill on the calendar that would allow partial experimental stem cell treatment. "I'll be damned if we don't have the chance tonight to hear this ... To know the apple is so close and I can't grab it," said Springer, whose wife is paralyzed from the waist down. The House initially approved the bill shortly afterward.
• When's the next deadline? Tonight. The House must give legislation that originated in the chamber final approval by midnight. Bills will continue to die, but that doesn't mean members can't keep the issues alive by tacking them on as amendments to other legislation that's already cleared one chamber or the other.
News from home
Registration for the 2017 Texas Tribune Festival is now open! Join us for three days of the best conversations in politics and public policy, Sept. 22-24. Register here.
What we're reading
Links below lead to outside websites; we've noted paywall content with $.
5 questions about James Comey's firing, answered, Politico
American Indian tribe fights Texas to keep bingo open, AP

More public safety agencies in Texas embrace use of drones, Beaumont Enterprise
ICE rounds up 1,300, 76 in South Texas, as part of gang roundup, San Antonio Express-News ($)

No vaping, please: Austin council to ban e-cigarettes from parks, bars, Austin American-Statesman ($)
Trump shifts rationale for firing Comey, calling him a 'showboat,' New York Times ($)
For your calendar
May 19: Join us in person or on our livestream as we wrap up the end of the session with state Reps. Rafael Anchia, Geanie Morrison and Matt Rinaldi to assess how the House did.
May 25: Join us in person or on our livestream as state Sens. Konni Burton, Bryan Hughes and Royce West tell us how they think the Senate fared in the 85th legislative session.
Photo of the day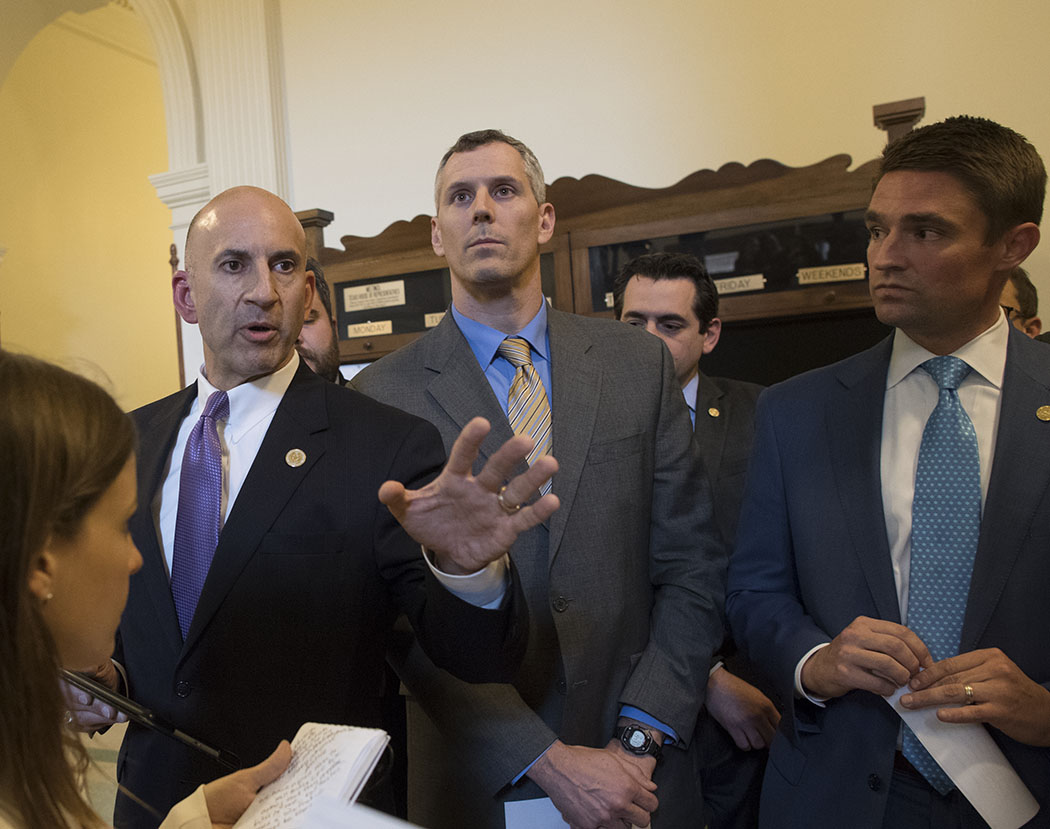 State Reps. Matt Shaheen, R-Plano, Matt Schaefer, R-Tyler, and Jeff Leach, R-Plano, announced on May 11 their intent as part of the Texas Freedom Caucus to kill more than 100 bills. Photo by Bob Daemmrich. See more photos on our Instagram account.
Quote to note
"If House Bill 122 dies, it's going to be a big funeral, because a bunch of Senate bills are gonna die."
— State Rep. Harold Dutton Jr., D-Houston, about the "raise the age" bill.
The Brief is written and compiled by your morning news baristas, Bobby Blanchard and Cassi Pollock. If you have feedback or questions, please email thebrief@texastribune.org.
As a nonprofit newsroom, we count on readers like you to help power newsletters like this. Did you like what you read today? Show your appreciation by becoming a member or making a donation today.
Your New Year's resolution list isn't complete without …
… supporting the Tribune. This new year, resolve to do your part to sustain trusted journalism in Texas. Join thousands of readers who power The Texas Tribune's nonprofit newsroom.
Donate now