Analysis: Sorry, your bill is probably dying
The Texas Legislature is moving into the part of the calendar when certain dates are circled in red. More bills are killed by clocks and calendars — by those circled deadlines — than by votes.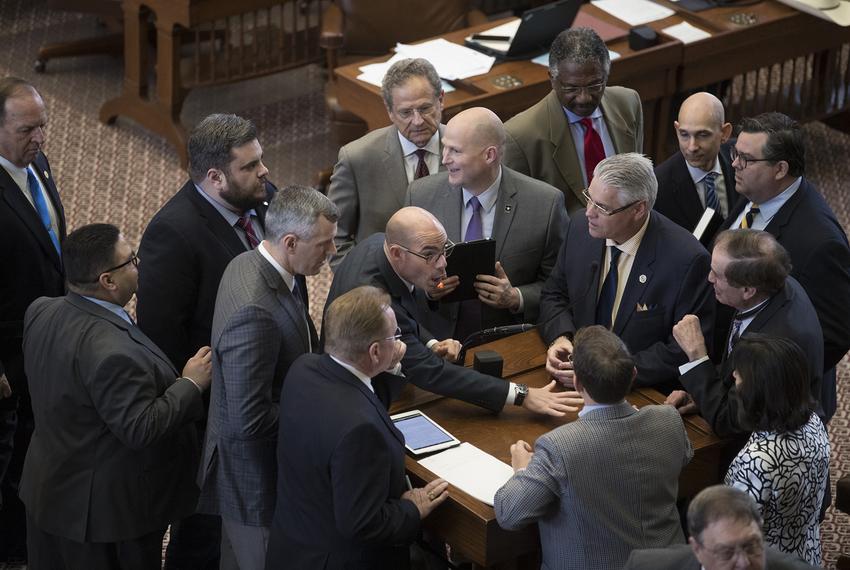 Editor's note: If you'd like an email notice whenever we publish Ross Ramsey's column, click here.
The legislative vise is tightening, with bill-killing deadlines rapidly approaching. A look at what amounts to the Legislature's doomsday calendar shows Thursday of this week as the first in a series of red-letter days — a deadline for most House-originated bills to win tentative approval.
Those that don't get on the House's agenda on or before that date will be dead; their authors will have to find other ways — Senate bills, amendments, emergencies or parliamentary magic — to keep their proposals moving.
Every deadline seems to trigger another. If Thursday is the last day to get House consideration for those bills, it means they have to clear the agenda-setting Calendars Committee a couple of days before that. And to get to that committee, they have to clear a subject-matter committee like Public Health or Natural Resources — the place where hearings are held and so on — some time before that.
Now would be a great time to have an antacid concession at the Texas Capitol.
Just look at this pile of open government bills, as an example.
You don't have to vote a bill down to kill it. You just ignore it and it dries up like a forgotten plant. No action required.
There sits House Bill 792, which would require companies doing public work to open records that, until a recent court decision upended the state's rules, were already open to the public. Over here is Senate Bill 407, related legislation that would limit the competitive bidding exception for information from companies doing public business. Another, House Bill 2710, would put birthdates back into public view, the better to tell one Joan Smith from another Joan Smith when people see names in public records. House Bill 793 and its twin, Senate Bill 408, would re-open the records — closed, again, by the courts after three decades of sunlight — of organizations that get significant funding from taxpayers.
They're stuck in committee. Some have been heard, some haven't. No member of the Texas House of Representatives has voted on them this session, and it's looking unlikely that anyone ever will.
If nothing really miraculous happens, those proposals will have met their dark fate in an ironically named setting: The House Committee on Government Transparency & Operation.
You don't have to vote a bill down to kill it. You just ignore it and it dries up like a forgotten plant. No action required.
This is the way of the legislative world. What you heard in high school civics — that the capitols are where you turn proposals into new laws — was not exactly correct. It's more often the case that Austin and other places like it are where you turn proposals into rubbish.
Most bills die. A lot of legislation that becomes law doesn't get into the statutes until it has died in one or more legislative sessions. And most of what dies, dies by inaction instead of action. If you watch senators and representatives, you'll walk away thinking most legislation passes. It seems to.
But most of it doesn't get to the floor of the House and the floor of the Senate. Note the use of the word "and" in the previous sentence. Several of those open-government bills, for instance, passed the full Senate. The House might never see them. The governor is even less likely to see them. The secrets buried in what were, until recently, public records will remain buried.
This is no place for purists who don't want their notions amended, no playpen for anyone who thinks there is only one side or only two sides to any issue.
And that's the other side of the vise. Many issues thought to be dead after these red-letter days will spring back to life over the next couple of weeks. Amendments that look suspiciously like last week's dead legislation will be grafted onto next week's live bills.
When it's over at the end of the month, something like four out of five bills will have failed. They make laws in that pink granite building in the middle of Austin, but they spend a lot more energy not making laws.
More columns from Ross Ramsey:
A Texas governor's powers peak at the end of a legislative session, as deadline-haunted legislators begin to fear the threat of a veto from the state's chief executive.
Texas legislators — along with everyone watching them — expected to lock horns over transgender Texans and the bathroom bill. But the raw debate over sanctuary cities legislation could be the hallmark of this 85th Legislature.
Texas legislators cannot bind future legislators by preventing them or forcing them to do something. But they can certainly make their future decisions uncomfortable.
Quality journalism doesn't come free
Perhaps it goes without saying — but producing quality journalism isn't cheap. At a time when newsroom resources and revenue across the country are declining, The Texas Tribune remains committed to sustaining our mission: creating a more engaged and informed Texas with every story we cover, every event we convene and every newsletter we send. As a nonprofit newsroom, we rely on members to help keep our stories free and our events open to the public. Do you value our journalism? Show us with your support.
Yes, I'll donate today
---
Information about the authors