The Brief: Will Texas Senate pass a texting ban?
The Texas Senate may take up a bill this week that'd ban texting while driving, marking the first time in six years the measure may make it a step further in the legislative process.
Happy Monday! Thanks for reading The Brief, The Texas Tribune's daily newsletter that prepares you for the day ahead. If you have friends who might want to join our list, please forward this email. They can click here to sign up. – BB
Tribune today
• Following our investigation, a Texas House member has proposed taking $3 million from Gov. Greg Abbott's homeland security budget to give to victims of human trafficking instead.
• From Ross Ramsey: A state that wants to grow by freeing growing economic engines from regulations and taxes is throttling its cities and school districts with regulations and taxes.
• Texans in Congress mainly back President Trumps' recent airstrikes in Syria. That's not how they felt in 2013.
• Paul Storey's execution was halted Friday afternoon, amid claims of false evidence.
• Hillary Clinton says if Texas had the same voter turnout as California, it'd already be blue.
• Veteran Texas lobbyist Blake Rocap explains one of the most direct ways to talk to lawmakers face to face: testifying before a committee.
What you need to know
Texas is one of four states without a statewide ban on texting while driving. This week, the Senate may advance a bill banning texting while driving for the first time in six years.
• The issue isn't a new one. In 2011, State Rep. Tom Craddick, R-Midland, filed a bill that would penalize drivers who used their phone on the road. It was then vetoed by then-Gov. Rick Perry, who said the measure would "micromanage the behavior of adults." In 2015 and 2013, Craddick's bill passed the House but died in the Senate.
• The House voted out the bill in March, and state Sen. Judith Zaffirini, D-Laredo, is carrying the bill's counterpart in the Senate. Zaffirini said last week she has the votes needed for it to pass the Senate.
• Former opponents are warming up to a texting ban. Lt. Gov. Dan Patrick, who opposed the measure in 2011, said earlier this year he had "evolved on the issue personally" and suggested he may back the bill this time around.
What we're reading
Links below lead to outside websites; we've noted paywall content with $.
UTEP breaks ground on $85 million research site, El Paso Times

Mentally ill man worse off after acquittal, Victoria Advocate
Austin Energy went big on solar power. Here's how it's going, Austin American-Statesman ($)

Like Obama before him, Trump struggles to deport some foreign-born criminals, The Washington Post ($)

Medina targets city's political elites and 'Pay to Play' system, San Antonio Express-News ($)
For your calendar
Today at 11:30 a.m.: Texas Tribune CEO Evan Smith will moderate a discussion with state Sen. Kirk Watson, D-Austin, and state Reps. Gina Hinojosa, D-Austin, and Donna Howard, D-Austin. Join us for lunch and a conversation at Austin Community College – Rio Grande Campus, or watch online here.
Photo of the day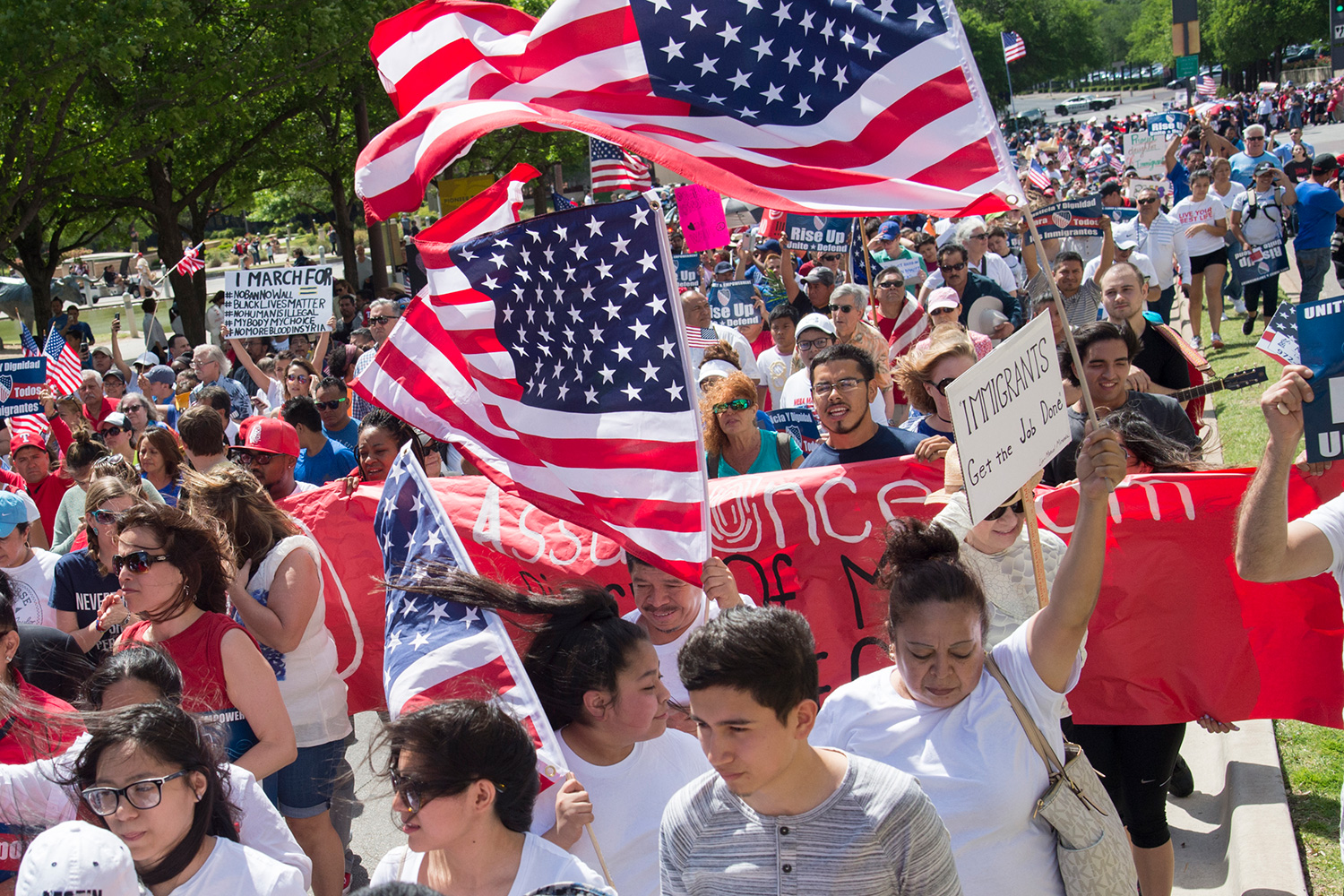 Protesters walk through downtown Dallas during the Mega March on April 9. Photo by Cooper Neill. See more photos on our Instagram account.
Quote to note
"Separating children from their parents during traumatic events, such as fleeing one's country due to war and violence, is harmful to their mental health — but for infants and toddlers it is devastating."
— Sadie Funk, executive director of First3Years, about proposed immigration regulations via TribTalk
The Brief is written and compiled by your morning news baristas, Bobby Blanchard and Cassi Pollock. If you have feedback or questions, please email thebrief@texastribune.org.
As a nonprofit newsroom, we count on readers like you to help power newsletters like this. Did you like what you read today? Show your appreciation by becoming a member or making a donation today.