How a college student election got the attention of the energy secretary
Thanks to some glow sticks and a strict interpretation of election rules, the student body president election at Texas A&M University has gained national attention — and the suspicion of former Gov. Rick Perry.
The Facebook video looked like an innocent, if a bit corny, campaign ad for a candidate for student body president. Who would have imagined that it would attract the attention of the man tasked with caring for America's nuclear weapons?
The minute-and-a-half-long clip shows clean-cut candidate Robert McIntosh, a Texas A&M University student, wearing khakis and cowboy boots as he takes an elevator to the top of an on-campus parking garage. As a Coldplay song plays in the background, he runs into the middle of a few dozen smiling friends who have their arms locked and are swaying in a circle. McIntosh unzips a backpack and dumps glow sticks and paint onto the ground, and the friends grab them and run to paint their car windows. Then, a logo flashes: "Rally With Robert."
It was the glow sticks that got him in trouble.
McIntosh was trying to rally his fellow classmates to vote for him in the February election. But in the month since it was posted, the video has stirred up a lot more than just votes. It led to his disqualification — based on the technicality that he didn't report the glow sticks on his campaign finance report — as a candidate, even though he won the most votes in the election. And it has swept him and his top opponent up into a dumbfounding amount of public attention.
McIntosh has mostly taken the setback in stride, not raising any public complaints so far. But A&M has now made national news twice as a result. It first happened because the candidate who was eventually declared winner, economics major Bobby Brooks, is set to become the traditionally conservative school's first openly gay student body president. Attention increased even more after one of the school's most famous alumni, former Gov. Rick Perry, questioned the outcome.
In an opinion article posted Wednesday on the Houston Chronicle's website, Perry suggested that A&M's Student Government Association might have "allowed an election to be stolen outright." He joined a group of powerful conservatives to question whether McIntosh, who is the son of a prominent Republican fundraiser, lost due to A&M's "quest for diversity."
"The Aggie administration and the SGA owe us answers," wrote Perry, who was confirmed as U.S. secretary of energy this month.
That has led some to ask Perry a question: Why is a member of President Donald Trump's Cabinet weighing in on a student election?
In response to a request for an answer, a U.S. Department of Energy spokeswoman replied: "Secretary Perry offered this in his private capacity. The U.S. Department of Energy has no further comment."
Won the vote; lost the election
No one disputes that McIntosh received the most votes in the student election. In the official tally posted by the A&M's student government, he received 4,977, compared with 4,214 for Brooks. But on the night that the results were supposed to be announced, student election officials didn't declare him the winner. Instead, he was notified that he had been accused of violating elections rules.
At A&M, student body elections are student-run affairs. This year, business honors major Rachel Keathley oversaw the campaigns. As part of her job, she fielded 74 complaints of rules violations. Most were anonymous, but many seemed to be allegations from one campaign against another. They included claims that particular candidates made more than the maximum allowed number of campaign T-shirts (no violation assessed), illegally gave out pancakes at a campaign event (minor violation assessed) and wore togas on campus in unapproved areas (minor violation assessed).
On the day of the election, multiple anonymous complaints were filed against McIntosh saying that he and/or his supporters approached students on campus and asked them to take out their phones and vote online while the supporters watched. Some complaints said McIntosh's supporters followed students as they walked, even after some students said no. That, the complainants alleged, seemed like voter intimidation.
Student election officials disqualified McIntosh on the night of the vote — a Friday. That Sunday, the elections commissioner levied another charge against him pertaining to his Facebook video. Someone had complained that McIntosh didn't include the purchase of the glow sticks used in the video in his campaign finance report. That, the commission believed, was also a disqualifying offense.
He appealed both cases, and A&M's student-run judicial court held separate hearings on each. After its first meeting on March 2, the student judges voted 5-2 to overturn the allegations of voter intimidation. The judges in the majority ruled that the evidence used to disqualify McIntosh "seemed circumstantial at best."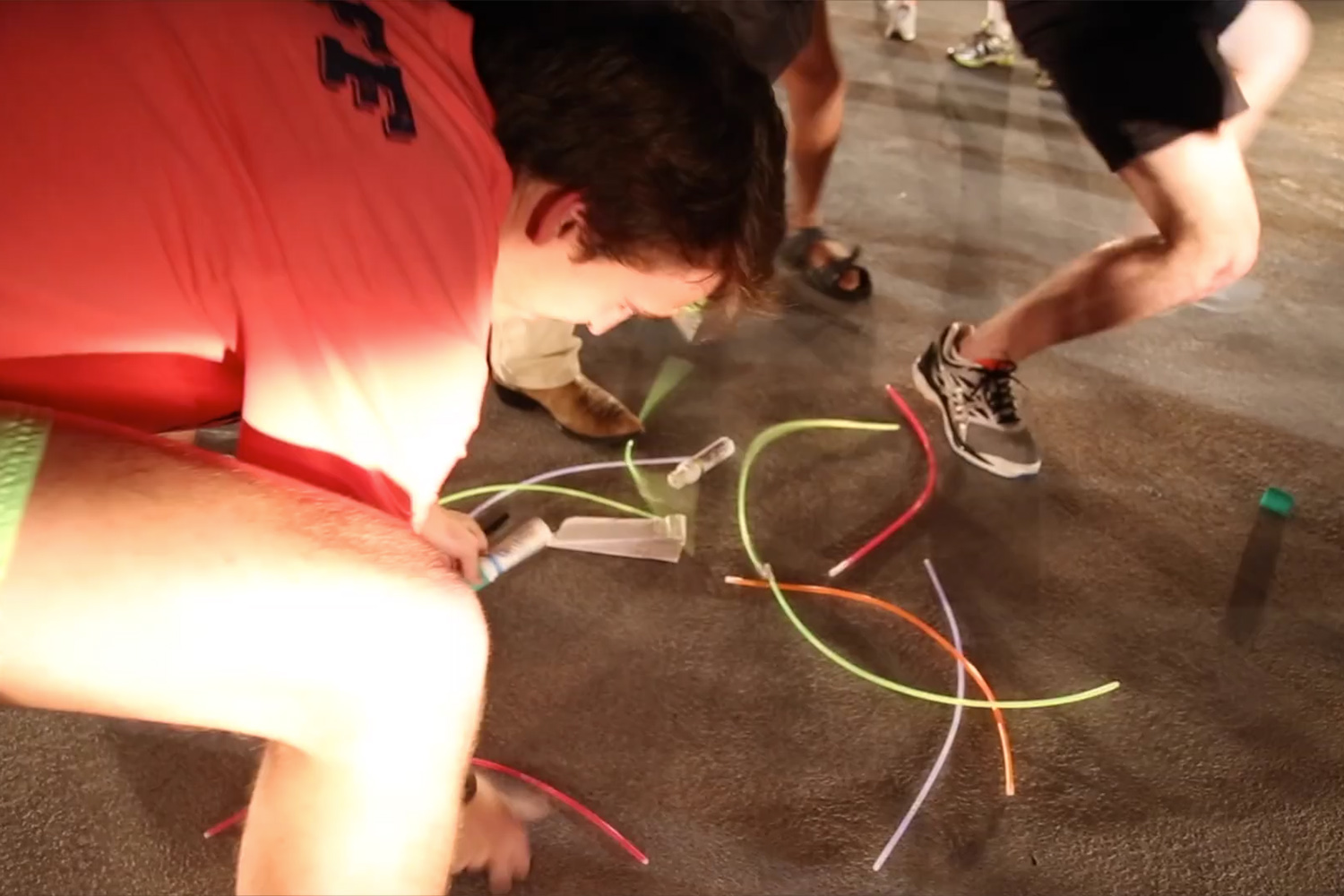 The campaign finance charge proved more difficult to overturn. McIntosh said he hadn't bought the glow sticks; they were provided for free. But the judges cited rules that say candidates must also report items given to them for the purpose of campaigning. And they noted that, under the rules, a failure to report items on a campaign finance form is punishable by disqualification. The judges voted 6-0 to uphold the disqualification.
"While the casual observer might find the decision of the Commissioner and this Court unreasonably officious, our decision rests squarely upon the written text of the Regulations," the judges wrote.
Call for administrative action
Rick Perry does not appear convinced. He has long been a vocal supporter of A&M, taking close interest in its internal politics. When he was a student, he was elected to the role of yell leader, which is a prestigious, cheerleader-like position on campus.
In his 850-word article, he goes into a startling amount of detail about McIntosh's case. He notes the anonymity of the complaints filed against McIntosh. He argues that the college juniors and seniors on the election commission and student court "made a mockery of due process and transparency." And he expresses alarm that the A&M System's Board of Regents, which oversees A&M, seven state agencies and 10 other universities, wasn't briefed on the situation.
"The desire of the electorate is overturned, and thousands of student votes are disqualified because of free glow sticks that appeared for 11 seconds of a months-long campaign," he wrote.
Perry calls out several students by name in the article. About the eventual winner, he said, "Brooks' presidency is being treated as a victory for 'diversity.' It is difficult to escape the perception that this quest for 'diversity' is the real reason the election outcome was overturned. Does the principle of 'diversity' override and supersede all other values of our Aggie Honor Code?"
He said that Keathley, the student elections commissioner, "must explain why she chose to overturn a fairly won election and disqualify thousands of votes on the basis of anonymous complaints and flimsy technicalities." And he said Shelby James, the senior business major who served as chief justice on the court, "must explain why she treated these cases as annoyances rather than with respect."
Keathley declined to comment Wednesday night. James also didn't respond to an e-mail seeking comment. But another member of the student court, senior economics major Corbin Neumann, said in an e-mail that "neither I nor any of my fellow Justices on the cases considered the sexual orientation of now Student Body President Bobby Brooks when interpreting the applicable law."
The article sparked some internet outrage, especially because it questioned the legitimacy of A&M's first openly gay student body president. On Twitter, Sarah Kate Ellis, president of the Gay and Lesbian Alliance Against Defamation, accused Perry of bullying Brooks.
"As a mother who works daily to protect children, I am disgusted that a father like @SecretaryPerry would stoop this low," she wrote.
Meanwhile, other conservatives are upset at A&M, too. The news website Watchdog.org posted an article on the subject Monday, saying the "incident shines a light on the dangers of campaign finance law and the sort of people who enforce it." And the influential conservative group Empower Texans posted an article written by former Aggie student Michael Quinn Sullivan around the same time as Perry's. Its headline read, "Student Election Overturned to Advance Social Agenda."
Amy Smith, the university's senior vice president for communications, said Wednesday night that school officials don't see a need to review the results. Students run the elections, she said, and administrators are "taking them on the results that have been put forward and know that this has gone through a thorough review."
But at least one A&M leader is intrigued by Perry's complaints. University Regent Tony Buzbee, a lawyer who was appointed by Perry and has done legal defense work for him, said Thursday that regents "don't typically involve ourselves in university elections."
"However, as an alum and regent, I would be concerned if the process resulted in an unjust result," he said. "I don't know that to be the case at this point, but I intend to look into it."
Buzbee, who said he has exchanged voicemails with Perry but hasn't had a chance to discuss the issue yet, said he will draw conclusions once he has the facts.
"We believe in diversity in the Texas A&M System," he said, "but we won't sacrifice fairness and due process to attain it."
Asked if he was surprised the issue had gained so much attention, Buzbee responded, "Nothing surprises me anymore."
Read more:
Disclosure: Texas A&M University, the Texas A&M University System and Tony Buzbee have been financial supporters of The Texas Tribune. A complete list of Tribune donors and sponsors is available here.
Texans need truth. Help us report it.
Our Fall Member Drive is underway, and we need your support. The Texas Tribune is a critical source of truth and information for Texans across the state and beyond — and our community of members, the readers who donate, make our work possible. Will you join as a member with a tax-deductible donation of any amount?
Yes, I'll donate today
---
Information about the authors
Explore related story topics