The Brief: Will Abbott's pre-K program get funding?
The Senate Finance Committee cut $180 million the Senate had allocated for pre-K funding in an earlier version of the budget, going against Gov. Greg Abbott.
Happy Thursday! Thanks for reading The Brief, The Texas Tribune's daily newsletter that prepares you for the day ahead. If you have friends who might want to join our list, please forward this email. They can click here to sign up. – BB
Tribune today
Education committee chairs push major edits to A-F ratings for schools
House Public Education Chairman Dan Huberty and Senate Education Chairman Larry Taylor filed bills to help make the A-F accountability system more palatable to educators, who say grading their schools won't help them serve students better.
Child welfare workers fear legislative push to outsource their jobs
Former and current caseworkers say a plan to move case management services to nonprofits could be problematic and that no one in power is listening to their concerns.
House committee makes changes to anti-"sanctuary" bill
A Texas House committee on Wednesday began making changes to the lower chamber's version of the controversial proposal to outlaw "sanctuary cities."
Senate Finance Committee tentatively votes to defund Abbott's pre-K program
The Senate Finance Committee gave initial approval to budget items that would cut $180 million from state-funded pre-K in favor of a $40 million public-private partnership.

Universities face funding cuts of 6 percent to 10 percent in Senate plan
In an attempt to make major changes in how higher education is funded, the Senate Finance Committee is proposing major cuts to each state university.
After years of insisting on "repeal," Ted Cruz walks a fine line on health care
"If Republicans take this opportunity and blow it, we will rightly be considered a laughingstock," U.S. Sen. Ted Cruz said Wednesday regarding divisions among Republicans on the leading proposal to overhaul the Affordable Care Act.
A day later, Hurd and O'Rourke reach D.C., ending road trip and impromptu town hall
U.S. Reps. Will Hurd and Beto O'Rourke — a Republican and a Democrat from Texas, respectively — arrived at the U.S. Capitol Wednesday, ending a two-day trek from San Antonio that drew thousands of fans.
Senate gives approval to two abortion-related bills
The upper chamber gave final passage to a bill that would ban what opponents call "partial-birth" abortions and put restrictions on donating fetal tissue, and initial approval to one that would ban doctors from performing dilation and evacuation abortions.
Texas bullet train firm calls provision added to budget a "job killer"
Officials with Texas Central Partners, the private firm developing the Houston-Dallas high-speed rail line, said the rider added to the state senate's proposed budget Wednesday would put their project at risk.
Texas House passes statewide ban on texting while driving
Members voted 113-32 to tentatively approve the legislation, which will get a final vote in the House before it can proceed to the Senate. A Senate committee has passed a similar measure.
Texas sues feds — including Rick Perry — for failing to license nuclear waste facility
In a lawsuit filed Tuesday, Texas Attorney General Ken Paxton accuses U.S. agencies of violating federal law by failing to license a nuclear waste repository in Nevada.
Patrick: Straus "out of touch with the voters" on bathroom bill
Lt. Gov. Dan Patrick said Wednesday that House Speaker Joe Straus is "out of touch with the voters" for opposing the so-called bathroom bill that passed the Texas Senate a day earlier.
What you need to know
The Senate Finance Committee cut $180 million the Senate had allocated for pre-K funding in an earlier version of the budget, going against Gov. Greg Abbott. Instead, the committee allocated $40 million into a partnership with nonprofits to support districts and charters implementing pre-K programs.
Abbott wants lawmakers to double the $118 million in funding his early education program got previously. His spokesman had strong words Wednesday night, saying: "It's incomprehensible that the Senate is jeopardizing the future of Texas students by depriving them of high-quality pre-K, instead forcing them into an unaccountable program."
As it stands, the House's version of the budget goes against Abbott's wishes as well. The House's budget puts $118 million in supplemental pre-K funding, which would not require school districts to meet the same standards as Abbott's program.
What we're reading
(Links below lead to outside websites; paywall content noted with $)
The great Republican rift, Texas Monthly
Canales bill would allow accents on state documents, The Monitor
Trump border wall: Texans receiving letters about their land, CBS News
New federal investigation opened at Southwestern University, Houston Chronicle ($)
Austin police hand over keys of troubled DNA lab to state, Austin American-Statesman ($)
Border congressman on verge of U.S. Senate run, San Antonio Express-News ($)
Dallas mayor, first responders speak against property tax bill at heated hearing, The Dallas Morning News ($)
For your calendar
Join us on Tuesday, March 28, at KLRU's Studio 6A for a special screening of Beyond the Wall, The Texas Tribune's short documentary that explores the state's immigration issues through the eyes of undocumented immigrants, border patrol agents and a borderland rancher.
Photo of the day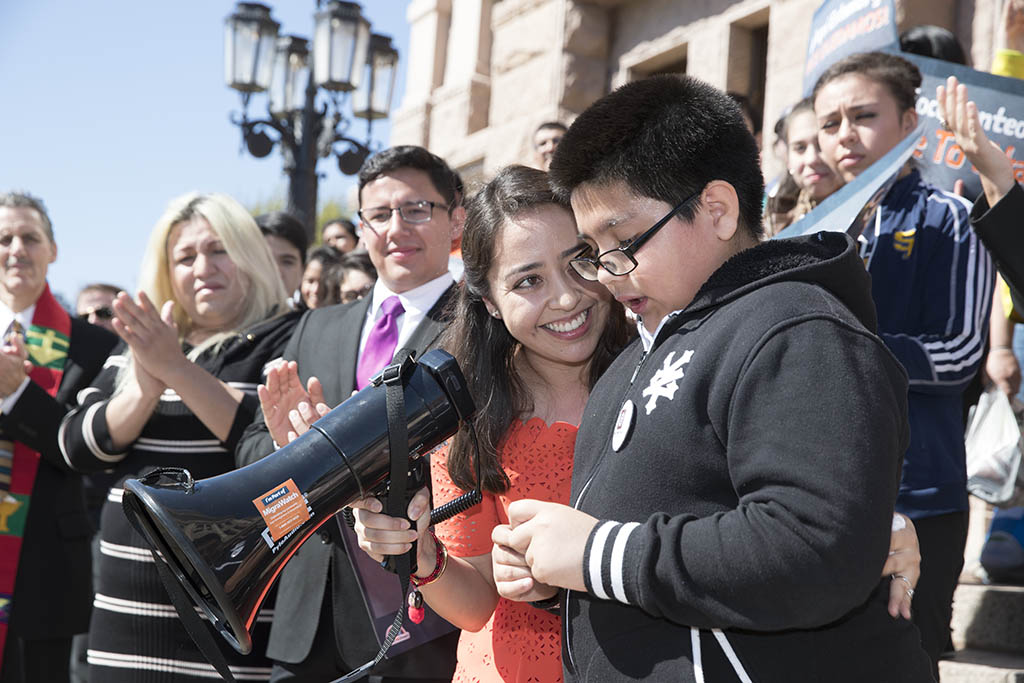 A 9-year-old boy from Austin reads a statement to the crowd during a protest against anti-"sanctuary cities" legislation at the Texas State Capitol. Photo by Bob Daemmrich. See more photos on our Instagram account.
Quote to note
"Time and again I saw people charged with felony drug offenses fight to keep the cars in which they were transporting drugs while hardly objecting to the criminal charges against them. "
— Patrick Wilson, Ellis County & District Attorney about the argument for asset forfeiture via TribTalk
The Brief is written and compiled by your morning news baristas, Bobby Blanchard and Sanya Mansoor. If you have feedback or questions, please email thebrief@texastribune.org. We're a nonprofit newsroom, and count on readers like you to help power newsletters like this. Did you like what you read today? Show your appreciation by becoming a member or making a donation today.
Support public-service journalism that's always free to read.
It's been a busy year. Through it all, The Texas Tribune's journalists have not missed a beat. And with redistricting starting in earnest next week and the 2022 elections on the horizon, we know our journalism will continue to be fundamental for Texans everywhere. Support our work today so we can be there for you in 2022 and for whatever else 2021 might throw at us.
Yes, I'll donate today