The Brief: Travis County's 'sanctuary city' policy begins today
A controversial policy that's provoked the ire of Republicans is set to go into effect today in Travis County. Here's what you need to know about the latest sanctuary city fight.
Happy Wednesday! Thanks for reading The Brief, The Texas Tribune's daily newsletter that prepares you for the day ahead. If you have friends who might want to join our list, please forward this email. They can click here to sign up. – BB
Tribune today
Analysis: Texas, a legislative sideshow to the main act in D.C.
The Texas Legislature is primed to go, but this is going to be a session outside the limelight. The Texans are busy, but the spotlight is on the new administration in Washington, D.C.
Texas lawmakers aim to eliminate death penalty for convicts who didn't kill
At least two Texas Democrats and one Republican are pushing to reform the death penalty under the law of parties, which holds those involved in a murder equally responsible, even if they weren't directly involved in the actual killing.
Trump picks Gorsuch for U.S. Supreme Court, bypassing Willett
President Donald Trump on Tuesday named U.S. appeals court judge Neil Gorsuch to the U.S. Supreme Court, picking him from a list of candidates that had included Texas Supreme Court Justice Don Willett.

Senate Finance Committee hears parents plea to halt therapy cuts
Parents brought their special needs children to a Senate hearing room to ask lawmakers to stop cutting services for their kids.

Execution halted for man convicted in Corpus Christi stabbing death
Two days before death row inmate John Ramirez was scheduled to be executed, a federal district court in Corpus Christi halted the execution.

Board of Ed prepares to vote on evolution science standards
A day before voting on changes to science standards, the State Board of Education heard from a line of scientists urging removal of language they say challenges evolution — and a handful of those in opposition.
At Texas Muslim Capitol Day, supporters form human shield around demonstrators
Participants in Tuesday's Texas Muslim Capitol Day were protected by a massive human circle made up of at least 1,000 supporters.
Border Patrol agent convicted of corruption but not murder
Border Patrol Agent Joel Luna was found guilty of engaging in organized criminal activity, but a Cameron County jury acquitted him of murder.
What you need to know
A controversial policy that reduces Travis County's cooperation with federal immigration officials goes into effect today. Here's why it's drawn ire from Texas Republicans and what we're watching next:
Newly-elected Travis County Sheriff Sally Hernandez is maintaining a campaign promise. Hernandez's office announced earlier this year it would stop holding inmates flagged by federal immigration enforcement for potential deportation.
What is a sanctuary city? There's no official definition, but the term generally applies to cities that prohibit or limit local law enforcement from working with U.S. Immigration and Customs Enforcement (ICE) to detain immigrants flagged by the federal agency.
Gov. Greg Abbott has taken a hard line on the issue. In addition to threatening to revoke state funding, Abbott has suggested officials who promote sanctuary cities should be removed from office. He also made banning sanctuary cities an emergency item this legislative session.
Other stories we're watching today:
News from home
If you know someone affected by Trump's refugee ban in Texas, we want to talk to you.
Join the engineers who keep our site buzzing! We're hiring a software developer. Apply here.
What we're reading
(Links below lead to outside websites; paywall content noted with $)
Trump's U.S. Supreme Court pick: A solidly conservative career, Roll Call

After a Tough Week, Media Scores Texas High Court Win, Texas Lawyer ($)
Veterans protest travel ban, saying it hurts interpreters, The Midland Reporter-Telegram

More than 1,000 gather at Texas A&M campus to protest travel ban, The Eagle
What Led to the 'Broken' Foster Care System in Texas, KUT
Big Oil Roars Back, Texas Monthly
Collin County Mayor Becomes Texas' First Transgender Elected Official, Texas Observer
DFW business reaction to Trump immigration ban: ¯\_(ツ)_/¯, The Dallas Morning News ($)
Ted Cruz builds $4.2 million war chest for 2018 reelection, The Houston Chronicle ($)
Officer wounded during Dallas ambush: 'We're all still grieving', The Dallas Morning News ($)
For your calendar
The Texas Tribune is holding a conversation with former U.S. Senate majority leader Bill Frist at 8 a.m. today at The Austin Club. Watch live here.
For a complete list of upcoming events, visit our site.
Photo of the day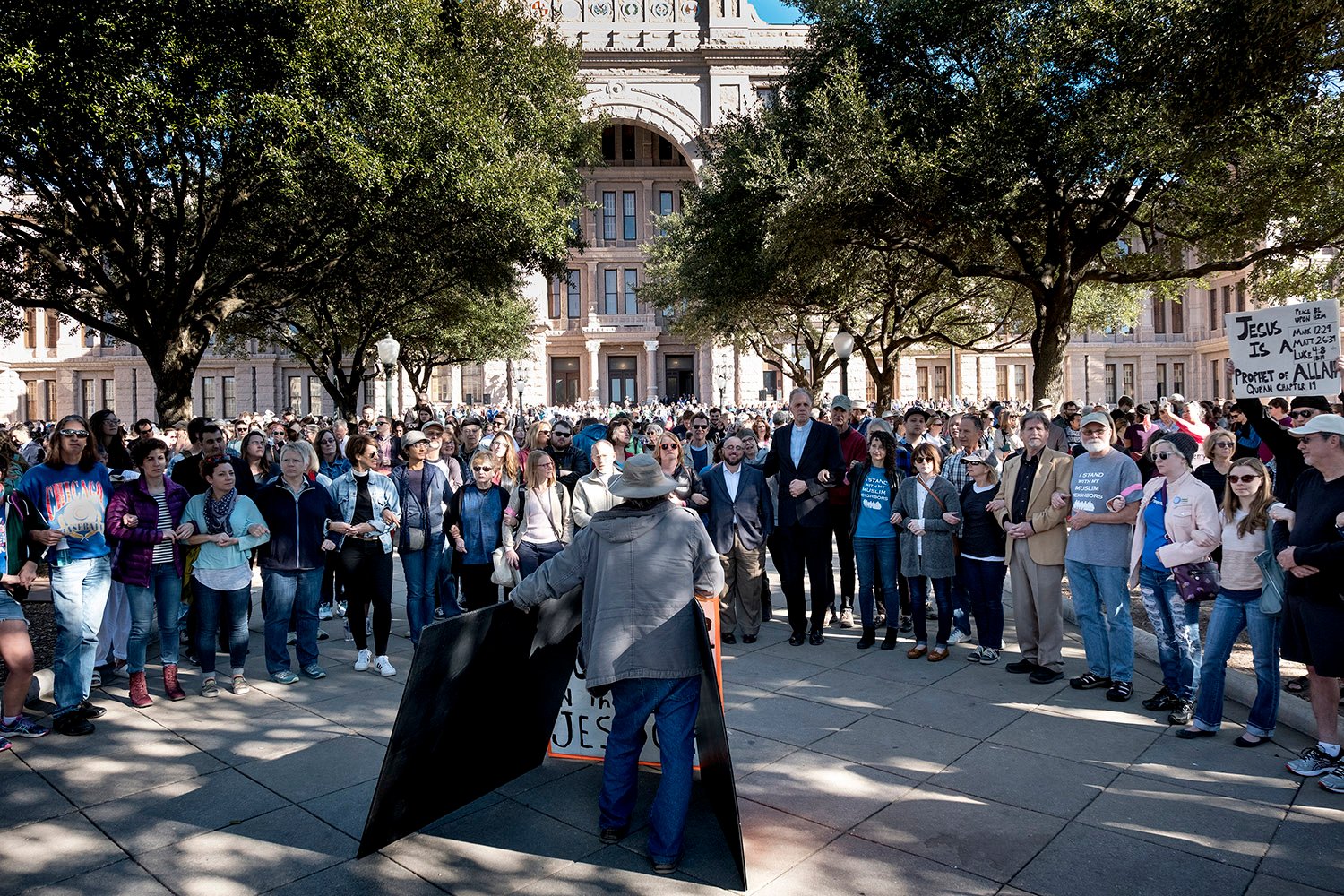 Supporters form a human chain around people participating in Texas Muslim Day at the Capitol. Photo by Laura Skelding. See more photos on our Instagram account.
Quote to note
"School choice is not about advocating for one form of education over another. It is not about choosing private over public. Rather, school choice is about empowering parents with access to the best educational setting for their child — no matter where they live or how much money they make."
— Randan Steinhauser of EdChoice via TribTalk
The Brief is written and compiled by your morning news baristas, Bobby Blanchard and Cassi Pollock. If you have feedback or questions, please email thebrief@texastribune.org. We're a nonprofit newsroom, and count on readers like you to help power newsletters like this. Did you like what you read today? Show your appreciation by becoming a member or making a donation today.
Your New Year's resolution list isn't complete without …
… supporting the Tribune. This new year, resolve to do your part to sustain trusted journalism in Texas. Join thousands of readers who power The Texas Tribune's nonprofit newsroom.
Donate now