Ted Cruz urges Texas Legislature to focus on school choice
U.S. Sen. Ted Cruz urged state lawmakers Friday to take on school choice this session, adding his voice to what is likely to be a tough battle for education reformers under the pink dome.
Editor's note: This story has been updated throughout.
U.S. Sen. Ted Cruz urged state lawmakers Friday to take on school choice this session, adding his voice to what is likely to be a tough battle for education reformers under the pink dome.
"The Texas Legislature is going to have an opportunity to do something extraordinary this year, which is to step up and lead and help lead the nation on school choice," the Texas Republican said. "I could not encourage state legislators more to take up this issue, to show courage and to empower our kids."
Cruz's remarks came at a conference hosted by the Texas Public Policy Foundation, an Austin-based conservative think tank that has championed school choice. It is also a priority of Lt. Gov. Dan Patrick, who has vowed to fight for it as long as he is in office.
A school choice program would use taxpayers dollars to help parents send their children to private or religious schools, or educate them at home. Such a proposal faces resistance in the Legislature from lawmakers who believe it would hurt public schools. But proponents say that the system would benefit students who are trapped in failing schools.
Such a program has varied support from the state's top Republicans, with Patrick being the most vocal by far. While Gov. Greg Abbott has promised to sign the "most pro-school choice law" that lands on his desk, House Speaker Joe Straus, R-San Antonio, has not shown much appetite, instead urging lawmakers to fix the state's public school finance system.
Cruz, who has long supported school choice but has previously not pushed the Legislature to tackle it, echoed Patrick and other Republicans in calling it the "civil rights issue of the 21st century." And he suggested the school choice push could help the GOP better connect with the Hispanic and African-American communities.
Speaking with reporters after his remarks, Cruz was not as willing to weigh in on another issue Texas politicos are buzzing about: his re-election in 2018. He declined to answer when asked if he would serve a full term if re-elected, a source of speculation among critics who believe he has used his Senate seat as a platform to run for higher office.
"You know, there's plenty of time for politics, plenty of time for campaigning," he said. "The purpose of this forum was to talk about the challenges facing this country right now and the incredible opportunities we have. ... I want to keep the focus not on politics, but on substance and policies."
Cruz was more talkative about President Barack Obama's announcement Thursday that he is ending the "dry foot, wet foot" policy, under which Cuban migrants who reach U.S. soil can stay in the country. Cruz called it part of Obama acting in a "bitter and petulant manner" as he leaves office.
"I think this action on Cuba is yet another action designed to strike out at the Cuban-Americans," said Cruz, a Cuban-American. "He doesn't like Cuban-Americans in part because too many of us have the temerity to actually vote Republican, and I think that for Barack Obama is almost a hanging offense."
Cruz appeared at the TPPF conference with Texas' senior GOP senator, John Cornyn. While the two have not had the cheeriest relationship in the past, they agreed Friday that they play different roles in the upper chamber, where Cornyn serves as the majority whip.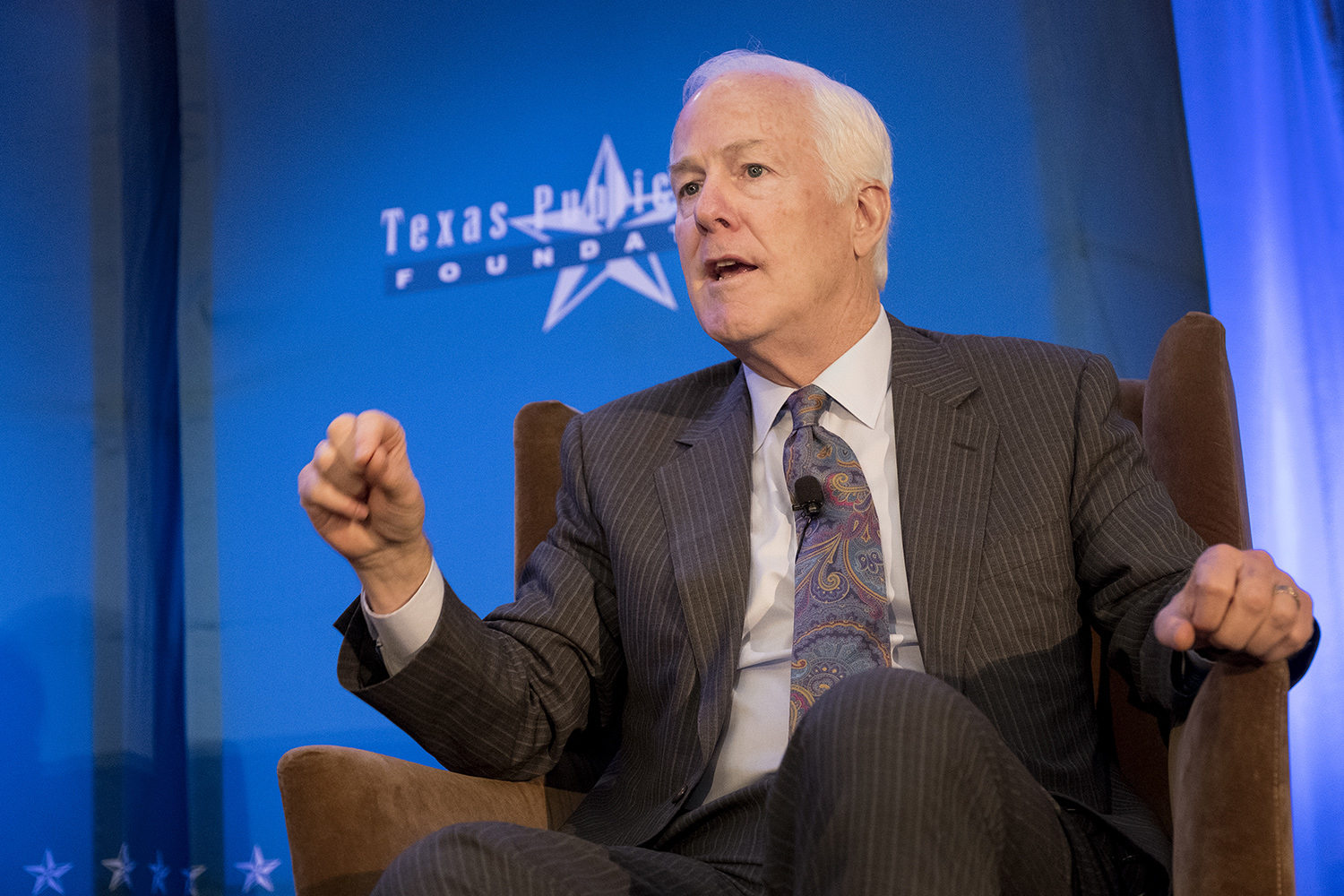 "John has a role in leadership," Cruz said during an on-stage interview with Cornyn, "and I kind of like to mix it up sometimes."
"Ted and my style — differs occasionally," Cornyn added. "How boring life would be if everybody was exactly the same."
Disclosure: The Texas Public Policy Foundation has been a financial supporter of The Texas Tribune. A complete list of Tribune donors and sponsors can be viewed here.
Support public-service journalism that gets the context right
Your donations make our reporting possible and keep it free for all to access. Support our nonprofit newsroom by May 11, and your gift will help us unlock $25,000 in matching funds from our partners at Tito's Handmade Vodka, the Bernard & Audre Rapoport Foundation and the Suzanne Deal Booth Charitable Trust.
Yes, I'll donate today