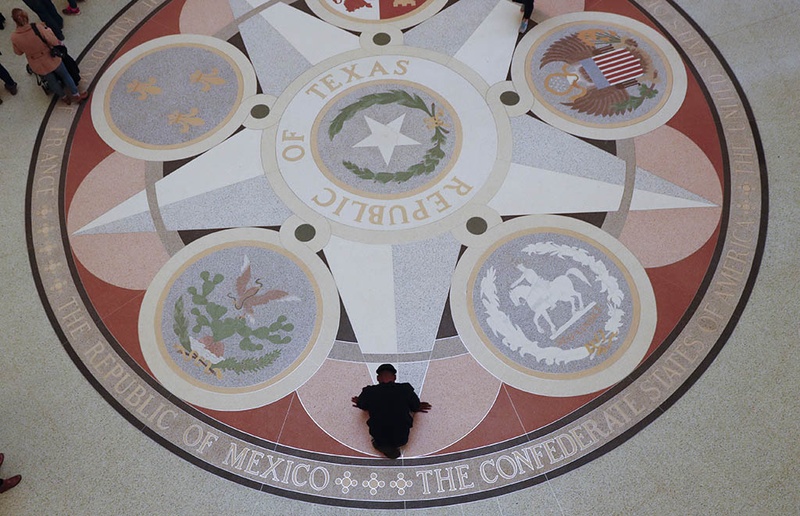 Editor's note: Welcome to our legislative kick-off edition of The Brief. As lawmakers meet in Austin on Tuesday for the start of the 85th Legislative Session, The Texas Tribune will be there with the biggest state capital bureau in the country to give you everything you need to know during the next 140 days. You can use our session page to watch livestreams of the floor action and stay caught up on all the news from the session, and below, we're previewing the important issues legislators will face.
The Big Story
State lawmakers descend on Austin on Tuesday for the 85th Legislative Session, facing a tight fiscal picture, varying priorities from their leaders and all the politics that naturally accompany the last regular session before statewide elections. Here's the story:
• Comptroller Glenn Hegar announced Monday that legislators will have $104.87 billion in state funds to work with in crafting the next two-year budget, a 2.7 percent decrease from his estimate ahead of the previous session. The glum revenue estimate, partly due to a prolonged downturn in oil prices, will probably force lawmakers to make some tough decisions, with one top lawmaker saying Monday that there are "obviously going to be cuts to the budget."
• Gov. Greg Abbott, Lt. Gov. Dan Patrick and House Speaker Joe Straus each have slightly different legislative priorities for this session. While Patrick has made a very public push for Senate Bill 6 — the so-called "bathroom bill" that would require Texans to use the bathroom that matches their "biological sex," Abbott has already made it known that he wants the Legislature to pass a resolution backing his high-profile push for a convention of states.
• Abbott, Patrick and Straus do share some common causes, though. Among them is fixing the state's troubled child welfare system, which a federal judge has said often leads to children leaving "state custody more damaged than when they entered." All three want to improve education in Texas, though Straus has urged more of a focus on public school funding, while Patrick has been emphatic about the need for private school choice.
• For the first time in eight years, the Republican-controlled Legislature will be matched in the White House by a Republican president. With the incoming administration of Donald Trump, Abbott and other Republicans are hopeful they will no longer be at war with the federal government, especially on issues of border security, health care and spending in general. However, GOP lawmakers are aware that the dramatic change Trump promises will not happen overnight.
• The political battle lines during the session will not be too different than what they were last session. In the 2016 elections, Republicans lost a few seats in the 150-member House, where they still outnumber Democrats by a roughly 2-to-1 margin. The partisan makeup did not change in the Senate, where there remain 20 Republicans and 11 Democrats.
Tribune Today
Dan Patrick announces he's running for re-election
Lt. Gov. Dan Patrick formally announced Monday he's running for re-election, looking to finally quell speculation he's interested in higher office.
After announcing resignation, Dawnna Dukes confirms plans to serve another term
State Rep. Dawnna Dukes confirmed to The Texas Tribune in an email Monday that she is not resigning, months after announcing plans to resign in January.
Rogue Texas elector explains decision to back Ron Paul
Texas elector Bill Greene added one final twist to a wild presidential race when he voted for former U.S. Rep. Ron Paul, R-Lake Jackson, on Dec. 19.
New in TribTalk
"Senate Bill 6, Texas' new so-called 'bathroom bill,' unveiled yesterday in the faux-name of safety, is unnecessary. Instead, what is needed is greater attention to where sexual predators are these days: on the internet."
What We're Reading
(Links below lead to outside websites; content might be behind paywall)
Border residents worry about being divided by Trump's wall, Texas Standard
Texas Lege will go where leaders, budget allow, Houston Chronicle
Texas governor meets with Taiwanese president, commits cultural faux pas, Taiwan News
Desk empty but conviction to serve is not, San Antonio Express-News
I can't answer the STAAR test questions about my own poem, Dallas Morning News
Trib Events for the Calendar
• A Conversation with Lt. Gov. Dan Patrick on Jan. 11 at The Austin Club
• A Conversation with the University of Houston's Renu Khator on Jan. 12 at The Austin Club
• A Symposium on Race and Public Policy on Jan. 13 at Huston-Tillotson University
• A Conversation with Reps. Dustin Burrows & Drew Darby on Jan. 19 at Howard College – West Texas Training Center

• A Conversation on Mental Health on Jan. 26 at The Austin Club
• A Conversation on Ethics, Transparency & Open Government, Jan. 31 at The Austin Club
• A Conversation with Sen. Kel Seliger & Rep. Brooks Landgraf on Feb. 17 at Odessa College – Saulsbury Campus Center
• A Conversation with Reps. Senfronia Thompson & James White on March 31 at Prairie View A&M University – W.A. Tempton Memorial Student Center