The Brief: Rhetoric already heating up in "bathroom bill" fight
While announcing Senate Bill 6 — the so-called "bathroom bill" — on Thursday, Lt. Gov. Dan Patrick admitted he was in for a "tough fight." The final weekend before the Legislature convenes for its 2017 regular session has already seen the first skirmishes.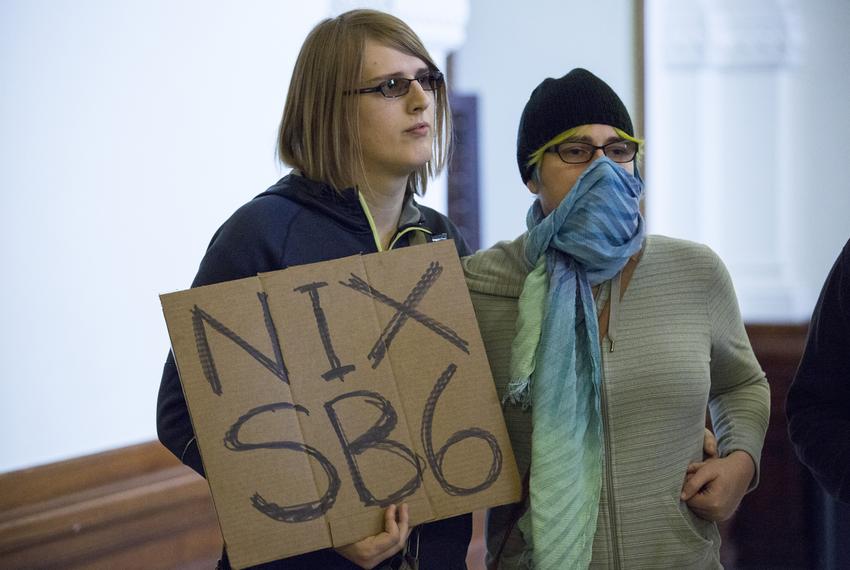 Tribune Today
Rodney Ellis leaves Texas Senate with criminal justice legacy
The 2017 legislative session will open without former state Sen. Rodney Ellis, a 26-year lawmaker who became a criminal justice reform titan in the upper chamber.
Top Texas Republicans meet with Taiwanese leader amid new tensions with China
Top Texas Republicans met Sunday with Taiwanese President Tsai Ing-wen amid new tensions with China over the U.S. relationship with Taiwan, a country the U.S. hasn't officially recognized since 1979.
News of Rep. Dawnna Dukes' change in plans fuels questions for potential successors
As a news report came out Saturday that state Rep. Dawnna Dukes no longer plans to leave office, the hopefuls looking to succeed her in House District 46 were left wondering whether there was still a campaign left to be run.
For Rep. Dawnna Dukes, delayed resignation yields bigger pension check
State Rep. Dawnna Dukes announced her retirement in September, but doesn't plan to make it official until Tuesday. That would make her annual pension payout $3,220 bigger.
Texas reproductive rights groups brace for legislative session
Reproductive rights advocates have expressed concern that Texas lawmakers will take bolder steps in the upcoming session to defund abortion providers and dismantle access to abortion, birth control and other sexual health services.
Texas' most populous districts see As through Ds in new ratings
The 10 most populous districts in the state received more Ds than As in the new A-F rating system, according to a preliminary report out to educators Friday. By comparison, the 10 biggest charters saw more As and a smattering of Fs.
Texas loses tax lawsuit, but not the way officials feared
The state of Texas lost a lawsuit over business franchise taxes on Friday, but lost the way officials had hoped — without a significant change in an arcane accounting definition that could have cost billions.
U.S. Rep. Sam Johnson to retire from Congress
U.S. Rep. Sam Johnson announced Friday morning that he will not seek re-election to represent his Plano-based North Texas seat in Congress.
The Big Story
While announcing Senate Bill 6 — the so-called "bathroom bill" — on Thursday, Lt. Gov. Dan Patrick admitted he was in for a "tough fight." The final weekend before the Legislature convenes for its 2017 regular session has already seen the first skirmishes. Here's the story:
• Bestselling children's fiction author Rick Riordan tweeted Friday that he was declining an invitation from the Legislature over SB 6. Riordan, who was born in San Antonio and is best known for his "Percy Jackson and the Olympians" series, was invited to an event celebrating authors. In his tweet, he referred to the bill, which would require transgender people to use bathrooms in public schools, government buildings and public universities based on "biological sex," as "nonsense."
• Rep. Jason Villalba, the Dallas Republican who organized the event, said it wasn't supposed to be about politics. "I don't want to challenge [Riordan's] belief system," Villalba said. "I appreciate that this is his way of making his statement about what has occurred. My only disappointment is we can't show him how much we appreciate his great work."
• SB 6 already faces fierce opposition from the business community and lukewarm support from Republicans outside the Senate. Businesses have spent months looking to derail any bill related to the issue, warning it could lead to the same turmoil that visited North Carolina when its lawmakers pushed similar legislation. And House Speaker Joe Straus, R-San Antonio, has also been cool toward Patrick's efforts, fueling the perception that the bill is dead on arrival in the lower chamber.
• But the bill's supporters are betting big that public opinion will overpower whatever resistance they encounter at the Capitol. Their reference point is polling that Patrick's political operation commissioned last year, which it says shows there is broad support for making it "illegal for a man to enter a women's restroom." They also point to the 2015 demise of Houston's Equal Rights Ordinance, better known as HERO, which featured much of the same message Patrick is now using with the statewide legislation.
New in TribTalk
Texas is lucky to have a large savings account in its so-called Rainy Day Fund, created to prevent or reduce sudden massive cuts to schools, health care and other services Texans need, writes Eva DeLuna Castro of the Center for Public Policy Priorities.
What We're Reading
(Links below lead to outside websites; content might be behind paywall)
The legislative circus returns, and the ringleaders are the focus, San Antonio Express-News
Eltife prepares for exit from state senate, KLTV-TV
Simpson took on majority in Texas House, Longview News-Journal
A Week in the Life of Justice Don Willett, Wall Street Journal
Potential Trump USDA pick Sid Miller wants to cut free school lunches, McClatchy Newspapers
Lawmakers ask state to scrutinize waste proposal, Galveston County Daily News
Trib Events for the Calendar
• Trivia Night on Jan. 8 at The Highball
• A Conversation with Lt. Gov. Dan Patrick on Jan. 11 at The Austin Club
• A Conversation with the University of Houston's Renu Khator on Jan. 12 at The Austin Club
• A Symposium on Race and Public Policy on Jan. 13 at Huston-Tillotson University
• A Conversation with Reps. Dustin Burrows & Drew Darby on Jan. 19 at Howard College – West Texas Training Center

• A Conversation on Mental Health on Jan. 26 at The Austin Club
• A Conversation on Ethics, Transparency & Open Government, Jan. 31 at The Austin Club
• A Conversation with Sen. Kel Seliger & Rep. Brooks Landgraf on Feb. 17 at Odessa College – Saulsbury Campus Center
• A Conversation with Reps. Senfronia Thompson & James White on March 31 at Prairie View A&M University – W.A. Tempton Memorial Student Center
Texans need truth. Help us report it.
Our Fall Member Drive is underway, and we need your support. The Texas Tribune is a critical source of truth and information for Texans across the state and beyond — and our community of members, the readers who donate, make our work possible. Will you join as a member with a tax-deductible donation of any amount?
Yes, I'll donate today
---
Information about the authors
Explore related story topics