Small steps aim to lessen exploitation of Texas construction workers
In Houston and Austin, some builders are voluntarily trying to ensure that construction workers are paid well and their safety is protected.

HOUSTON — On any given day in southwest Houston, hundreds of people will clock into the Texas Medical Center this winter to work on a several hundred-million-dollar construction project. Instead of heading straight for the mechanical lifts that ferry workers up what will ultimately be a 25-story building, new hires have something they must take care of on their first day of work.
Before setting foot on the work site — but after donning reflective vests, helmets and safety glasses — new workers must file into a room to watch a video. It's about 15 minutes long, though the Spanish version is closer to half an hour.
The video explains that this project voluntarily follows certain rules, set out by an organization known as C3, or the Construction Career Collaborative, designed to keep workers from being cheated or endangered.
Although they work for an array of employers, contractors and sub-contractors, everyone on a C3 project must be paid by the hour, not by the "piece" — a common construction industry practice in which workers are paid based on the number of bricks they lay or the amount of flooring they install. They must also receive 10 hours of federally certified safety training, and their supervisors must receive 30 hours. Their employer must carry workers' compensation insurance, which will provide for care and lost wages if they're injured on the job.
The rules might seem like basic tenets for any workplace, but they are not actually guaranteed by Texas law. And too often they are not followed in the Lone Star State — something the C3 organization, started a few years ago by some major players in Houston's construction industry, is hoping to address.
"We're facing a bit of an image problem in the construction business," said Mike Holland, chief operating officer of a major construction contractor in Houston and vice chairman of C3's board of directors. "We've been enabled, and enabled ourselves, to have our habits deteriorate. Now they're all sort of piling up like a snow bank."
Holland says substandard safety practices and poor wages are fueled by a long-rooted attitude that there is an unlimited supply of construction workers willing to do dangerous jobs for shockingly little pay. A big part of that supply comes from undocumented immigrants, who are easy for employers to take advantage of because the fear of deportation often stops them from speaking out against bad treatment.
And while not everyone in the construction industry is a bad actor, the competition to get the lowest bid means that even good actors struggle not to cut corners. Construction wages have been flat for years, and fewer workers are coming into the business. In short, the seemingly endless supply of cheap labor is starting to look unsustainable.
"No sane person can look at what's going on on our sites and advocate this," Holland concluded.
Government seems unlikely to step in with a solution. Laws protecting the construction workforce, especially unskilled laborers — people without a licensed trade, who may go from working on roofs one day to installing floors or painting walls the next — are scarce, and there is little money or political will for enforcement.
At the same time, the country's immigration system also does not appear destined for a quick and easy fix. And if President-elect Donald Trump makes good on his promise to deport millions of undocumented immigrants, that would cripple the construction industry even more, its leaders agree.
So C3's founders hope that they can spur industry leaders to participate in the change themselves. They aim to create a certification that could ultimately be good for a company's brand — like the "LEED" label that signifies that a building is using water and energy as efficiently as possible — declaring that a building has been constructed with safe and well-paid labor, whatever the immigration status of its workers may have been.
"Whoever makes up our workforce, we want to train that individual ... to work safely, to work successfully and be paid properly," said Chuck Gremillion, C3's executive director. "And when we do that, the demand for their services grows, and through the law of supply and demand, their wages increase."
So far, 140 employers in the Houston area are C3 accredited, meaning that all the people working for them are supposedly being treated according to C3 standards. Those employers pay a fee of $1,500 annually to C3. An additional 60 employers have agreed to do specific projects that follow C3's rules, paying fees between $100 and $2,000 per project.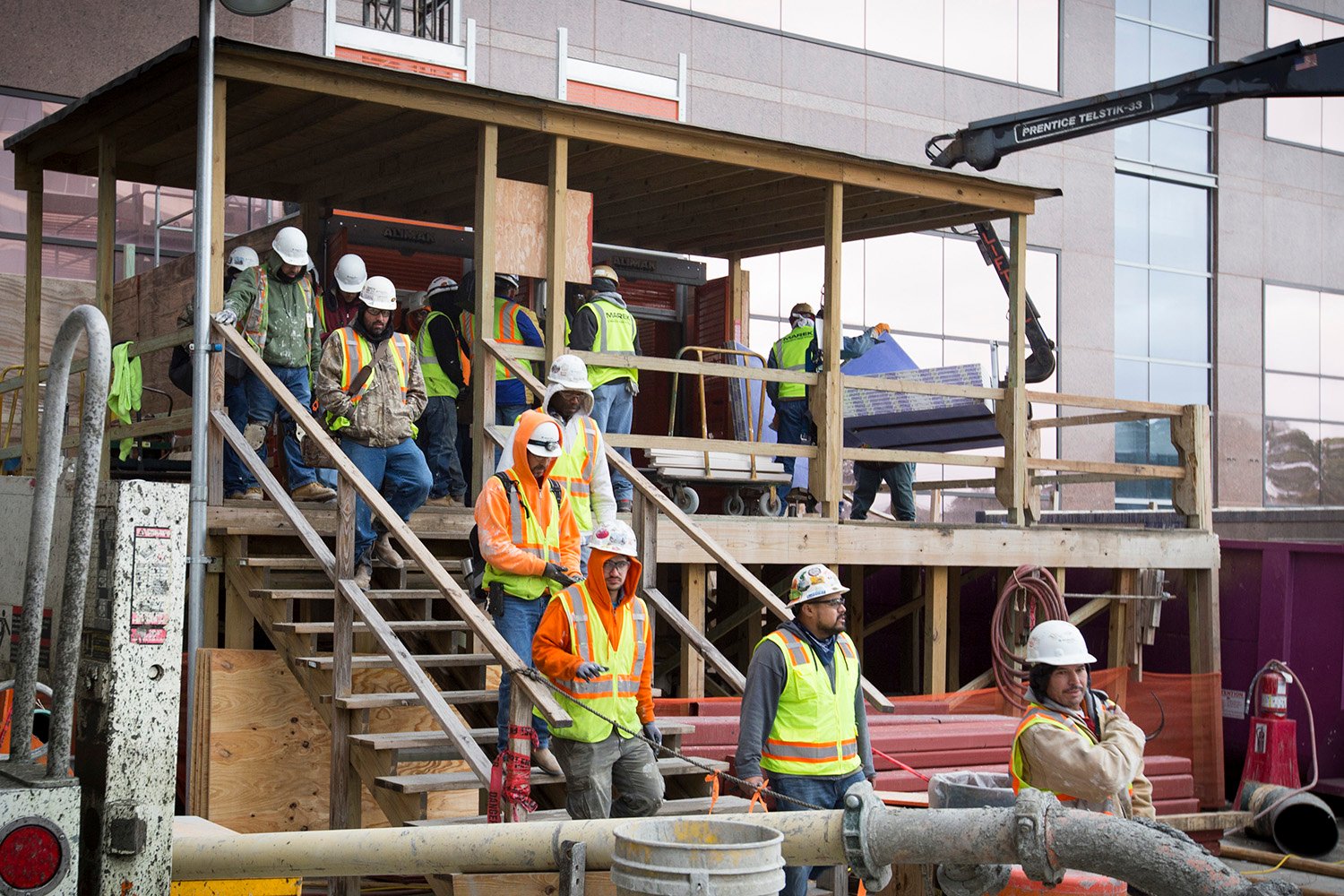 That's a very small fraction of the construction industry in Houston, though, and most that have signed on tend to do what are referred to as "high-end" commercial projects — for example, working on public facilities like Houston's Museum of Fine Arts (which is a C3 job) and big hospitals. (Some smaller C3 projects include church renovations and company office space.)
On top of that, there are few people devoting the time and resources to ensuring C3 participants are actually following the standards. So far, just one person staffs the organization's compliance department, doing spot checks of construction sites and interviewing workers while they're on the job.
And because the types of workers needed on a construction job vary so much day-to-day — in the beginning of the week, the site may require heat and air conditioning unit installers, and at the end, the job may have moved on to polishing floors — it's easy to lose track of who's there, and they're often hired temporarily by subcontractors who are several times removed from the main employer. (C3 says it maintains a database of its members, including compliance information, which should help make sure workers don't fall through the cracks.)
Still, Holland said the system will always depend on honest employers. If someone really wanted to cheat the system, "they could get away with that right now. We don't have nearly enough money to build the trap to keep people from doing that, nor do we really want to."
In Austin, a similar initiative is underway that may have more teeth. The Workers Defense Fund, an advocacy group that represents workers with wage disputes and other problems, created the Better Builder program in 2012. Participants must offer workers' compensation insurance, give safety training according to federal guidelines and pay their workers a living wage (which in Austin starts at $13 an hour). And they must hire someone to inspect their work site to ensure compliance.
A few months ago, the Workers Defense Fund convinced the Austin City Council to tie participation in the Better Builder program to the ability to get fast-tracked construction permits from the city.
The pushback from the construction industry on that new policy, slated to start next year, was "relentless," said Bo Delp, director of the Better Builder program. But he pointed out that receiving an expedited permit from the city could cut the costs of a construction project by as much as 5 percent and that implementing the Better Builder standards would add just 1 percent to a project's costs.
Even without the expedited permit, the Better Builder program was a no-brainer for Pete Dwyer, a Central Texas real estate developer who is working on several different residential neighborhood projects northwest of Austin. Most of his projects involving paving the roads in new neighborhoods and getting lots ready for homebuilding in the Manor area have followed Better Builder standards, and he's confident that the contractors and subcontractors involved are following the rules — regardless of the workers' immigration status.
But once the project gets turned over to homebuilders and he's no longer in charge, Dwyer said things could change dramatically. As he drove through one neighborhood that he had finished developing, the area was teeming with workers turning empty lots into homes. Almost none of the workers were wearing hard hats, vests or safety glasses, which would all be required by almost any laborer following federal safety guidelines.
So far, just a handful of projects in the Austin area have been built according to the Workers Defense Fund's standards, but Delp is sure that number will grow. When high-profile companies sign on to the Better Builder program, that can help set the standard for the entire industry — something Delp says started to happen when Apple agreed to pay higher wages and offer workers' compensation insurance for the construction of its giant Austin office complex.
In Houston, industry leaders who founded C3 are hoping another incentive will get more employers to buy on: If their workers are better trained and treated, the buildings turn out better. That means they are cheaper to maintain in the long run and less likely to face serious issues — an especially important bonus for large public facilities such as hospitals.
"If they think they're saving a dollar today" with substandard worker treatment, Holland said, "they might actually be paying for it five times over in the next 40 or 50 years."
This story is part of the Tribune's yearlong Bordering on Insecurity project.
Texans need truth. Help us report it.
Our Fall Member Drive is underway, and we need your support. The Texas Tribune is a critical source of truth and information for Texans across the state and beyond — and our community of members, the readers who donate, make our work possible. Will you join as a member with a tax-deductible donation of any amount?
Yes, I'll donate today
---
Information about the authors
Explore related story topics