Border leaders think Trump's tough talk on NAFTA will die down
Despite all the time Donald Trump spent bashing NAFTA while running, border leaders hope he'll soften his stance as campaign trail rhetoric cools.
Keep calm and educate Donald Trump.
That seems to be the mantra border leaders are adopting after realizing that the candidate who promised to renegotiate — or even eliminate — the North American Free Trade Agreement will be the country's next president.
The 1994 pact gradually eliminated most tariffs on several goods traded between Canada, Mexico and the United States. It's turned cities like El Paso and Laredo into key trade hubs but also displaced thousands of jobs that went to workers in Mexico and other countries.
But once Trump's advisers tell him the pact produces more for the American and world economies than it takes away, he'll take a different tone, predicted U.S. Rep. Henry Cuellar, D-Laredo, whose district is home to the country's largest inland port.
"Trump says he is a businessperson. Well, 90 percent of the Fortune 500 companies have investments in Mexico," Cuellar said. "So as a businessperson I assume he's going to listen to those 90 percent."
From January to September of this year, the Laredo and El Paso customs districts have seen $203 billion and $71.3 billion in two-way trade with Mexico, respectively. Houston is the country's fifth-busiest trade partner with Mexico, at about $11.3 billion during the same time frame, according to WorldCity, a Florida-based economics think tank that uses U.S. Census data to track trade patterns.
Cuellar said Trump's campaign talk about NAFTA was more "bark than bite" — a lesson he said would be learned after being sworn in.
"That's the danger when you run a campaign and you make certain promises that might be hard to keep," Cuellar said. "That's one of the reasons he won some of those states" like Pennsylvania, Ohio and Michigan.
Cuellar said that Trump isn't the first candidate to tell supporters he would roll back trade pacts to earn support, with the most recent being President Obama.
"You see the world in a different way, it's easier to campaign than to govern," Cuellar said. He added that should Trump stay the course, it would be up to state leaders like Gov. Greg Abbott to remind Trump about the benefits NAFTA bestows upon Texas.
Abbott's office, which regularly boasts about Texas' business-friendly climate, didn't respond to a request for comment for this story.
Richard Dayoub, president and CEO of the Greater El Paso Chamber of Commerce, said Trump needs to realize that more than two dozen states are positively affected by NAFTA.
"Many, many states, 30 plus, do a billion dollars or more a year in trade with Mexico," he said. "That means manufacturing jobs in the U.S., they rely on the consumers in Mexico, which he hasn't thought about. So our job is to try to educate and inform and try to get him to look at things more pragmatically now that we are done with the election."
Even if Trump can't be convinced about the positive effects of NAFTA, Cuellar said, its future is not completely up to him. The future president would likely have to convince Congress to do away with the pact, which wouldn't be an easy sell given that several Republicans support the measure.
He also said Mexico holds some sway. In 2011 when the United States had yet to fulfill a NAFTA provision to allow Mexican truckers to travel inland, Mexico slapped U.S. goods with retaliatory tariffs.
"We would be the No. 1 state that would be devastated by a trade war with Mexico," he said.
Other Texans who hope to have Trump's ear in the coming months think changing NAFTA is a good thing. Texas Agriculture Commissioner Sid Miller, who was part of the Trump campaign's advisory council, said it makes sense after so many years.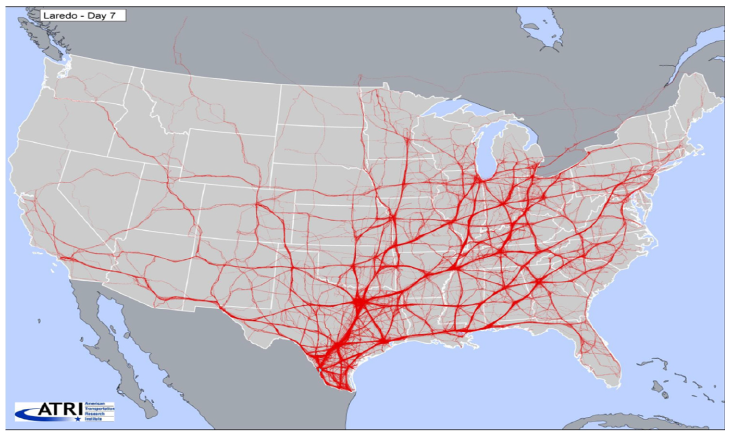 "We don't want to completely do away with NAFTA; there are some good things in there," he said. "But that document is 22 years old. Trade routes have changed, technology has changed, markets have changed, economies have changed. Donald Trump is right: We don't win anymore."
Laredo Mayor Pete Saenz agreed that taking a look at some parts of NAFTA is worth the time. He just hopes that border leaders are included in the discussions.
"I would say that he needs to at least take a little time here on the border so we can at least try to explain to him the value that the border has for the nation," he said. "Without NAFTA, the border area and, I would say, Texas, in my humble opinion, would be very economically depressed."
McAllen Mayor Jim Darling said he hoped those discussions would also include the possible repercussions for the Mexican economy, which directly affects local sales tax receipts north of the Rio Grande.
"It's understandable that a new administration would review a lot of federal programs, including trade treaties," he said. "We would hope that before anything happened, there would be a review of the potential impact — not only in Mexico but the United States."
Read related Tribune stories:
Texans need truth. Help us report it.
Our Fall Member Drive is underway, and we need your support. The Texas Tribune is a critical source of truth and information for Texans across the state and beyond — and our community of members, the readers who donate, make our work possible. Will you join as a member with a tax-deductible donation of any amount?
Yes, I'll donate today
---
Information about the authors
Explore related story topics