Here's where Texas voters turned out and where they didn't
More than 800,000 more Texans voted in this year's general election than in 2008 or 2012.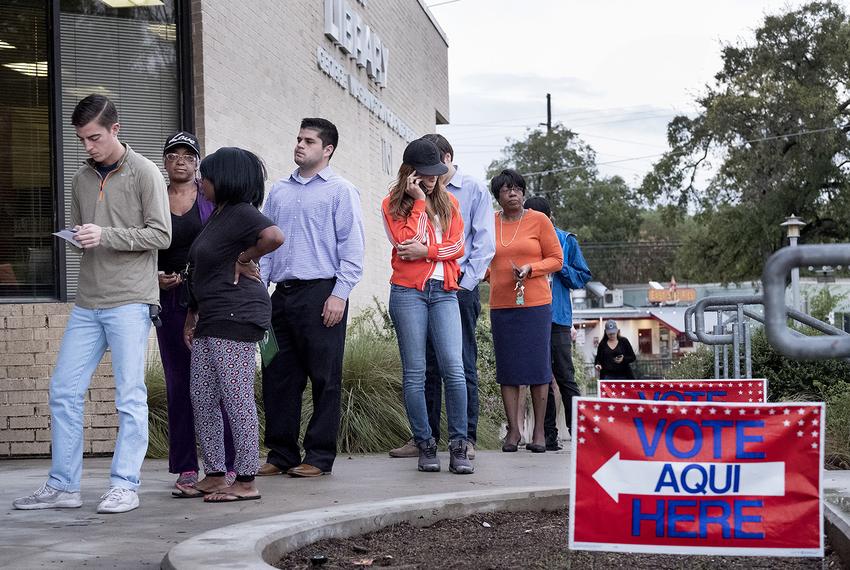 *Correction appended.
In 2012, fewer Texans voted compared to the presidential election four years earlier. The trend reversed this year, as more than 800,000 more Texans voted in this year's general election compared to 2008 or 2012.
This follows a dismal presidential primary season where Texas ranked eighth-to-last in the nation for voter turnout. But while the number of Texans voting in the general election grew this year, it wasn't enough to keep up with a state growing as fast as Texas. This year's turnout rate dropped slightly from 46.1 percent in 2008 to 42.6 percent in 2016.
Of all Texas counties with populations over 10,000, Polk County in east Texas saw the highest rate of voter turnout, with 87.4 percent of its voting-age population showing up to vote. In contrast, Frio County, located southwest of San Antonio, saw the lowest voter turnout in the state at only 18.4 percent of its voting age population.
Use the tool below to search for your county to see what turnout looked like this year compared to the previous two presidential elections.
Correction: An earlier version of this story using information provided by the Texas Secretary of State, included incorrect turnout rates for Terry county.
Your New Year's resolution list isn't complete without …
… supporting the Tribune. This new year, resolve to do your part to sustain trusted journalism in Texas. Join thousands of readers who power The Texas Tribune's nonprofit newsroom.
Donate now