Texas county where Sandra Bland died may elect first black sheriff
More than a year after Sandra Bland's death put this little Texas town in the national spotlight, Democrats here hope to put it back there by electing the area's first black sheriff.
PRAIRIE VIEW — More than a year after Sandra Bland's death put this little Texas town in the national spotlight, Democrats here hope to put it back there by electing the area's first black sheriff.
It won't be easy. Waller County, a mostly rural county just west of Houston that is about 42 percent white and 26 percent black, has long been led by Republicans. But supporters of Democratic sheriff candidate Cedric Watson say a historically black college tucked in the county's northwest corner could make the difference. About 1 of every 7 residents in Waller County is a student at Prairie View A&M University.
"It's been crazy all over campus, with us pushing students to vote, to get involved, to know about this," said Kayla Gilchrist, a senior theater major at Prairie View A&M University who helped register students to vote. "The Sandra Bland incident … that's been huge."
Bland, a black woman, was found dead last year in a Waller County jail cell three days after she was pulled over by a state trooper for failing to properly signal a lane change. After a heated argument, the trooper arrested Bland on a charge of assaulting a public servant.
Republican Sheriff Glenn Smith, 57, who is seeking re-election, has been harshly criticized for his running of the Waller County Jail. His challenger, Watson, 53, is a reserve lieutenant with a Waller County constable's office. If voter turnout on the Prairie View A&M campus is high, that could make the difference in the race.
Today, 31,700 people are registered to vote in Waller County — more than the number registered here in the 2012 and the historic 2008 election. And 5,100 of those voters are in the precinct where Prairie View A&M is located.
Voter registration totals in Prairie View A&M's precinct are lower than they were in 2008, when the election of the first black president buoyed the numbers.
Prairie View A&M students have battled with Waller County for decades over their right to vote there, and they say there are still barriers to doing so. Students had limited options to vote early, and a 2013 Texas law requiring voters to show government-issued photo identification is still causing uncertainty.
"That could have been any one of us"
Students on campus have seen a shift this election season in the number of students making an effort to get their friends out to vote.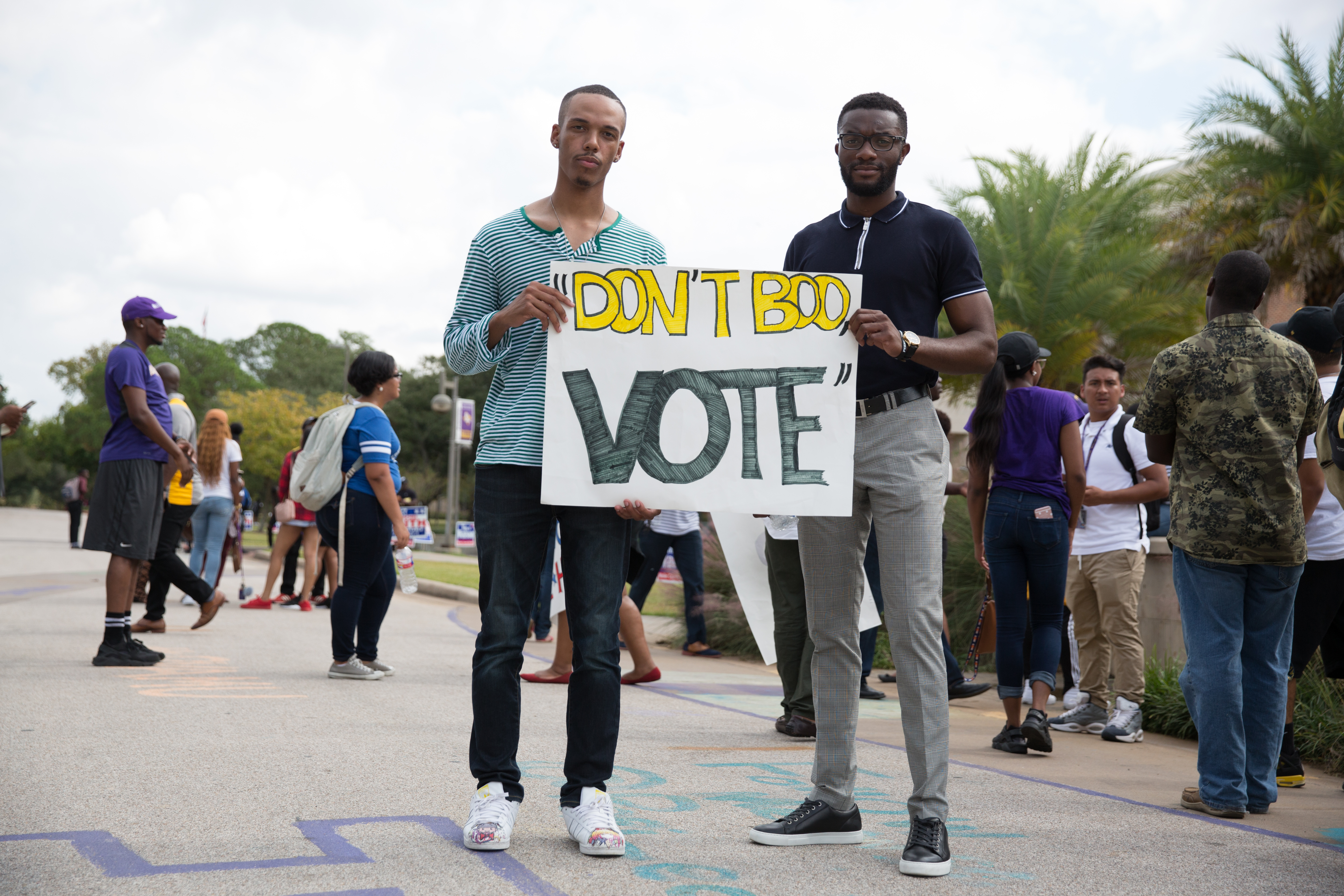 Alexia Story, a student studying biology at Prairie View, said her decision to vote for the first time is thanks to the large number of students registering and promoting the election on campus. She was registered in the last election but didn't make time to vote.
"I do plan on voting this go-around," Story said. "Everybody should vote. I'm overall excited to see it being promoted more."
The presidential election is certainly catching students' attention, but what happened to Sandra Bland last year is also a big factor.
Bland, herself a Prairie View A&M alumna, was just minutes from campus when a state trooper pulled her over for a minor traffic violation. And she had been hired by the university shortly before her arrest. After the traffic stop escalated, Bland was arrested — and three days later, she was found dead in her Waller County jail cell. Her death was ruled a suicide, and her family recently reached a $1.9 million settlement in its wrongful death lawsuit against the county.
"She's like one of our own," said Gilchrist. "That could have been any one of us."
Many weren't happy with Smith's response. When protesters crowded his office about a month after Bland's death, his staff put a barricade around the building.
Smith also didn't show up to a candidate forum at Prairie View last month sponsored by both the Republican and Democratic parties.

Through a spokesman, Smith declined the Tribune's request for an interview.
Waller County Republican Chairman Wallace Koenning pointed out that Smith "doesn't turn down any invites to any Republican meetings," and that he had an annual skeet shoot scheduled at the time of the forum.
"Maybe he should be going to some Democratic meetings, but his votes are going to come from the Republican side," Koenning said. "I mean, I wish he had been at the forum."
Watson said a key difference between him and Smith is his plan for running the jail where Sandra Bland died.
Watson said his main focus will be to improve training among jail staff and said that he would personally check on inmates in the jail.
"I find it hard to believe the sheriff himself can employ a committee to go through the jail after the Sandra Bland death and they come out and say that everything is satisfactory," he said. In April, a committee convened by the sheriff's office recommended changes to the jail but found few serious issues. A state report following Bland's death last year found that the jail did not make timely checks on inmates.
Watson also points to encouraging voting numbers in 2008, when Jeron Barnett hoped to become Waller County's first black sheriff. Barnett, a Democrat who is now a county commissioner, lost by 415 votes. Smith received 51.3 percent of the vote.

But that was a year when voter participation at Prairie View A&M increased because of Barack Obama's candidacy, and Smith still managed to squeak by despite having just been fired as a small-town police chief in the county. (He had faced multiple allegations from Hempstead City Council members and county residents of racism and police brutality, and a mistaken drug raid and strip search conducted on children.) At the time, Smith blamed his termination on small-town politics, according to the Houston Chronicle.
In the 2012 presidential election, Smith easily defeated his Democratic opponent by 2,604 votes, receiving 58.3 percent of the vote. And in 2014, Republicans beat Democrats in countywide and statewide races in Waller County.
And Democrats worry that barriers to voting for African-Americans and Prairie View students, who have long fought for a political voice in Waller County, could be an issue this election.

A history of voter suppression
Waller County has a long history of suppressing Prairie View student votes, activists say, starting in the 1970s and continuing to this day.
After Congress decided the eligible age to vote was 18, Waller County tried to insist that Prairie View students would have to vote in their home county, or home state. A lawsuit filed there led to a 1979 U.S. Supreme Court decision that established a constitutional right for students to register and vote where they go to school.
The fight didn't end there, however. In 2003, former Waller County District Attorney Oliver Kitzman sent a letter to the Waller County election administrator promising to prosecute students who voted in the county. Thousands of students marched seven miles from the campus to the courthouse to demand the right to vote without intimidation.
Kitzman resigned from his post after then-Attorney General Greg Abbott re-established in 2004 that students may register to vote in the county they go to school. The fight turned to a demand for proper voter registration rolls and for a polling location on campus, and students marched again in 2006 and 2008.
This year, county commissioners almost restricted early voting to just two polling locations in the county, not including the university. Commissioners reversed the plan after facing fierce criticism from students and residents. This year's March primary was the first time the university had an early voting location on its campus, according to Dan Teed, Waller County elections administrator. This fall, the campus had two days of early voting in the student center.
But Koenning had concerns with that location.
"It is hard to control the environment in the student center ... when you've got three or four thousand students coming in there for lunch or whatever," said Koenning, who figures many students might be wearing T-shirts supporting Democratic candidates.
"It's not illegal, but ... it's kind of putting pressure on on the student who who may or may not want to vote."
Today, activists say the latest issue for students on Prairie View's campus is Texas' 2013 voter ID law. The law, which was ruled discriminatory by a federal court in July, required Texans to use one of seven approved forms of government-issued ID, including a driver's license and a concealed handgun permit.
None of those IDs include a university student ID, which kept former Prairie View student Imani Clark from the polls on Election Day after the law took effect. Clark was one of the plaintiffs in the voter ID lawsuit.
In August, a federal judge approved a plan where voters could sign an affidavit saying they couldn't get the right form of ID. But they still to bring need a document proving their address, and a student ID won't work because it doesn't have an address on it.
Those issues could make the difference if the sheriff's race comes down to just a few hundred votes, like it did in 2008.

Denise Mattox, president of the Waller County Democratic Club, said there is still confusion in the county around what identification can be used.
"It's not just clear cut," Mattox said. "It's difficult because it's designed to be difficult."
Read more of our Waller County coverage:
The family of Sandra Bland — the woman who died last year in a Waller County Jail cell — reached a settlement with Texas officials in a wrongful death lawsuit.
Texas Department of Public Safety director Steve McCraw said Trooper Brian Encinia acted unprofessionally and violated protocol when he stopped Sandra Bland

.
Disclosure: Prairie View A&M University has been a financial supporter of The Texas Tribune. A complete list of Tribune donors and sponsors can be viewed here.
Texans need truth. Help us report it.
Our Fall Member Drive is underway, and we need your support. The Texas Tribune is a critical source of truth and information for Texans across the state and beyond — and our community of members, the readers who donate, make our work possible. Will you join as a member with a tax-deductible donation of any amount?
Yes, I'll donate today
---
Information about the authors
Explore related story topics