Analysis: A history lesson amid Texas Democrats' hopes of a blue November
Texas Democrats have pined for years for a candidate who could turn their luck around. Now they're hoping a Republican will answer their prayers.
Editor's note: If you'd like an email notice whenever we publish Ross Ramsey's column, click here.
Texas Democrats have long sought salvation from an electoral drought, looking for champions who can fight back the Republicans who win all of the time.
Maybe they just need the right Republican. They're hoping Donald Trump is their guy.
Recent polling and a lot of recent headlines about Trump and Hillary Clinton have Republicans in Texas worrying about the results at the top of the ticket in November.
They know they're in a red state. A fair number are sticking with their candidate, and many think he'll weather the current storm. But they've had a rotten run for the past couple of weeks — a ride rough enough to bring a little hope to the Democrats and a little fear to conservatives.
Recent history is with the Republicans.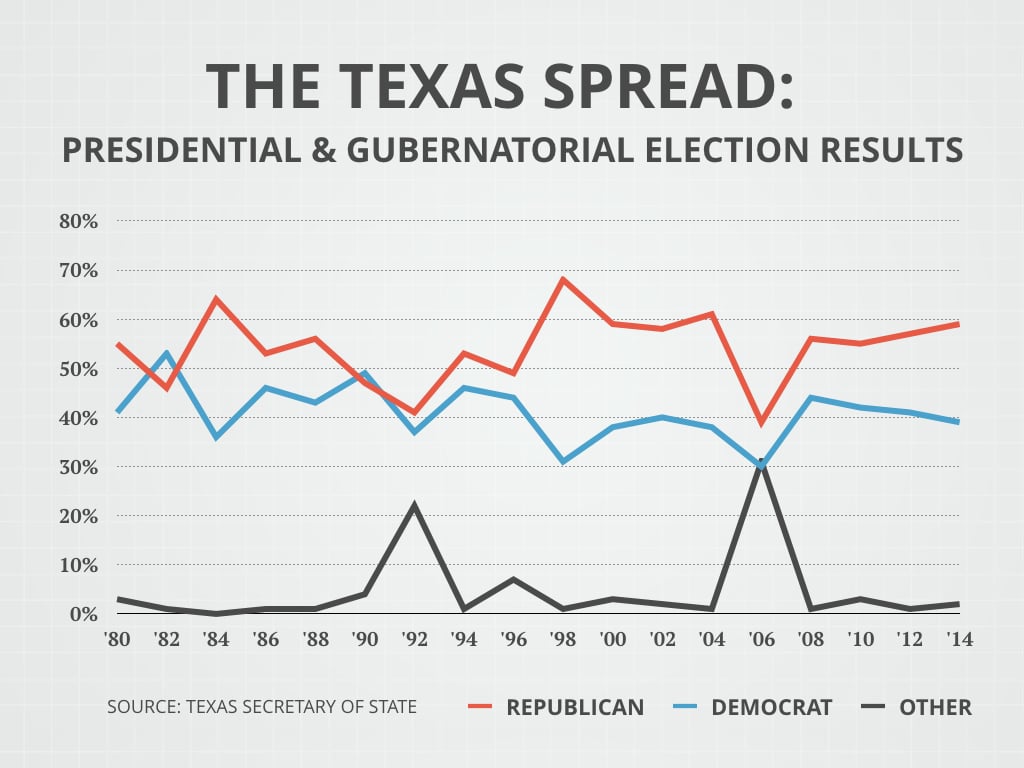 Without third-party candidates putting up big numbers, it would take a monumental collapse on the Republican side to turn Texas blue, or even purple.
This is a double-digit Republican state in presidential elections. Only one Democrat — Jimmy Carter in 1976 — has been able to break the Republican streak that began in 1972.
Only one Democrat — Bill Clinton in 1992 and 1996, with an assist from data services billionaire Ross Perot of Dallas — has been able to hold the Republican margin under 10 percentage points during that four-decade period.
Races for governor — the marquee state contests in non-presidential years — don't offer much hope. Democrats have won just two of those elections since 1978. That's the year Bill Clements broke a historic drought for Republicans, surprising Democrat John Hill and taking up residence in the Governor's Mansion.
The Democrats won it back in 1982, lost it, won it again in 1990 and have not elected a governor since. Most of those were, like the presidential races, double-digit wins for the Republicans.
Since Gov. Ann Richards lost to George W. Bush in 1994, only one Democrat lost by less than 10 points. Chris Bell lost to Rick Perry by nine percentage points, with an assist from third-party candidates Carole Keeton Strayhorn (now Keeton) and Richard "Kinky" Friedman.
Some presidential election watchers had high hopes for the Libertarian Party's Gary Johnson and the Green Party's Jill Stein, thinking the two would scoop up conservative and liberal voters who didn't like the main contenders. Neither has made the kind of dent in the polls that Perot did, or that former Alabama Gov. George Wallace did before that.
Last week, a WFAA/SurveyUSA poll found Trump ahead of Clinton by only four points — a virtual tie in a survey with a four-percentage-point margin of error — with Johnson and Stein together getting just 4 percent of the votes.
To be sure, that poll was in the field as voters were coming out of the second presidential debate and watching a wave of revelations about recorded Trump comments about sexually assaulting women and a growing list of women who say he assaulted them.
It was, arguably, the worst possible time to take the candidate's political temperature, and it might be transitory. Maybe Trump's Texas voters will rally to his side before early voting starts on Oct. 24.
The predecessors set the marks. On the Republican side, Mitt Romney got 59.3 percent of the Texas vote in 2012; John McCain got 55.5 percent in 2008; former Gov. Bush got 59.3 percent in 2000 and 61.1 percent in his re-election bid four years later.
The Democratic numbers, as you might expect, are grim. No candidate has broken 45 percent since Carter. Bill Clinton got 43.8 percent in 1996; President Barack Obama got 43.7 percent in 2008.
The blue votes have fallen short of the red votes for years, which is why it seems so unlikely that Hillary Clinton might beat Trump in Texas in 2016. Losing Republican presidential candidates usually win here even when they can't sell their ideas everywhere else.
If this year's nominee has another week or two like his last week or two, he'll put that recent Texas election history to a real test.
More columns from Ross Ramsey:
Regulators are deciding how much lobby wining and dining Texas lawmakers can accept without revealing their names. Hint: It's a lot.
Republican politicians in Texas ought to be celebrating right now, and for a variety of reasons. But the national election has them looking at the political weather forecasts, where they're bracing for Hurricane Donald and a chance of purple rain.
You know the unofficial rules: Nonvoters don't count. They're just noise. When politicians ignore them, nothing happens. As long as nobody stirs the majority of Texas adults who don't vote, they are — politically speaking — a big fat nonfactor.
Texans need truth. Help us report it.
Independent Texas reporting needs your support. The Texas Tribune delivers fact-based journalism for Texans, by Texans — and our community of members, the readers who donate, make our work possible. Help us bring you and millions of others in-depth news and information. Will you support our nonprofit newsroom with a donation of any amount?
Yes, I'll donate today
---
Information about the authors
Explore related story topics