In Corpus Christi, Many Veterans Still Facing Long Waits for Care
VA staffing shortages in the Corpus Christi area have created monthslong waits for many of the veterans trying to see primary care doctors, dentists and other specialists.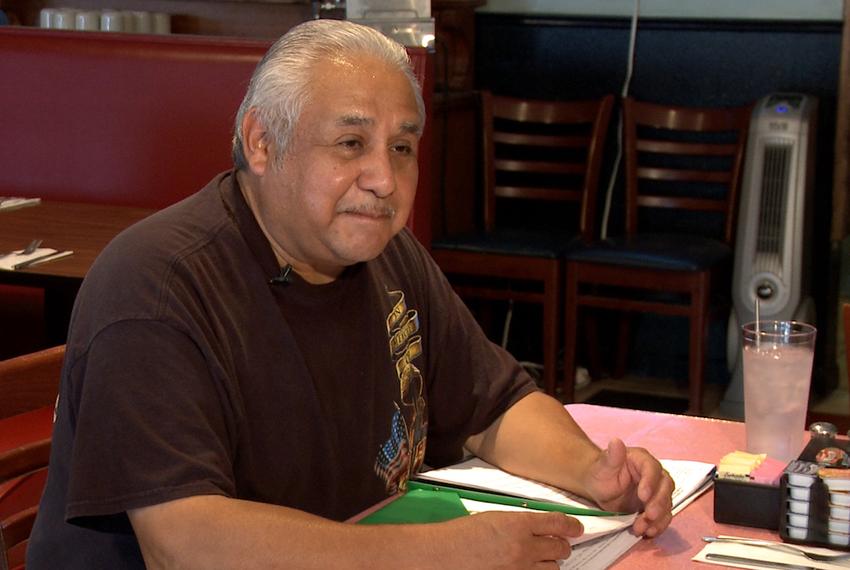 CORPUS CHRISTI — Ray Harding has come a long way in a year and a half. Battling post-traumatic stress disorder, the Vietnam War veteran had received counseling at a Corpus Christi VA clinic for a couple of years near his Rockport home. But early last year, he said, the in-person appointments with his psychiatrist suddenly stopped.
"Whether it was lack of communication or I don't know what," remarked Harding, 69, "the way I say it is I fell through the cracks in Corpus Christi."
In February 2015, Harding reached his lowest point. That's when he tried to commit suicide by shooting himself in the head.
"I woke up in the hospital two or three months later," Harding said. "They told me I would be paralyzed on my left side for the rest of my life."
But Harding overcame the odds. After months of intense physical therapy, he's walking and even driving short distances. He continues to work through his PTSD with a psychiatrist at the Corpus Christi VA Specialty Outpatient Clinic.
But he says he's perpetually waiting for appointments for a list of medical and dental services.
VA staffing shortages in the Corpus Christi area have created monthslong waits for him and many others among the region's thousands of veterans as they try to see primary care doctors, dentists and other specialists. The VA also issues vouchers so veterans can see private providers that try to help with the patient load, but delayed payments on claims have forced many doctors' offices to stop seeing veterans.
The waits are emblematic of the challenges VA clinics across Texas and the nation continue to face even after series of stories in 2014 exposed systemic problems within the VA. Those reports of veterans being denied or delayed care led to the resignation of the VA secretary and federal promises to improve efforts to serve those who served their country.
But as VA officials in Corpus Christi say, it's still a hard climb to satisfy a growing need.
Staffing challenges
"We're not fully staffed right now, far from there," said Hugo Martinez, a public affairs officer for the VA Texas Valley Coastal Bend, which serves 41,000 veterans in 20 counties in far south Texas, including Corpus Christi. "Unfortunately, the reality is that there are a lot of specialties in our entire area for which there are very limited number of providers within our catchment area and the wait times are pretty long."
The demand to see a primary care doctor is not far behind. Martinez said the two VA outpatient clinics in Corpus Christi are short four of the 12 primary care doctors they're authorized to have on staff.
Within the region, the greatest shortage of providers is in the Coastal Bend, according to Martinez, who said incentives are used to attract and keep physicians, including paying for relocation and reducing student loan debt.
The VA's goal is to get veterans an appointment within 30 days of the date a doctor tells a patient they need to be seen by.
Martinez said that in the Corpus Christi area, the average wait time for primary care appointments is within six days of that date. That average jumps to 18.5 days for specialty care, but he acknowledges there are exceptions, with some veterans waiting months to be seen.
Federal lawmakers are continuing to seek ways to improve access to care.
In the spring, U.S. Sens. John Cornyn and Ted Cruz of Texas joined several colleagues in introducing the Care Veterans Deserve Act of 2016 to improve choice and flexibility for veterans seeking health care. The legislation stalled out in committee.
Outside providers
Martinez said that vital help for the VA clinics comes from outside the system.
"I'll tell you, if it weren't for our community partners, things would be a lot worse for our veterans, obviously," Martinez said.
If the VA fails to get a veteran an appointment within 30 days, Martinez said it offers them a voucher to be seen by a private provider in the community. But the number of local physicians willing to accept VA vouchers has dwindled significantly because of payment delays.
"Things have gotten better, but a lot of providers were burnt years ago, and they don't want to come back and we can't blame them for that," Martinez said.
He added that the VA offers providers training on how to submit a clean claim. There's also a move within the VA, he said, to streamline the payment system from the seven different ways community partners are currently paid for administering care into a single, standardized method.
The average number of VA voucher claims in the Valley Coastal Bend paid within 30 days is 86.5 percent, Martinez said, slightly better than the national average of 82.5 percent.
"Nothing is done right away," Mary Gonzalez, the office manager at Rockport Dental, said about payments to her office during the 10 years it has served veterans through the VA. "The turnaround time is usually anywhere from six months to a year for payment. It takes a while."
Other area offices The Tribune contacted expressed similar experiences with the VA. Some have stopped accepting new VA voucher patients, while others no longer serve the population at all.
Cardiology Associates of Corpus Christi continues to treat veterans despite having 600 outstanding VA voucher bills totaling $294,000.00 ($95,000 of that hospital services), said Sylver Vasquez, its office manager.
Vasquez and Gonzalez both said their veteran patient loads increased after the summer of 2014, when the VA expanded its voucher program amid whistleblower claims that staff members at agency hospitals nationwide fudged records to make it appear that veterans were experiencing shorter waiting times.
Veterans in Corpus Christi say wait times and efficiency haven't gotten much better.
"It's hard to get appointments," said Abram Lopez, a retired Army veteran. Lopez said he had a hearing test in February and is still waiting for his hearing aids.
"You get to the point where there's nothing really that you can do, but you just live with it," he said.
Hugo Martinez, with the VA, is well aware of the system's shortcomings.
"I understand the veterans have heard this too long, too many times already," he said. "But we're making that turn, it's just not going to happen overnight."
Texans need truth. Help us report it.
Independent Texas reporting needs your support. The Texas Tribune delivers fact-based journalism for Texans, by Texans — and our community of members, the readers who donate, make our work possible. Help us bring you and millions of others in-depth news and information. Will you support our nonprofit newsroom with a donation of any amount?
Yes, I'll donate today
---
Information about the authors
Explore related story topics