Texas vs. the Feds: A Look at the Lawsuits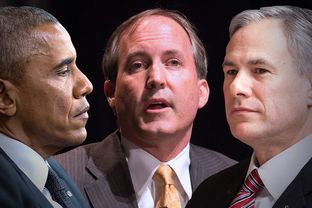 Enlarge
Graphic by Callie Richmond / Bob Daemmrich / Pete Souza
Editor's note: This story was originally published on July 31, 2015. It has been updated to include new lawsuits filed by the state of Texas against the Obama administration as well as new cost estimates.
*Correction appended
Since President Obama took office in 2009, the State of Texas has sued his administration 40 times — a point of pride for the state's Republican leaders.
Former Texas Attorney General and current Gov. Greg Abbott filed 31 of those lawsuits. His successor, Ken Paxton, has mounted nine such legal challenges since taking office in January.
The attorney general's office provided cost estimates for 35 of the cases against the Obama administration, which as of early December 2015 totaled about $5.1 million.
So what did Texans get for their money?
Based on court rulings, Texas has definitively won six of those cases. In 10 cases, the courts ruled against the state. The AG's office withdrew eight cases, including a lawsuit over medical benefits for same-sex couples that was filed last March.
The remaining 16 cases, on subjects such as Obama's climate change proposals and his deferred action initiative for undocumented residents, are still pending. A federal appeals court ruled against the immigration action in November, and a U.S. Supreme Court ruling is expected soon.
Use the menu below to select and view Texas' lawsuits against the federal government by category. We'll tell you what the face-off is about, the total cost to the state and the standing of each lawsuit.
Sophia Bollag contributed to this report.
*Correction: An earlier version of this story included the wrong year that President Obama took office.