At the Top of Texas, Town Offers Lessons In Oil Bust Survival
Nearly three decades ago, Perryton's town-wide celebration for $20-per-barrel oil made news across the country, delivering a hopeful message to those mired in an oil bust. The Panhandle town faces a modern day oil bust, but residents are sure they'll stay on the map.

How plunging oil prices are reversing fortunes across Texas. Read all the stories in this series.
PERRYTON — Nick Long was ready to party. For four months of 1987, he and some confidants had secretly prepared to uncork a celebration in this town at the top of the Texas Panhandle. Folks needed some revelry amid a yearslong oil glut that left a trail of shuttered banks, foreclosed homes and repossessed vehicles. They craved images of a rebound.
Long, the operations manager at the local radio station, had picked his party trigger: $20 per-barrel oil. He had stashed a few cases of sparkling juice (Ochiltree was a dry county, after all) in a closet at work and waited for West Texas crude to reach that low — but no longer soul-crushingly low — value on the market.
"The whole purpose was just to lift up the attitudes, and give us a moment," Long, now 62 and living about three hours southwest in Floydada, recalled in an interview. "It was just a little bit of a milestone. We were out of the rock-bottom kind of stuff."
Perryton's town-wide bust bash of 1987 would lift its spirits — temporarily, at least. And it would ripple far beyond the community. People as far away as Saudi Arabia would read newspaper accounts overflowing with hopefulness from the oil-and-ag town that calls itself "America's Wheatheart."
Twenty-nine years later, the city of more than 9,000 residents has hit another rough patch. The oil market's latest nosedive has conjured up memories from those teetering 1980s — bringing a new batch of layoffs and plunging tax revenue. But even as the sulfurous smell of money dissipates, longtime residents are sure they'll stay on the map, for good reason. They know a thing or three about weathering storms, whether wrought by market forces or Mother Nature.
"This, again, is not our first rodeo," said City Manager David Landis, who has held the post since 1986. "We're survivalists. We take care of business — whatever we have to do. And I don't think we have a choice."
Boom to bust, again
Around 2011, a U.S. drilling renaissance sparked new activity in the Anadarko Basin, the oil- and gas-rich formation centered on the Texas Panhandle and western Oklahoma and stretching into Kansas and Colorado. The boom manifested in typical fashion here: surging tax revenue, bumper-to-bumper tanker traffic rumbling down Main Street, hotel rooms booked for months at a time and RV parks popping up to meet housing demands.
Outside of his window-walled office each weekday, Doug Hale, the longtime president of Perryton National Bank, recalled seeing lines of oil executives or others itching to pour some money into the local economy.
But these days? They involve gloomier discussions about restructuring debt for energy companies wading in red ink. "Come by anytime," he tells a reporter who asks for an interview. He has plenty of time on his hands.
After inching up in recent weeks, West Texas crude prices now hover around $48 per barrel (about $23 in 1987 dollars) — still less than half of the peak from mid-2014.
"We're survivalists. We take care of business — whatever we have to do. And I don't think we have a choice."— David Landis, Perryton City Manager
That plunge has hurt Perryton. Perhaps the biggest hit: The oilfield service giant Baker Hughes closed down its yard here, laying off 123 workers and taking off the books its $25 million tax base. Nine of the top 10 biggest taxpayers last year came from the petroleum sector, according to the city manager's office, and Baker Hughes topped that list. All told, city sales tax collections were down nearly 40 percent in the first four months of 2016, compared to two years before.
Meantime, the prices of wheat and other agriculture commodities have stayed stubbornly low, causing hardship for local farmers.
"We're getting kind of double hit," said Hale.
The county's unemployment rate climbed to 5.1 percent in March, above the statewide average of 4.3 percent. It was 3.6 percent two years before.
Still, the community is hardly hollowed out. Traffic still coasts down the town's main artery, though not as much; trucks sit in hotel parking lots — but the lots are not full. Commerce is happening, just at a slower pace.
A smattering of new businesses has opened in recent months: an Italian restaurant, a coffee shop and a craft store, to name a few. They have found space inside less than five square miles of city limits that already featured a golf course, small lake, community college and a tidy downtown. The courthouse and movie theater have been around almost as long as Perryton has.
In some cases, laid off oilfield workers are cashing in severance packages to try something new, said Shawn Campbell, executive director of the Perryton Community Development Corporation, which offers resources to those taking such risks.
"We have people coming in all the time, and calling all the time," she said.

Though slowed by the bust, Perryton's retail sector remains relatively healthy, officials say, partly due to geography. This is the biggest town in a wide radius, drawing faithful shoppers from tiny communities around Texas, Oklahoma and even Kansas that lack options. People from surrounding communities also visit Perryton for its events — rodeos, demolition derbies, red dirt country music concerts.
"A lot of people say we're isolated," said Campbell. "I say we're insulated."
Even some local oil producers are finding ways to get by, such as Remnant Energy, a small independent that avoided taking on much debt during the boom. It has drilled three new vertical wells over the past six months, said Richard Beyea, its president. That's down from the past couple of years, when it drilled several more, but the company's conservative approach has thrust it into "acquisition mode" today, he added. "We ran really lean all the way through the boom times — kind of drove everyone nuts, but we did."
With the falling revenues, the city will likely trim its budget and hike taxes or fees. But officials are eyeing cuts not fully proportional to the downturn, said Landis, the city manager. That's because they can tap money socked away during the boom — reserves that could keep the government working for a full year if revenue completely dried up.
"You know that this too shall pass," said Landis.
If history is any guide, residents have little reason to doubt that he's right.
"Astonishment is excusable"
Sitting closer to six other state capitals than to Austin (yes, even Wyoming's), Perryton has a knack for fixing its own problems, dating back to its earliest days.
The town's roots lay in defunct towns in rival states: Ochiltree, in Texas, and Gray, about 20 miles north in Oklahoma. In the early 1900s, each sought a railroad to stoke their growing economies. Neither got exactly what they hoped for. The east-to-west tracks of the now-defunct Panhandle and Santa Fe Railway would cut 12 miles north of Ochiltree and eight miles south of Gray, far enough away to threaten each town's existence. So in 1919, residents literally pulled the towns together, to the amazement of verbose journalists of the era.
"Yet when every building in a village of 300 inhabitants is hitched to a tractor and pulled across the prairie to a new site, astonishment is excusable," read an article in a 1920 edition of Popular Mechanics. "That is exactly what happened, however, not long ago down in Texas' 'panhandle,' where they are accustomed to doing things in a big way."
A framed copy of the piece now sits at the local Chamber of Commerce.
"People don't let things dampen their spirits," said Kiki Shaw, the group's ebullient executive director. "It's all about adapting."
A clarion call
On a scorching hot Tuesday in June 1987, Nick Long could finally party. Oil was back at $20. Sometime after lunch, he roused the Perryton Pardners, the chamber's ubiquitous Welcome Wagon troupe. They pulled on their matching red jackets and followed their leader's directive: "Get on the horn, and spread the word."
Word, in fact, would spread across the country and beyond, thanks in part to a press release that Long faxed to the Associated Press. Newspaper reporters gobbled up the quirky details of the cheery town's bash.
"If this turns out to be the beginning of a New Oil Boom, an event fervently awaited in Texas," wrote Paul Weingarten, of the Chicago Tribune, "then let history record that the clarion call was first sounded in this tiny Panhandle town of 7,991 on the 16th day of June, 1987."
The "Red Coats" galloped through the streets and into stores, restaurants and banks shouting the good news, some through megaphones: "Oil's hit $20 a barrel — who wants to celebrate?" They distributed the non-alcoholic bubbly in paper cups.
Long recalled leaping onto the running boards of an 18-wheeler truck crawling through downtown. Rolling down his window, the driver asked about the hubbub. The radioman relayed his news and handed the trucker a cup.
"He just toasted me and drove off," Long said. "He had a big grin on his face."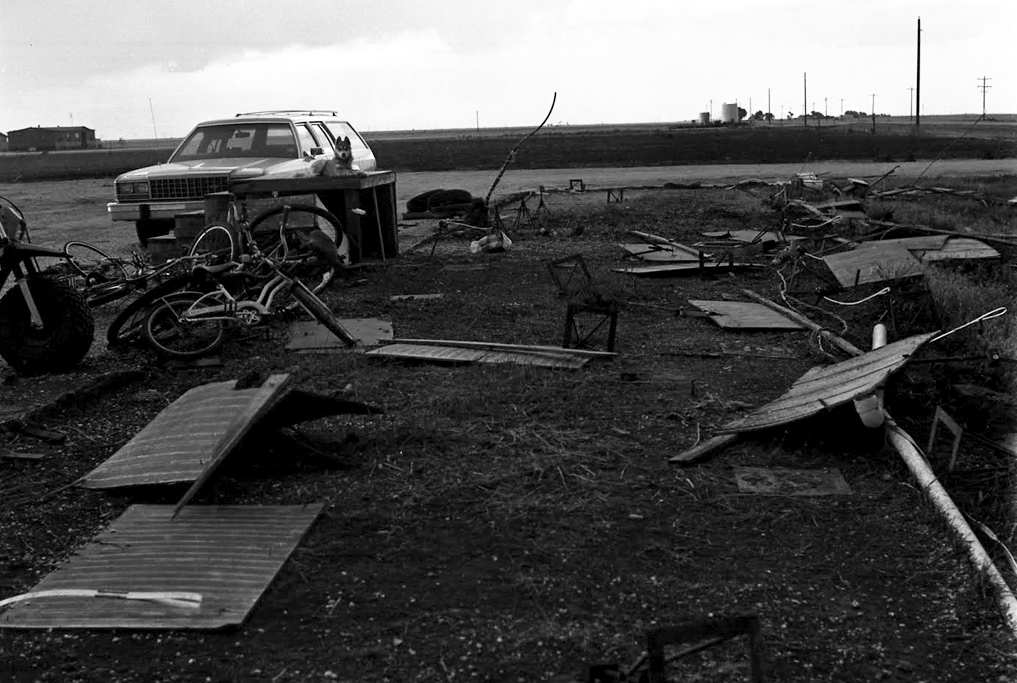 In a crueler twist of fate, a tornado would swirl through town the next day. It ripped apart a trailer home, killing 18-month-old Elizabeth DeAnn Vela and injuring her two brothers, her sister and their mother. Elizabeth and 10-year-old Raquel Vela, who was seriously hurt, were found beneath the wreckage, according to an account in the Perryton Herald.
The town would grieve, pick up its scattered pieces and find and furnish a home for the family within a few days.

Oil prices would fall back below $20 in the ensuing months, and stay there for long stretches. But life would go on in Perryton, which, Long said, relished its brief time in the national spotlight.
These days, Long makes motivational speaking rounds in the Panhandle, telling audiences to "make the rest of your life the best of your life." Sometimes, Long said, he totes along the sparkling juice to illustrate tales from his four and a half years here.
"They just got a will to fight and pull together," he said.
Your New Year's resolution list isn't complete without …
… supporting the Tribune. This new year, resolve to do your part to sustain trusted journalism in Texas. Join thousands of readers who power The Texas Tribune's nonprofit newsroom.
Donate now