Christian Calls Gates "Slumlord" as Railroad Commission Runoff Nears
In an increasingly testy Republican runoff for railroad commissioner, state Rep. Wayne Christian is reaching into Gary Gates' legal history in an effort to paint his opponent as a "slumlord."
HOUSTON — In his run for a seat on the Texas Railroad Commission, Gary Gates has campaigned heavily on his business credentials, noting that he built a sprawling real estate company from scratch with his own sweat and dollars.
Gates, who has run for public office several times but never held it, suggests that his experience shaping and leading companies that now employ 350 people and own roughly 5,500 apartment units qualifies him to join the three-member commission that oversees the state's oil and gas production, natural gas utilities and mining operations.

But in an increasingly testy Republican runoff for the seat, former state Rep. Wayne Christian is reaching into the past — painting Gates as a "slumlord" who had trouble repaying a loan and faced a court battle with the city of Houston over safety at a crime-ridden apartment complex he owns on the west side of town.

"How can the people of Texas trust Gary Gates to take care of our natural resources and protect our communities when he does not even seem concerned about the safety of the tenants who rent from him?" read a recent press release from Christian's campaign.
Gates, who has relentlessly criticized Christian's record as a lawmaker and brands him a "career politician," calls the attacks dirty politics. He points out that Houston ultimately dropped its lawsuit after he fought back and that such challenges are bound to crop up in any successful business career.
Read MoreTexas Railroad Commission Hopeful Unclear on Agency's Duties
"I lived the American dream, and they want to sit there and grade my papers from the past 30 years," he told the Tribune. "We can't control all crime."
Regardless, the issue highlights the vulnerabilities of a candidate who earned his wealth by building a small real estate empire of relatively low-cost rental units. And it provides another example of how Gates — who is more widely known for waging a partly successful legal battle against state Child Protective Services over its investigations into allegations that he had abused foster children — is not afraid to bury government agencies in litigation when they challenge his practices.
Read MoreChild Abuse Case Resurfaces in Railroad Commission Race
Gates said that most of the apartment complexes he buys are considered "Class C," typically older units that need rehabilitation and are rented out relatively cheaply.
He said he bought the Deerfield Apartments out of bankruptcy in 1987, just as his business was getting off the ground. The city of Houston later lent him $1.12 million to rehabilitate the property.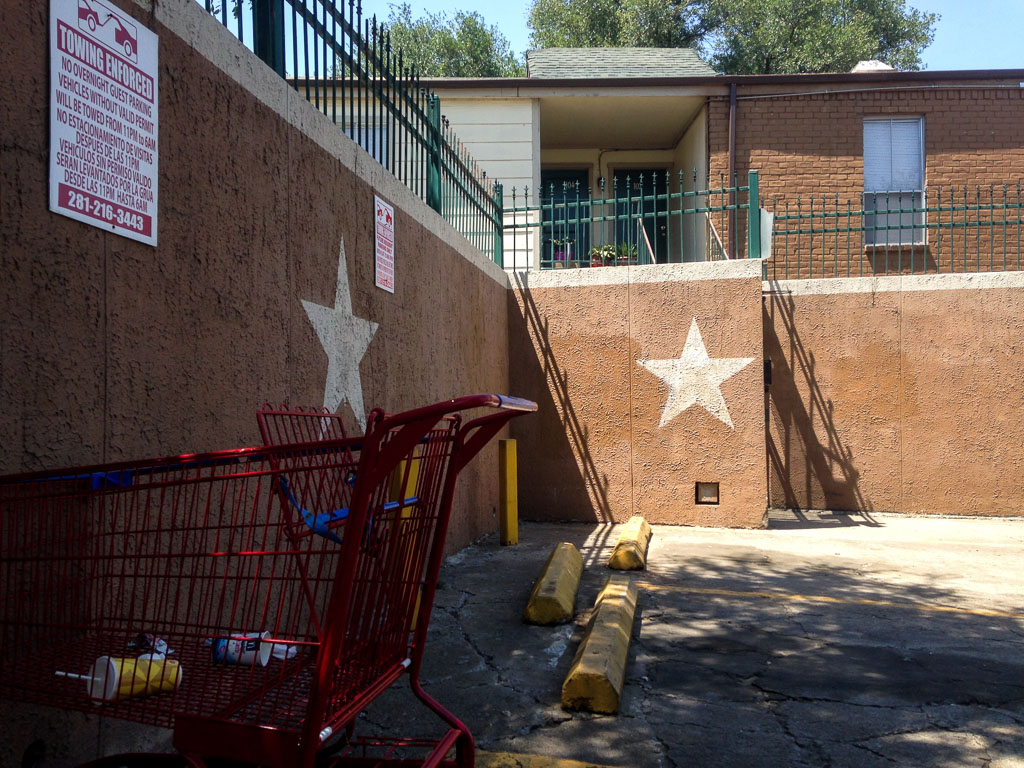 "It was in a real difficult area," he said. "That's kind of my specialty — buying very difficult properties."
And that complex did present challenges.
In 2007, Houston sought to shut down the Deerfield Apartments for a year. In a lawsuit, the city alleged that his companies — APTDF and Gatesco — tolerated the rampant crime on the property. The lawsuit documented 55 offenses on the property over a two-year period, ranging from prostitution and drug offenses to sexual assault and capital murder.
"Defendants have made no reasonable attempt to abate the criminal activity at Deerfield Apartments, and should be enjoined from maintaining a common nuisance," Houston argued.
Houston's lawsuit followed complaints from fearful residents. At a city council meeting in August 2006, for instance, Councilman M.J. Khan discussed an email from a constituent who reported being jolted awake one morning by six rounds of automatic gunfire — and hearing more shots while police dispatchers told them they had no one to send out.
The resident said such violence had persisted for years in the neighborhood and wanted Gates to hire a security guard to patrol the area and to replace a fence that had been torn down, according to council meeting minutes.
Earlier that year, Gates' companies faced a similar lawsuit after 9-year-old Jose Luis Briones was shot in the back and severely injured during a 2004 robbery at the Deerfield complex. Briones' family levied similar neglect allegations and ultimately received a $3,500 settlement from Gates' company, according to court documents.
Gates never faced any legal repercussions from the city of Houston's lawsuit. The city ultimately dropped the challenge after the mogul's companies countersued.
"It was a struggle operating that property, and I think I did have some difficulty making those payments and maintaining it the way that I would like to."— Gary Gates, Republican candidate for Texas railroad commissioner
In their lawsuit, Gates' companies accused Houston of "making an arbitrary and capricious decision" to single out the Deerfield property — violating their right to equal protection under the law. And they called any effort to require the management to hire security guards an "unconstitutional tax" on the property.
The companies alleged that a flood of Hurricane Katrina evacuees had spiked crime in the city — a common refrain at the time that experts say was not supported by statistics — and they blamed Houston for failing to bolster its police force to address it.
Houston ultimately dropped its suit, but Gates' counter-suit appears to remain open, though inactive since 2014.
A city spokeswoman did not respond to repeated messages seeking comment.
Gates' counter-suit also argued that Houston, by filing its suit, was breaching its loan agreement.
Gates actually defaulted on that $1.12 million loan in 2000. Six years later, the parties signed a contract — an extension that forgave nearly $300,000 in interest on the loan, and agreeing to forgive more than $500,000 if he met certain conditions.
That included renting out more than a third of the apartments to particularly low-income residents at especially low rates, Gates said.
The Republican admitted that that he had financial troubles with the property early on.
"It was a struggle operating that property, and I think I did have some difficulty making those payments and maintaining it the way that I would like to," he said, adding that the city renegotiated the loan — now paid off — because "I'm a guy that sticks with it. I have no partners, and I wasn't going to flip it."
Today, the property is "one of the best in the neighborhood," Gates said, noting that he has built a six-foot-high cement wall around the complex, topped with a shorter metal fence. And a security gate is designed to let in only those who have a key. Gates noted that he's making major renovations — including adding security features — at the Whispering Oaks Apartments across the street, which he also owns.
But Christian, his opponent in the May 24 runoff, has sought to capitalize on his past legal challenges.
"If he's going to use the businessman argument, why is he holding onto this asset?" Travis McCormick, a Christian campaign spokesman said. Gates, who also waged a lengthy legal battle with the Child Protective Services over child abuse allegations that the later dropped, is "obviously lawsuit trigger happy," he added.
"In my personal life and business life, I don't let government — I fight back," Gates told the Texas Tribune.
The neighborhood surrounding the Deerfield — and a cluster of neighboring low-priced apartments — looked somewhat rough-and-tumble when the Tribune visited during a weekday afternoon this month, with broken bottles and empty fast food cups and wrappings littering the streets.
But with its wall and gate, the apartment did appear more secure than many in the neighborhood, which, in the previous two weeks has seen reports of auto thefts, burglaries, robberies, aggravated assaults and sexual assault.
A staffer for city Councilman Mike Laster, who represents the neighborhood, said he was not immediately familiar with Gates or his particular apartments, but would check whether any were problematic today. He did not respond to a follow-up message.
A man drinking whiskey outside the Whispering Oaks Apartments said he often visited friends at the complex and hadn't heard of any troubles with the management. He would not share his name.
Gates bristles at the "slumlord" accusation that Christian's campaign has hurled, and says his apartments offer shelter to folks who may not be able to afford housing elsewhere.
"Mr. Christian wants to call me a slumlord. Hey, people like me are part of the solution, not the problem," Gates said. "My people have the right to come home and feel as secure as possible. We try to provide the best product we can for the rent."
Texans need truth. Help us report it.
Our Fall Member Drive is underway, and we need your support. The Texas Tribune is a critical source of truth and information for Texans across the state and beyond — and our community of members, the readers who donate, make our work possible. Will you join as a member with a tax-deductible donation of any amount?
Yes, I'll donate today
---
Information about the authors
Explore related story topics