New Texas House Panel Grapples With Proposed EPA Rules
Also, a large chunk of Texas' congressional delegation wades into Red River land dispute, and a state senator plans a two-day summit on threats to the electric grid.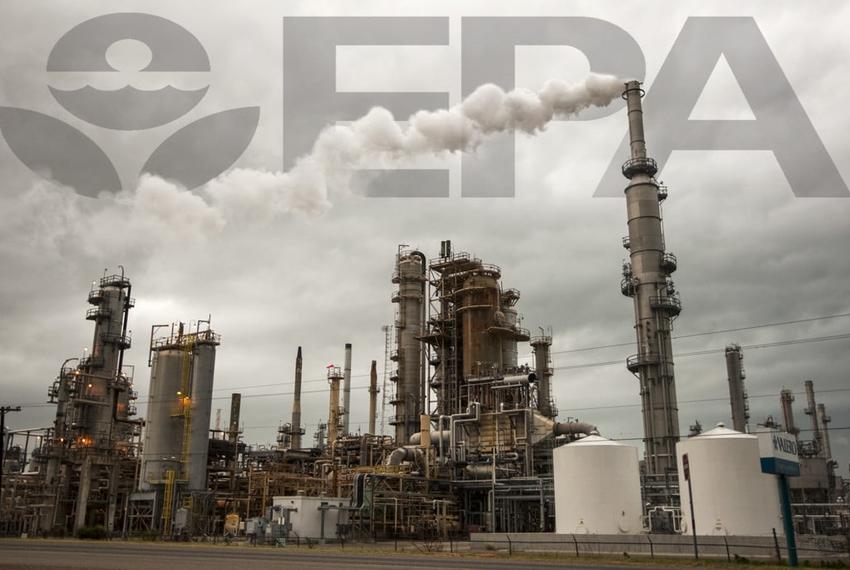 Texas officials still don't much like the U.S. Environmental Protection Agency.
The Texas House Select Committee on Federal Environmental Regulation met for the first time Tuesday to examine the litany of federal rules — some looming, some held up in court — that power companies and others may soon grapple with. Among them: the Clean Power Plan, tightened standards on smog-forming ozone and a crackdown on methane that wafts from oil and gas sites. And that's just to name a few.
Lawmakers heard testimony from several officials, including Bryan Shaw, chairman of the Texas Commission of Environmental Quality and Bryan Lloyd, executive director of the Public Utility Commission. They each portrayed the federal rules as unnecessary, costly and a threat to the electric grid.
On perhaps the most consequential regulation, the Clean Power Plan, Lloyd said, "We ultimately don't think this rule will be upheld." The U.S. Supreme Court stayed the rule in February as litigation unfolds, but the death of conservative justice Antonin Scalia later threw a curveball at the rule's opponents.
Though Democrats such as state Rep. Gene Wu of Houston, pushed back against the criticism, the mostly Republican panel largely echoed those officials, continuing a recent Texas tradition of treating the EPA as a political punching bag.
The committee did not invite any testimony from parties more sympathetic to the EPA.
*****
A chunk of Texas' congressional delegation is supporting folks along Texas' side of the Red River in their legal battle against the federal Bureau of Land Management.
Twenty-two members of the delegation filed an amicus brief Wednesday backing the landowners' arguments in the case, currently in federal district court in Wichita Falls.
"Today I stand in support of Texans who have, in many cases, for generations, owned and paid their taxes on property that is legally theirs," U.S. Rep. Roger Williams, R-Austin, said in a statement announcing the filing. "The right to private ownership is a core foundation on which this nation was built, but today the federal government is trying to change the rules to strip Texans of what is rightfully theirs."
Questions have swirled near that stretch of river since December 2013, when bureau representatives arrived in North Texas to discuss updates to its resource management plans in Kansas, Oklahoma and Texas — specifically, how the land would be used for the next 15 to 20 years.
The area includes about 90,000 acres along the Red River that the agency considers public land, with perhaps a third of it on the Texas side.
The agency has said its claim comes from a 1923 U.S. Supreme Court decision, one that delineated the boundaries between Texas and Oklahoma and assigned the feds the patches in between.
But Texans have long managed swaths of that area. They hold deeds to the land and have diligently paid their local taxes. The bureau has not fully surveyed the area, so it is not clear precisely where the public boundary lines intersect with private lands.
The court recently granted standing in the case to Texas Attorney General Ken Paxton and Land Commissioner George P. Bush.
See the Tribune's previous coverage of the lawsuit here.
*****
Texas Sen. Bob Hall is really concerned about electromagnetic pulse attacks — so concerned that he will host a two-day summit at the Capitol about that possibility and other issues that he sees as threats to the state's electric grid.
Other topics mentioned in the invitation to the April 28-29 event: geomagnetic solar storms, cyber attacks and "discussions related to emergency preparedness and emerging protective technologies."
Electromagnetic pulse (often abbreviated EMP) has long been a fascination and fear of Hall and a doomsday faction of the Republican Party. Last session, he pushed failed legislation that would require an independent organization to study and report on such threats to the Texas grid.
For the uninitiated, the EMP threat goes like this: If a nuclear missile is detonated in outer space above our country, it would release a shockwave of electricity that would fry circuits grid-wide — triggering mass chaos in a country left without cell phones, refrigerators, working cars and pretty much everything else folks depend on.
"The EMP/GMD threat is real and it is not 'if' but WHEN it will happen," Hall, R-Edgewood, wrote on his website last August.
No one disputes the science, but many in the industry suggest that the billions of dollars required to harden the grid would be better spent addressing other problems or more likely forms of cyber attacks.
Support public-service journalism that gets the context right
Your donations make our reporting possible and keep it free for all to access. Support our nonprofit newsroom by May 11, and your gift will help us unlock $25,000 in matching funds from our partners at Tito's Handmade Vodka, the Bernard & Audre Rapoport Foundation and the Suzanne Deal Booth Charitable Trust.
Yes, I'll donate today