Laredo Mayor Doesn't Rule Out Voting for Trump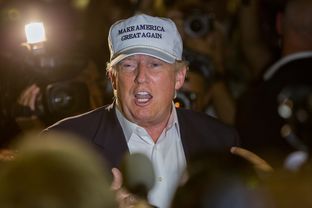 The mayor of a Texas border city whose population is 96 percent Hispanic and home to the country's largest inland port said on Wednesday that he hasn't ruled out the possibility of voting for Donald Trump.
The remarks from Laredo Mayor Pete Saenz came a day after the Republican billionaire doubled down on his promise to build a wall on the southern border and make Mexico pay for it.
While appearing on the Fox Business network, host Stuart Varney asked if Saenz could see himself voting for Trump. Saenz initially hesitated and said "there's a long way to go" before this year's general election in November.
"Is that an absolute 'no'?" Varney responded.
"No, it's not an absolute 'no'," Sanez said. "But obviously, as a mayor, I need to stay neutral. There is still so much ground to cover here. But it's interesting times. Believe me."
Laredo is the county seat for Webb County, one of six counties in Texas that Trump won on Super Tuesday, though he lost the statewide contest to his rival and U.S. Sen. Ted Cruz, R-Texas. Trump also won the border counties Terrell, Hudspeth and Zapata, as well as Aransas and Sabine.
Varney asked Saenz if Trump's victory in the region, where he earned 1,427 votes, or about 35 percent of the 4,089 ballots called, indicated that some Hispanics weren't opposed to Trump or even to a border wall. (The host also added that about 26,000 ballots were cast in the Democratic Primary in Webb County.)
Saenz, who identifies as an independent with conservative leanings, said the results indicated Trump "obviously has a following" in the region.
Though he didn't say he'd oppose Trump as the nominee, Saenz made clear his own opposition to the border wall. He said when Trump visited Laredo last year, he told the candidate the wall was offensive to Mexico and made little sense in the area due to the Rio Grande acting as a natural barrier.
"He was attentive. He's very personable, as we know," he said. "I am hoping there is no wall, but if [there] is, at least it won't include our area."