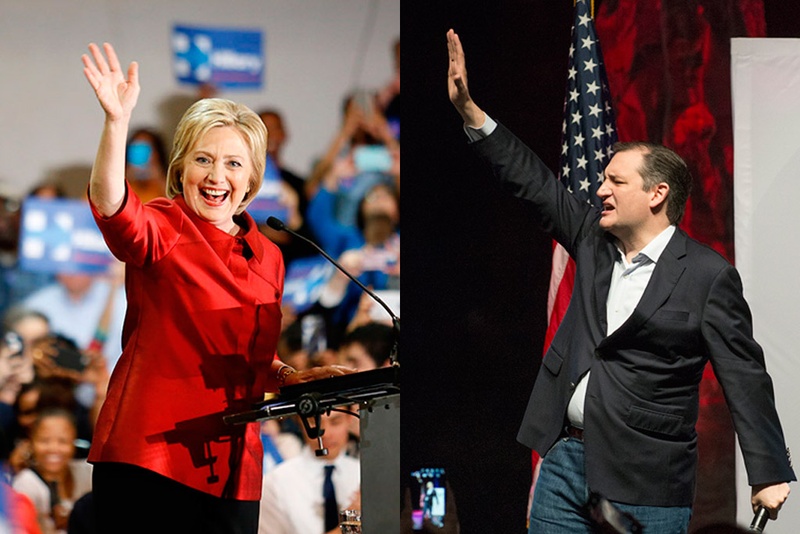 Editor's note: This story has been updated to reflect more complete election results reported by local and state officials.
More voters chose Republican Ted Cruz and Democrat Hillary Clinton than their leading primary challengers in almost every county in Texas, according to unofficial results from the Secretary of State.
With 100% of precincts reporting, Cruz came away with 1,239,158 votes, or 43.8% of the total. Donald Trump followed behind with 757,489 votes, or 26.7% of the vote.
Cruz, one of the state's two U.S. senators, got the most votes in all but six of the state's 254 counties. Most notably, Trump pulled ahead in Aransas and Webb counties in South Texas, homes to part of the Corpus Christi metro area and Laredo, respectively.
The Texas Tribune thanks its sponsors. Become one.
In the Democratic primary, with all precincts reporting, Clinton received 934,999 votes over Bernie Sanders' 475,559, giving her a lead of 65.2% to 33.2% of all votes.
She received more votes than Sanders in all but 15 counties. In Coke and Glasscock counties, the candidates tied with 25 and 4 votes, according to the Secretary of State's numbers. In Austin's Travis County, Sanders received nearly 74,000 votes, more than 4,500 over Clinton.