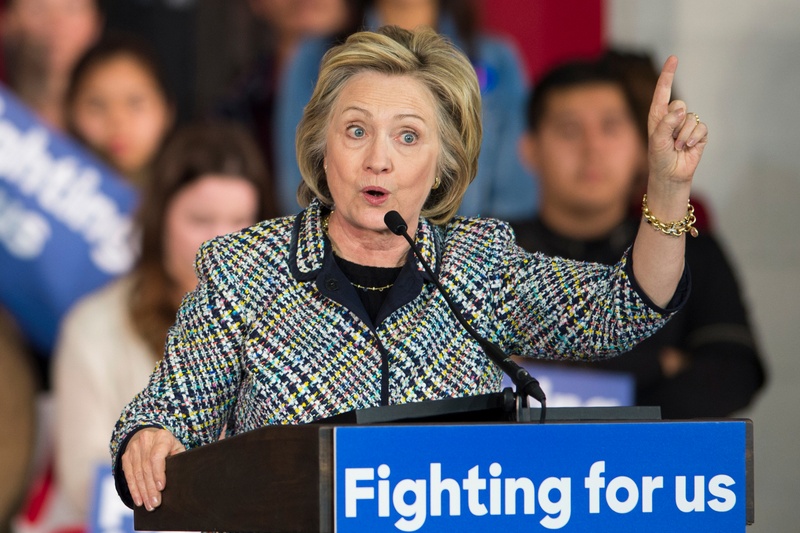 *Correction appended.
Hillary Clinton's campaign is boasting the added support of more than 40 Texas officials as it continues to increase its focus on the Lone Star State.
Clinton's campaign released the endorsements Thursday with less than three weeks until the March 1 Texas primary, further demonstrating the campaign's extensive backing from the Democratic establishment in the state.
While several of the officials on the list were already known Clinton supporters, these endorsements come in addition to the campaign's "Texas Leadership Council" of almost 90 Texas Democrats from October, which included well over a majority of the Texas Democrats holding elected office in the Texas Legislature and Washington, D.C.
"Hillary Clinton enjoys broad support among a diverse cross-section of Texas Democrats, and it's because we know she'll fight for Texans as President," state spokesman Carlos Sanchez said in a statement. "These current and former elected officials are backing Hillary Clinton because they have seen her prioritize the needs of local communities in this campaign — from new investments in infrastructure, to reforming our criminal justice system, to promising to defend and expand affordable health care and voting rights."
After U.S. Sen. Bernie Sanders' commanding victory in the New Hampshire primary Tuesday night and with national polls tightening, Texas is taking on a significant role in the primary, with 252 delegates up for grabs and a nominating contest that's coming earlier than in previous presidential elections. Clinton aides and supporters believe she will have an advantage once the race moves on to more diverse areas of the country, such as Houston, Dallas and South Texas.
The current elected officials endorsing Clinton include four Democratic state representatives: César Blanco of El Paso, Eric Johnson of Dallas, Chris Turner of Grand Prairie and Armando Walle of Houston. The Clinton campaign is already backed by the entire Houston congressional delegation and all three Democratic state senators, including John Whitmire, who announced his support Feb. 4 at the campaign's Houston office opening.
Also among the endorsements are Dallas County Judge Clay Jenkins, Dallas County Sheriff Lupe Valdez and former Lt. Gov. Ben Barnes, who previously was a vice chair and top fundraiser for John Kerry's 2004 campaign. Tejano Democrats, the largest Latino political organization in Texas, endorsed Clinton earlier this week after delegate leaders voted to support her campaign at a convention in Houston.
While state Rep. Marisa Márquez, D-El Paso, is the only known member of the Legislature publicly backing Sanders, his supporters are hopeful for his prospects in Texas, citing his campaign's early organization efforts in the state and grassroots enthusiasm.
Clinton Endorsements:
State Sen. John Whitmire, Houston
State Rep. César Blanco, El Paso
State Rep. Chris Turner, Grand Prairie
State Rep. Eric Johnson, Dallas
State Rep. Armando Walle, Houston
Austin Mayor Steve Adler
Dallas County Judge Clay Jenkins
Dallas County Sheriff Lupe Valdez
Harris County Commissioner Gene Locke
Dallas City Councilor Monica Alonzo
Houston City Controller Chris Brown
Houston City Councilor Karla Cisneros
Houston City Councilor and Mayor Pro Tem Ellen Cohen
Houston City Councilor Amanda Edwards
Houston City Councilor Robert Gallegos
Dallas City Councilor Adam Medrano
Longview City Councilor Kasha Williams
Travis County Constable Sally Hernandez
Houston ISD Trustee Wanda Adams
Del Valle ISD Trustee Ann Heuberger
Austin ISD Trustee Yasmin Wagner
Austin Community College Trustee Dr. Betty Hwang
Dallas County Treasurer & Mayor Pro Tem Pauline Medrano
Austin Community College Trustee Dr. Nan McRaven,
Dallas County Schools Trustee Omar Narvaez
Travis County District Clerk Velva Price
Austin Community College Trustee Guadalupe Sosa
Wells Branch MUD Director Joy Smith
Former U.S. Sen. and U.S. Ambassador Robert Krueger
Former U.S. Ambassador Kathryn Hall
Former U.S. Ambassador Arthur Schechter
Former Lt. Gov. Ben Barnes
Former state Sen. Gonzalo Barrientos, Austin
Former state Rep. Valinda Bolton, Austin
Former state Rep. Harryette Ehrhardt, Dallas
Former state Rep. Sherri Greenberg, Austin
Former Mayor of Rollingwood William Hamilton
Former Travis County Commissioner Valeria Bristol
Former Travis County Commissioner Karen Sonleitner
Former Travis County Tax Assessor-Collector Cecelia Burke
Former Austin Mayor Pro-Tem and City Councilor Sheryl Cole
Former Austin City Councilor Jackie Goodman
Former Austin City Councilor Emma Lou Linn
Former Austin ISD Trustee Annette LoVoi
Former Dallas Mayor Pro-Tem and City Councilor John Loza
Former Austin City Councilor Laura Morrison
Former Texas Court of Appeals Justice Barbara Rosenberg
Former Texas Democratic Party Chairman Bob Slagle
Correction: An earlier version of this story listed an incorrect affiliation for Austin ISD Trustee Yasmin Wagner.