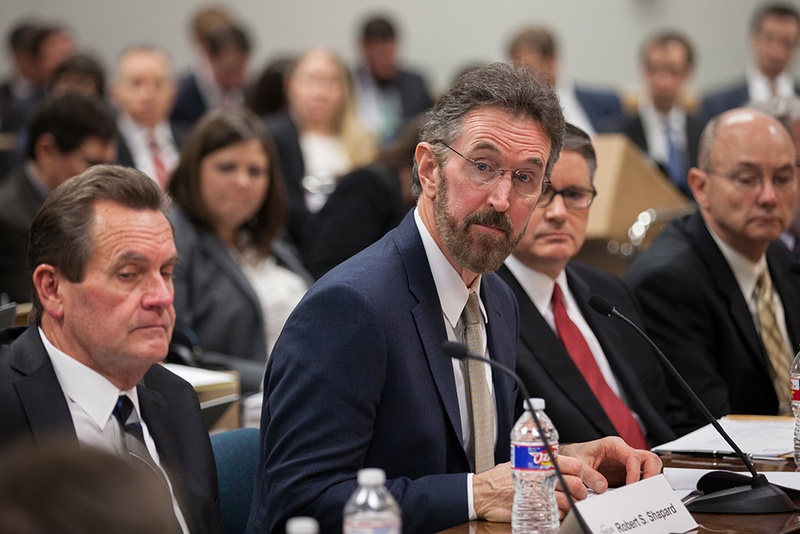 Oncor, the state's largest utility, is warning state regulators that electric rates could increase for millions of Texas customers if they approve a complex reorganization plan that would include its takeover of the much smaller, and struggling, Sharyland Utilities.
In a filing with the Texas Public Utility Commission Wednesday, Oncor, whose power lines serve 3 million homes and businesses in North and West Texas, said its management "does not express an opinion" about such a merger but called on commissioners to weigh any proposal carefully.
Adding Sharyland's roughly 50,000 rural customers to Oncor's service area could hike all residential rates by 1.25 percent, Oncor suggested.
"The bottom line is, while an Oncor and Sharyland combination may make sense at some point, the impact on Oncor and its customers should be carefully examined," the utility wrote.
The Texas Tribune thanks its sponsors. Become one.
The filing was Oncor's latest in response to the Ray L. Hunt family's $18 billion plan to buy Oncor and transform it into a real estate investment trust to save on taxes.
The proposal, which needs the utility commission's approval, has drawn pushback from consumer advocates and a host of other critics who want the Hunts to pass the tax savings on to ratepayers, rather than shareholders as planned.
The family also owns tiny Sharyland, whose customers — including plenty of farmers, churches and small businesses also pinched by low oil prices — want relief after seeing their electric delivery rates skyrocket to more than twice the state average.
The Hunts have not formally proposed folding Sharyland's operations into Oncor, but they have committed to exploring the option if regulators approve the larger deal. Such a merger is likely the best bet for delivering relief to Sharyland's customers. The utility's rates are so high, in part, because its customers are scattered across such a large area.
But, Oncor, whose rates are far cheaper, is warning regulators to tread carefully.
On Wednesday, the Hunts dismissed suggestions of rate hikes as "pure speculation."
The Texas Tribune thanks its sponsors. Become one.
"We have said since the beginning that rates will not change for Oncor customers as a result of this proceeding, and that is still the case," Jeanne Phillips, a spokeswoman said in a statement. "As for the possible combination of Sharyland and Oncor, any speculation regarding future rates is just that — pure speculation — until a specific proposal is developed and approved."