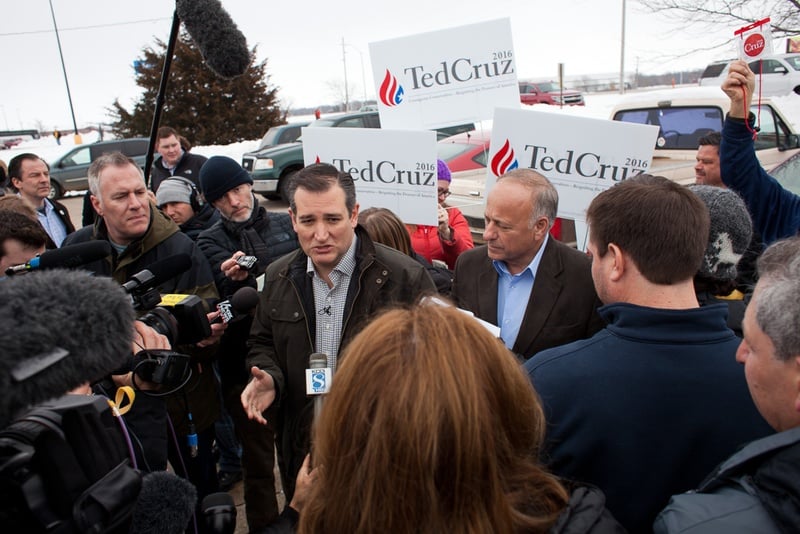 The Big Conversation
With just four weeks remaining before Iowa voters kick off the process of finding the next GOP candidate for president, the candidates are getting tougher in their language as the issues of terrorism and security crop up as top priorities of voters.
The New York Times' Jeremy W. Peters focuses on this change in tone, writing that "the nomination fight is taking on a decidedly dark tenor, with candidates warning of a country left weakened by an administration that would prefer to apologize for America rather than keep it safe."
Among those candidates is Texas Sen. Ted Cruz, who offered this critique Monday of the Obama Administration's planned action stepping up oversight of gun sellers: "We don't beat the bad guys by taking away our guns. We beat the bad guys by using our guns."
Florida Sen. Marco Rubio, who has tended to strike a more optimistic note in his campaign appearances, toughened up his talk considerably Monday. Peters wrote, "While he has routinely called Mr. Obama a weak president, in his speech on Monday, Mr. Rubio was more harsh and more personally critical."
Rubio also said Monday that "if elected he would subject America's enemies to harsh interrogation practices at Guantánamo Bay. 'These terrorists ... get a one-way ticket to Guantánamo, where we're going to find out everything they know.'"
Trib Must Reads
Here Are Four Texas U.S. House Races to Keep an Eye on, by Abby Livingston — With two U.S. House members from Texas declining to seek re-election, we know that the state's congressional delegation will look different after 2016. But could there be other new faces? Here are four races that are standing out.
Protested Big Bend Pipeline Now Closer to Approval, by Jim Malewitz — A coalition of ranchers, environmentalists and disgruntled landowners has suffered a major setback in its battle to block a proposed pipeline that would carry natural gas beneath 143 miles of largely untouched Big Bend-area land.
On Bus Tour, Cruz Looks to Close the Deal With Iowans, by Patrick Svitek — Ted Cruz on Monday morning launched a six-day swing through Iowa, looking to close the deal with voters in the state where he bas become the leader of the Republican presidential pack.
Elsewhere
28 counties. 27 days to the caucuses. Lows in the teens: Aboard Ted Cruz's Iowa campaign bus, The Washington Post
GOP contenders tread carefully in Oregon standoff, Politico
Obama Administration Asks Top Court to Reject Texas Abortion Law, Reuters
Obama administration moves to deport Central American families denied asylum, Houston Chronicle
Border militia volunteer sentenced to more than 3 years in federal prison on weapons conviction, San Antonio Express-News
Bonuses flow at LCRA, especially at the top, Austin American-Statesman
Strong El Niño likely means more rain for DFW, Fort Worth Star-Telegram
Oil markets shrug off Mideast turmoil, look to China's woes, Houston Chronicle
Children's loses more than $13M in bankruptcy, El Paso Times
Troubled Farmers Branch pharmacy sued by feds agrees to stop making tainted drugs, The Dallas Morning News
Quote to Note
"Every one of us has a constitutional right to speak our minds, but we don't have a constitutional right to use force and violence and threaten force and violence on others. And so it is our hope that the protesters there will stand down peaceably and there won't be a violent confrontation."
— GOP presidential candidate Ted Cruz, speaking to reporters Monday on the takeover of a federal building in Oregon by armed militia members over the weekend
Today in TribTalk
Texas' insurance rankings are cause for concern, by Josiah Neely — Texas has shown that a free-market, light-touch regulatory approach works best for both businesses and consumers. Its time we applied the same approach to insurance.
Trib Events for the Calendar
• A conversation with state Reps. Celia Israel, Eddie Rodriguez and Paul Workman on Jan. 14 at St. Edward's University in Austin
• A Symposium on Urban Public Education on Jan. 22 at the University of Texas at El Paso
• The Texas Tribune's second Texas-centric Trivia Night on Jan. 31 at The Highball in Austin
• The Ticket: A Live Recording and Democratic Primary Debate Watch Party on Feb. 11 at KUT Public Media Studios in Austin
• A conversation with Sen. Eddie Lucio Jr. and Rep. Jose Manuel Lozano on Feb. 25 at Texas A&M University-Kingsville
• A Symposium on Transportation on March 29 at Texas A&M University in College Station