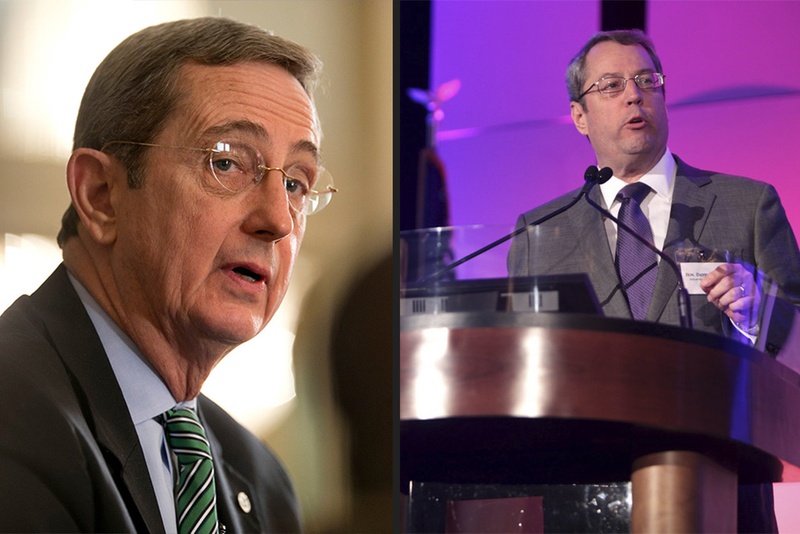 Editor's note: This story has been updated throughout.
Former Texas Land Commissioner Jerry Patterson is not running for state railroad commissioner, and he suggests that Donald Trump has something to do with that.
Patterson was one of several high-profile Republicans flirting late last week with a bid for David Porter's open seat on the three-member Texas Railroad Commission, which regulates oil and gas production.
But he removed himself from that discussion on Monday, saying he "has better things to do," in a statement that also expressed disdain for Trump's presidential ambitions.
The Texas Tribune thanks its sponsors. Become one.
"I also believe a nominee of the Republican Party should be able to enthusiastically support all other Republican nominees. With the possible if not probable nomination of Donald Trump for President by my party, I could not do that," Patterson said. "Telling Trump supporters that they should vote for Jerry Patterson while simultaneously opining that anybody who votes for Trump is an idiot is not a good formula for success."
Trump's Texas spokeswoman did not immediately respond to a request for comment.
Patterson first expressed interest in the position last Thursday after Porter, the commission's chairman, surprised many in Austin by announcing that he was withdrawing from his re-election bid.
The commission also oversees mining, pipeline safety and natural gas utilities. It has no authority over trains.
State Rep. Jim Keffer, R-Eastland, also said Monday that he would not run for Porter's seat after seriously considering it over the weekend.
"I am humbled by the number of calls I have received over the last couple of days but after prayer and conversation with my family I have decided it is not the right time for me to enter the race," Keffer said in a statement.
The Texas Tribune thanks its sponsors. Become one.
At least four Republicans will vie for Porter's seat, including former state Rep. Wayne Christian, R-Center, who joined the fray on Monday. He will compete against longtime Austin attorney and lobbyist John Greytok; Gary Gates, a wealthy real estate agent and cattle rancher in Richmond; and Ron Hale, an engineer who lives in Cypress.
Last year, Christian lost a primary runoff for the Railroad Commission seat that Ryan Sitton now occupies.
The Democratic candidates include former state Rep. Lon Burnam of Fort Worth; retired educator Grady Yarbrough of Flint; and Cody Garrett, a former journalist and Democratic campaign director from Del Valle.