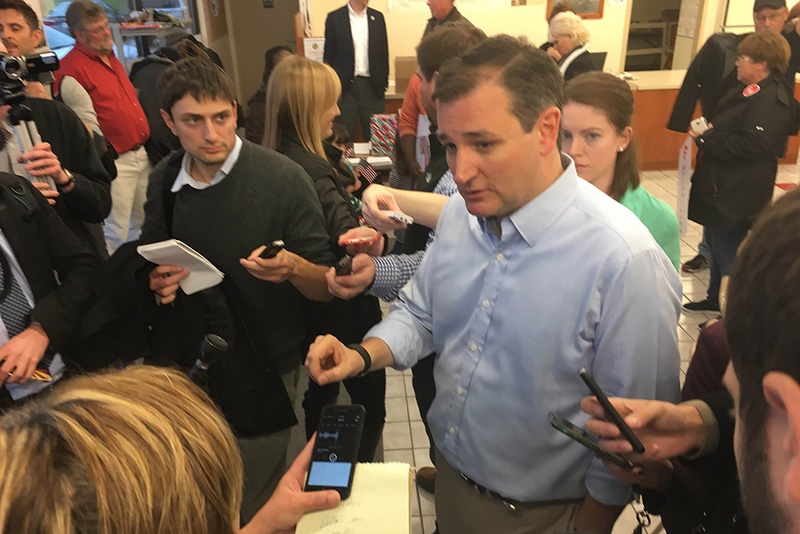 Editor's note: This story has been updated to include a statement from the Cruz campaign.
Republican presidential candidate Ted Cruz has edged closer to cementing his frontrunner status in the crucial early state of Iowa after claiming the top spot in a new Des Moines Register/Bloomberg Politics poll.
Support for the junior senator from Texas has soared to 31 percent among those likely to attend the February caucuses that kick off the Republican presidential nomination process.
Billionaire Donald Trump, who until last week had a comfortable lead over Cruz, came in second at 21 percent. Retired neurosurgeon Ben Carson was a distant third at 13 percent. Florida senator Marco Rubio had 10 percent and former Florida governor Jeb Bush had 6 percent.
The Texas Tribune thanks its sponsors. Become one.
"While this is just one poll, these numbers are a testament to the ongoing hard work that our volunteers and Ted Cruz have put into building up our Iowa organization," Bryan English, Cruz's Iowa state director, said in a statement. "From the beginning of this campaign, we've talked about uniting courageous conservatives to reignite the promise of America and keep our nation safe."
"We have more work to do, but we can definitively say the message is working," English added. "We have the right candidate, motivated supporters and the financial strength to take us to the nomination and the White House."
The poll, conducted December 7-10, surveyed 400 likely Republican caucus-goers.
Last week, a Monmouth University poll put Cruz in the top spot for the first time — at 24 percent to Trump's 19 percent among likely caucus-goers. His support in that survey has spiked 14 percentage points since October.
Since the last DMR/Bloomberg poll, also in October, Cruz has gained 21 points — perhaps indicating that he has attracted the backing of voters who had favored Carson, whose numbers have dropped 15 points since then.
Perhaps anticipating the release of the latest numbers, Trump took to Twitter on Friday to suggest the poll was an outlier: Never get good #s from failing Des Moines Register/Bloomberg. I think something going on w/them. Up 13 in IA according to respected CNN."
Cruz's campaign has energetically targeted Iowa, attempting to reach voters in all of the state's 99 counties. His rise comes on the heels of major endorsements from Iowa conservative heavyweights, including U.S. Rep. Steve King and Bob Vander Plaats, the president and CEO of the Family Leader organization.