With Strong Texas GOP Support, Ryan Elected
U.S. House Republicans on Thursday overwhelmingly voted U.S. Rep. Paul Ryan of Wisconsin as its new speaker. Nearly every one of the 25 Texas House Republicans backed Ryan.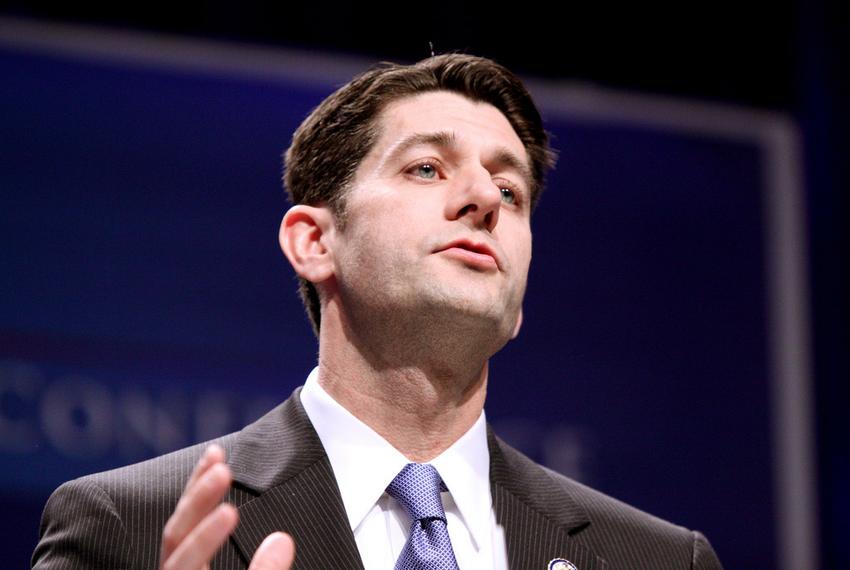 WASHINGTON — Weeks of political turmoil ended Thursday, as House Republicans overwhelmingly voted U.S. Rep. Paul Ryan of Wisconsin as its new speaker of the U.S. House. And Ryan got the backing of nearly every Texas Republican, with 23 of the state's 25-member GOP delegation helping Ryan easily secure the gavel.
When he won the speakership Thursday, Ryan entered the House chamber from the rear door through which the president and foreign dignitaries enter for joint addresses to Congress. Members thundered with applause, and the moment marked a release of tension after weeks of stunningly bitter infighting among House Republicans.
"A lot is on our shoulders. So if you ever pray, pray for each other: Republicans for Democrats, Democrats for Republicans," the new speaker said. "And I don't mean pray for a conversion. Pray for a deeper understanding, because — when you're up here, you see it so clearly — wherever you come from, whatever you believe, we are all in the same boat."
U.S. Reps. Louie Gohmert of Tyler and Randy Weber of Friendswood were the only two Texans to vote against Ryan. They voted in support of U.S. Rep. Daniel Webster, R-Fla. All 11 Texas Democrats voted for House Minority Leader Nancy Pelosi of California for speaker.
U.S. Rep. John Ratcliffe, R-Heath, was jubilant in the Capitol hallway after the ceremony.
"The country deserves new leadership, and they're getting it," said Ratcliffe, who was elected in 2014. "I ran for Congress to change the way Washington does business, and I think this change in leadership reflects that we're trying to do that as Republicans."
He voted for outgoing Speaker John Boehner on his first day in Congress earlier this year, though he has not always been a reliable vote for Boehner's agenda.
Ratcliffe also worked on the would-be transition team if Ryan's 2012 running mate, Mitt Romney, had won the presidential contest. Romney was at the U.S. Capitol on Thursday for the event.
In his his address, Ryan praised his predecessor, but his remarks also served as implicit criticisms of the division during Boehner's tenure.
"The House is broken. We are not solving problems," he said. "We are adding to them. And I am not interested in laying blame. We are not settling scores. We are wiping the slate clean."
And he gave a nod to the demands of the hard-line Republican faction that helped run Boehner out of office.
"We need to let every member contribute — not once they have earned their stripes, but right now," Ryan said.
But it was a joyous day for Boehner as well, who has given every indication that he looked forward to giving up the gavel.
And he did it on the day that he promised in his retirement announcement — Oct. 29.
"I leave with no regrets, no burdens," Boehner said in his farewell remarks. "If anything, I leave the way I started, just a regular guy, humbled by the chance to do a big job."
After Ryan assumed the dais, Boehner walked down an aisle on the chamber's Republican side.
Several House Democrats, including Texas Democratic Reps. Henry Cuellar of Laredo and Al Green and Sheila Jackson Lee of Houston, and Eddie Bernice Johnson of Dallas walked across the House floor and gave him farewell hugs.
Boehner stood at the back for a few minutes. Members turned to face him, roaring with cheering tributes. In characteristic fashion, he wept and waved off the cheers with a white handkerchief.
And then his tears stopped. He leaned over and gave the House floor one last look, saluted his colleagues and walked out the back door.
Texans need truth. Help us report it.
Our Fall Member Drive is underway, and we need your support. The Texas Tribune is a critical source of truth and information for Texans across the state and beyond — and our community of members, the readers who donate, make our work possible. Will you join as a member with a tax-deductible donation of any amount?
Yes, I'll donate today
---
Information about the authors
Explore related story topics