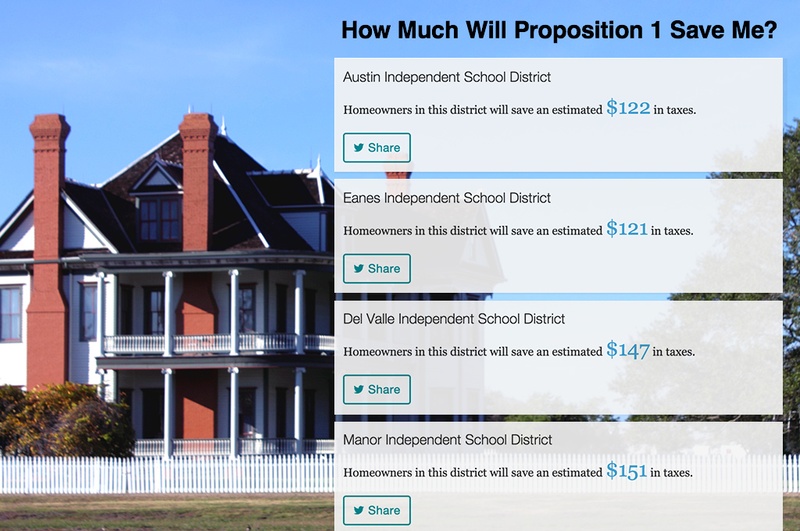 Editor's note: This story has been updated to note that Proposition 1 would also prohibit state officials from levying a tax on real estate transactions.
Voters are heading to the polls and casting early ballots in the Nov. 3 election, which includes an effort by state lawmakers to lower Texans' property tax bills. If Proposition 1 passes, the homestead exemption for school districts will rise from $15,000 to $25,000. How that impacts a homeowner's tax bill depends on their school district's tax rate.
Use our interactive below to determine the estimated annual savings homeowners in your school district can expect to see on their property tax bills if Proposition 1 passes. The estimate is based on 2014 tax rates compiled by the Comptroller's Office. Most school districts are not expected to change their rates in 2015, according to Dan Casey, a school finance expert with the consulting firm Moak, Casey & Associates.
One more caveat: In many parts of the state, property values are rising so quickly that savings from Proposition 1 likely won't translate into a smaller property tax bill. Instead, it will simply mean that a homeowner's property tax bill grows by a smaller amount than it would have if Proposition 1 had not passed.
The Texas Tribune thanks its sponsors. Become one.
Texas will pay about $600 million annually out of state coffers to cover the loss of revenue to school districts from the increase in the homestead exemption, according to the Legislative Budget Board. This will be the first increase in the homestead exemption for school districts since 1997. The measure also prohibits state officials from ever levying a tax on real estate transactions.