Report: Traffic Crashes Related to Energy Boom Cost Billions
A Texas A&M University study reveals just how closely petroleum activity appears to be linked to collisions on crowded, crumbling roads in rural South and West Texas.
An oil and gas bonanza poured plenty of cash into the state's drilling communities in recent years, but a surge of traffic accidents in rural South and West Texas resulted as well. Now, a Texas A&M University study reveals just how closely petroleum activity appears to be linked to collisions on crowded, crumbling roads in those regions.
The report published Wednesday also puts a multibillion-dollar price tag on those crashes. Researchers say the information should help Texas lawmakers consider ways to tackle the sometimes-deadly downside of boom times, such as whether to pour more money into fixing dangerous roads.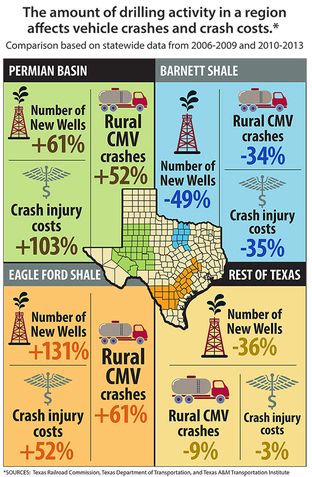 Enlarge
Infographic by: Texas A&M Transportation Institute
"The question then is, what sort of strategies the Legislature would be willing to entertain to address these issues," said Cesar Quiroga of the Texas A&M Transportation Institute, the study's lead author.
Requested by lawmakers in the fall of 2014, the report mapped changes in the number of crashes and injuries across Texas during two key periods: 2006 to 2009, during a drilling frenzy atop North Texas' gas-rich Barnett Shale; and 2010 to 2013, when operators rushed to the Permian Basin in West Texas and South Texas' Eagle Ford Shale as activity waned in the Barnett.
Crashes not only increased where drillers added wells, but they decreased where drilling slowed down.
"The two trends correlated so well, and they were perfectly aligned," Quiroga said. "We could use this as a predictive model."
Total crashes plummeted by 10 percent as low natural gas prices pushed operators out of the Barnett Shale beginning around 2010, while crashes increased by 1 percent in the Eagle Ford. Meanwhile, the Permian Basin saw 4 percent fewer crashes during the more recent period.
This came as the rest of Texas saw a 7 percent drop in collisions, in line with national trends.
But there's much more to the story. The changes were far more pronounced for crashes most likely linked to industry — those happening in rural areas and involving commercial vehicles.
Such crashes declined by 34 percent in the Barnett Shale more recently, but they surged in the hottest shale plays. Those crashes increased 61 percent in the Eagle Ford and 52 percent in the Permian Basin.
Local residents in drilling regions are keenly aware of those trends, as the Texas Tribune reported last year in its Shale Life series.
The higher jump in South Texas could be explained by the region's heavier reliance on horizontal, hydraulically fractured wells, according to the report. Those wells require trucks to haul in millions of gallons of water and sand. West Texas has plenty of fracked wells too, but that region also relies on simpler vertical wells.
The busy drilling communities saw an even greater surge in deadly crashes involving industry vehicles or those resulting in serious injuries. The cost of those crashes quickly adds up.
In purely economic terms, those types of crashes cost Eagle Ford communities about $139 million more from 2010 to 2013 compared to the previous era. The Permian Basin paid a toll of roughly $176 million, while the quieter Barnett region saved about $73 million compared with its busier times.
Those numbers, however, were far higher when the researchers factored in less tangible costs related to quality of life. According to a methodology recommended by the federal Department of Transportation, the "comprehensive cost" of accidents most likely linked to industry activity cost each the Eagle Ford and Permian Basin about $2 billion more from 2010 to 2013 compared to the previous era.
The researchers say they hope some of their data will help lawmakers decide how to focus their efforts — and resources — on the problems.
While some folks might assume that a crackdown on unsafe driving could solve most of those problems, Quiroga said, other findings in the report suggest poor road conditions are also threatening safety.
Last March, a separate Texas A&M report estimated that state and local road damage from the energy rush totaled nearly $2 billion. The Texas Department of Transportation has struggled to maintain some of those roads in recent years. Its most high-profile effort (aborted a year ago) involved converting some roads to gravel.
But much has changed in the energy world over the past year. Mainly, a glut of oil on the market has slashed prices, prompting operators to scale back production. That means the roads in drilling country could soon see fewer crashes — at least until prices and activity pick up again.
"I think it's reasonable to expect a decrease in the number of significant crashes" as drilling slows down, Quiroga said.
Aman Batheja contributed to this report.
Disclosure: Texas A&M University is a corporate sponsor of The Texas Tribune. A complete list of Tribune donors and sponsors can be viewed here.
Texans need truth. Help us report it.
Our Fall Member Drive is underway, and we need your support. The Texas Tribune is a critical source of truth and information for Texans across the state and beyond — and our community of members, the readers who donate, make our work possible. Will you join as a member with a tax-deductible donation of any amount?
Yes, I'll donate today
---
Information about the authors
Explore related story topics