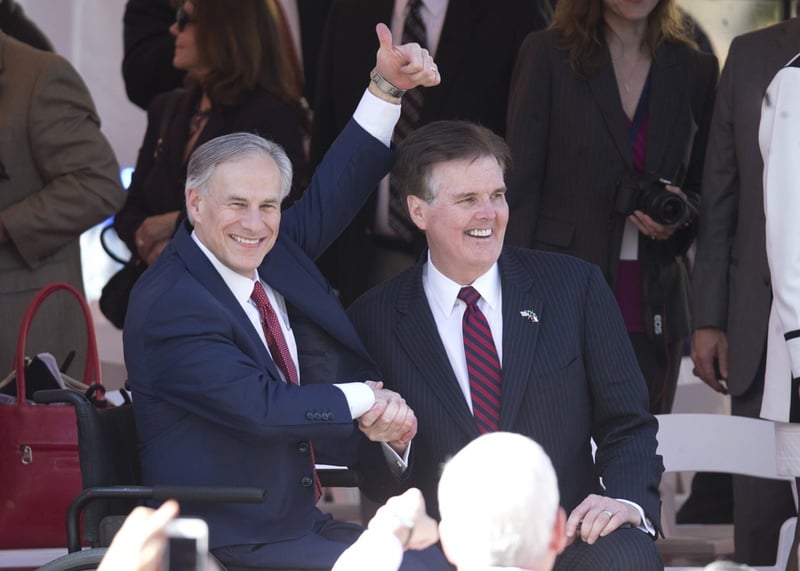 Editor's note: This story has been updated with comment from a spokesman for House Speaker Joe Straus.
Lt. Gov. Dan Patrick is backing Gov. Greg Abbott in a growing dispute over the validity of some of Abbott's line-item vetoes to the state budget.
Patrick's show of support came a day after the state's Legislative Budget Board informed Comptroller Glenn Hegar that Abbott's vetoes did not have the effect the governor apparently thought they did.
Patrick, who co-chairs the board with House Speaker Joe Straus, fired back at the letter Wednesday, saying he was "extremely disappointed" in it and calling for a joint special committee to examine the board's practices.
The Texas Tribune thanks its sponsors. Become one.
"We support the Governor's goal of saving taxpayers over $200 million," Patrick said in a statement released Wednesday. "If there are process issues we can work through them during the interim between our offices."
Although Patrick co-chairs the board with Straus, he made clear he was not on board with the decision by the board's executive director, Ursula Parks, to send a letter to Hegar about Abbott's vetoes.
Straus' office said Wednesday both it and Patrick's office had asked the board to analyze Abbott's vetoes for Hegar after lawmakers raised questions about the vetoes.
"Legislators have voiced concerns about whether the authority used to make some vetoes this year was consistent with precedent and prior Attorney General opinions," Straus spokesman Jason Embry said in a statement. "In light of legislators' questions, Comptroller Hegar requested a written analysis, and staff from the Speaker's office and the Lieutenant Governor's office together instructed the staff of the budget board to provide him one.
"The House will continue to work with the Senate, the Comptroller and Governor to resolve this matter and will take an extensive look at this issue between now and the next legislative session," Embry added.
Abbott's office has not responded to multiple requests for comment on the dispute.
Ross Ramsey contributed reporting.
Reference Material